U.S. District Judge Catherine Blake agreed with the family of Anton Black, a 19-year-old teen who died in a struggle with police officers in Greensboro, Maryland, in a lawsuit that police officers used excessive force before the teen died.
Black's family's claim that police used excessive force on Black isn't conclusively contradicted by body camera video of Black's encounter with the police, Blake said in a 27-page ruling, the Associated Press reported. Blake said that a reasonable jury "could reach more than one conclusion" regarding if officers used a reasonable degree of force when dealing with Black.
The chief medical examiner's autopsy report said Black's death was from "sudden cardiac death," according to WBAL-TV. The report lists Black's heart condition and mental illness as significant factors in his cause of death, as well as stress from Black's struggle with the police. There was no evidence of "restraint" from officers majorly contributing to Black's death, according to the medical examiner's office.
Black had bipolar disorder, according to the American Civil Liberties of Maryland. WBAL-TV reported that Officer Thomas Webster IV called in Black as a schizophrenic as the chase began. Some of the lawyers representing Black's family are lawyers with the ACLU of Maryland, the AP reported.
Black's family filed a lawsuit back in December alleging excessive force, the lawsuit says. It says that officers chased, tased, and pinned Black for six minutes until he lost consciousness and stopped breathing.
Among the plaintiffs are three officers who attempted to restrain Black, former Greensboro police Officer Webster IV, former Ridgley police Chief Gary Manos, and Centreville police Officer Dennis Lannon, according to the AP. Webster tried to arrest Black, with Mano and Lannon assisting while they were off duty.
The lawsuit says that Black "died from positional asphyxia as a direct and proximate result of the officers' excessive force and racial bias."
Black had been facing mental health issues, which Webster had knowledge of, according to the lawsuit.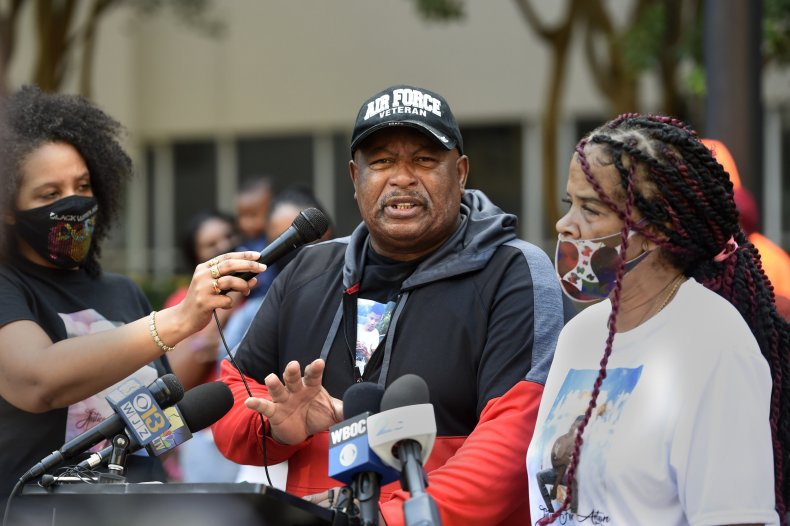 The video of the encounter, as well as autopsy results, were not released until Governor Larry Hogan personally intervened four months after Black's death, WBAL-TV reported.
In the video, Webster is shown talking to Black after a 911 report saying a man was dragging a child down the road in a headlock, according to the AP. The boy, a friend of Black's family, told Webster that Black was "schizophrenic" and was acting strangely.
Webster told Black to put his hand behind his back, to which Black said "I love you" then ran away from the officer, the video from WBAL-TV shows. After chasing Black, who gets into a car, Webster pulls out his baton and smashes the car window and uses his stun gun on Black in the video. Webster is joined by two people in restraining him on the house's porch for several minutes, where Black loses consciousness, the video shows. The two people that joined Webster were Manos and Lannon, the AP reported.
The judge said there is a "genuine dispute of material fact" regarding if it was reasonable for Webster to break the car window without warning or stun Black, according to the AP. Her conclusion on the officers' attempts to restrain Black was the same.
"It is impossible to tell how much weight and what body parts, if any, Webster placed on Black throughout the nearly six minutes of footage. Nor can a viewer discern if or for how long Webster placed his knees on Black's neck, shoulders, or upper torso," Blake wrote, the AP reported.
"As with the baton and taser, the factual dispute as to whether Black was secured and did not pose a threat to the officers throughout the time they were subduing him on the porch must be viewed in the light most favorable to the plaintiffs at this stage in litigation," she wrote.
Once evidence is completely shared with plaintiffs, the officers can again request for Blake to dismiss the lawsuit's excessive force claims, according to the AP.