Judge Amy Coney Barrett Is the Right Nominee for This Moment | Opinion
As a former law clerk for Judge Amy Coney Barrett, I have seen up close her intellect, impartiality and inspiring work ethic as she decided the most complicated legal issues of our time. Those lessons are always with me. More importantly, I better recall my time with her for the personal example she set.
Before I knew her as a judge, I knew of her as an esteemed law professor. As a law student in Chicago, I studied then-Professor Barrett's scholarship on the Constitution. I debated with my classmates methods of interpretation informed by her writings. We cited her ideas in our exams in hopes of securing one of the few "A's."
In time, I would be privileged to serve in her first class of law clerks. I joined her on the first day she became "Judge" Barrett and witnessed her handle the onslaught of a new job, together with erecting a new chambers and running a busy household, with uncommon grace. She took the weight of her office seriously and jumped headfirst into the work.
For our part, as her first set of law clerks, we just tried to keep up. Judge Barrett began analyzing each case with a foundational commitment to the belief that either side might be right. We then debated the law so that she could assess every issue from all diverse points of view. She cared only about what the law required.
But notwithstanding how powerful these lessons were, it was the personal example she set that I most cherish.
I remember, at one point, stealing a glance at her color-coded calendar. At first blush, it looked more like a pointillism painting than a judge's agenda. But her time is claimed entirely by the many hats she wears—federal judge, wife, mother of seven, professor, friend, mentor, community volunteer, colleague—and this is thus unsurprising. Judge Barrett's commitment to the law is matched only by her selfless commitment to others.
Her devotion to others, I observed, begins with family. One evening, while working on a case together in chambers, I saw her youngest daughter play at her feet while judge constructed the most elegant prose in an important opinion she released the very next day. At another time, I stewed for days over a legal issue before raising it with her, and Judge Barrett instantly responded with a flawless recitation of core constitutional precepts central to the question. I learned later on that, before she effortlessly unraveled my tough question, she had stayed up all night to care for one of her kids who had fallen ill.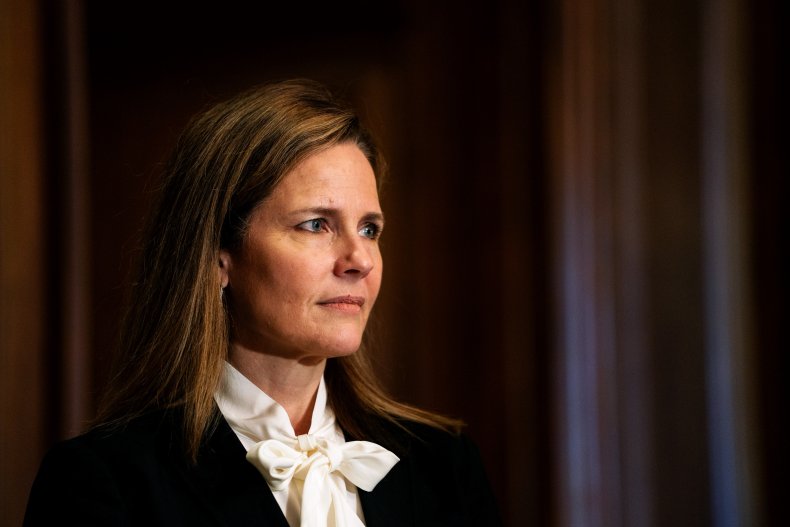 This is not to suggest that Judge Barrett has no time to herself. Quite the contrary, and in defiance of the laws of time, she consistently finds hours for self-improvement. Her law clerks, for instance, would routinely wake up to draft opinions she sent before dawn so that she could execute her CrossFit regime for the day. Speaking as someone who served as an infantry officer in the Marine Corps, and expressing some vulnerabilities, even I couldn't keep up with her exercise routines. I grumbled to myself every time she surpassed one of my personal bests. I grumbled a lot.
Amazing still was her conscious effort to set aside time to mentor her law clerks and law students. My most indelible lesson came midway through my clerkship. During one memorable moment, she shared with her law clerks why it is that judges wear black robes. She said that the black robe signifies the fact that judges speak for the rule of law—and not for the will of the individual. The uniformity of the dress underscores the impersonality of the law, because the focus shouldn't be on who is deciding the case. The focus, rather, is on what our law demands.
I am one of the many people who models his life on Judge Barrett's. She always put others before herself. That philosophy undergirds her jurisprudence, as well. She will always put our Constitution and the rule of law before her own will. At this moment in our nation's history, we could all exercise putting principle before self—and Judge Barrett is the right person to show us how.
John Adams practices antitrust and constitutional law as a stakeholder at Eimer Stahl LLP in Chicago. He served as a law clerk to Judge Amy Coney Barrett from 2017 to 2018.
The views expressed in this article are the writer's own.