Judge Amy Coney Barrett Sided With Corporations Over People 76% of the Time on Appeals Court, Report Finds
Judge Amy Coney Barrett, President Donald Trump's nominee for the U.S. Supreme Court, has reportedly ruled in favor of corporations over people in three out of four cases during her time as a federal appeals judge.
An analysis released last week by watchdog group Accountable.US found that Barrett ruled in favor of corporations in 76 percent of 55 cases she heard during her time on 7th Circuit Court of Appeals.
The group found that Barrett sided with corporate interests in 42 of the cases and people in 11 cases, while two rulings were said to be neutral.
In one case, the report says that Barrett "ruled that protections against age discrimination for employees do not also extend to job applicants."
Another case saw Barrett rule in favor of a major pharmaceutical company against a woman who was forced to undergo a hysterectomy after having a faulty intrauterine birth control device implanted.
The report also noted that Barrett had refused to hear a case concerning racial segregation, on that another judge had said legalized "the separate but equal doctrine."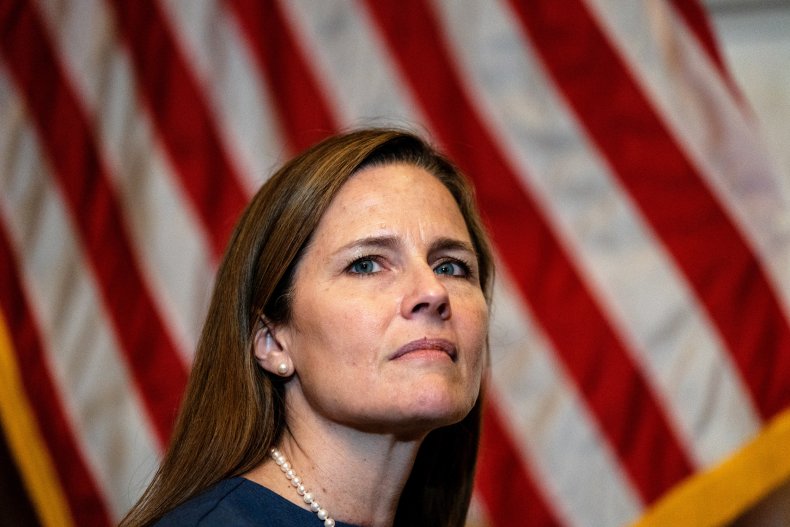 Barrett was nominated to the 7th Circuit by Trump in May of 2017. She was confirmed by the Senate five months later along mostly partisan lines, although Democratic Senators Tim Kaine, Joe Donnelly and Joe Manchin voted to confirm her nomination.
Trump nominated Barrett for the Supreme Court on Saturday, just over a week after the death of Justice Ruth Bader Ginsburg, who had served on the court for 27 years. Confirmation hearings are set to begin on October 12.
Democrats suggested that Republicans were hypocrites for seeking to quickly approve the nomination while blocking former President Barack Obama's nomination of Judge Merrick Garland to the court after the death of Justice Antonin Scalia, while citing that year's election as the reason.
Scalia died almost nine months before the 2016 election, while Ginsburg died less than two months before this year's election.
The stark contrast in the presumed political ideologies of the judges, with Ginsburg having been an outspoken liberal and Barrett known as a staunch conservative, has made the choice even more contentious politically.
Some of those on the left have expressed particular concern that Barrett's appointment to the court could result in the pivotal abortion rights case Roe v. Wade being overturned.
The timing of Barrett's nomination was the first topic discussed during Tuesday's initial presidential debate between Trump and Democratic nominee Joe Biden.
Biden said that Barrett "seems like a very fine person" but insisted that "we should wait and see what the outcome" of the election is, while suggesting that Trump is trying to push the nomination through in an attempt to overturn the Affordable Care Act.
"We won the election," Trump said during the debate. "Elections have consequences. We have the Senate. We have the White House and we have a phenomenal nominee, respected by all. Top, top academic. Good in every way."
Newsweek reached out to the White House for comment.