Judge Andrew Napolitano Responds to Trump, Recalls Bizarre Supreme Court Exchange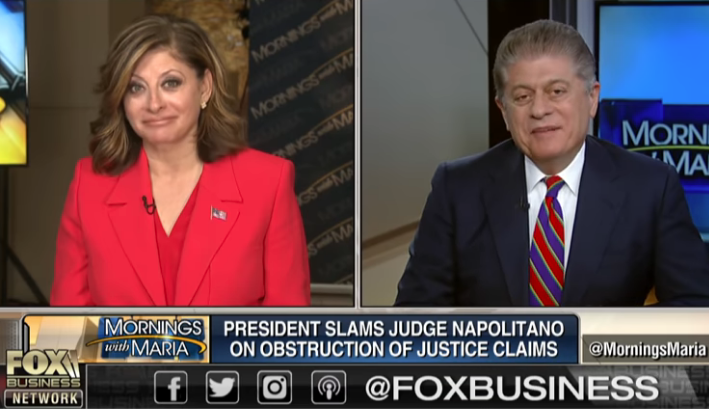 Former New Jersey Superior Court Judge Andrew Napolitano, a longtime Fox News analyst, responded to President Donald Trump's Saturday tweet trashing him for his critical coverage of the Mueller report.
On Monday's Mornings With Maria, on the Fox Business Network, Napolitano detailed his side of Trump's claim that he only became "hostile" toward the president after Trump allegedly denied his request to be appointed to the U.S. Supreme Court. Napolitano denied he asked to be appointed, but acknowledged a meeting occurred between the two when Trump was still the president-elect. Napolitano shot back at Trump's claim he asked about a pardon for "his" friend, to which the former judge said it was a "mutual" friendship—a relationship Trump clearly has trouble maintaining.
Napolitano, who called Trump's attack a "brilliant" deflection from ongoing discussion about special counsel Robert Mueller's report, recalled a petty power move by Trump, which he says was reflected in his Saturday tweet.
"Good morning. If this is the way you treat your friends how do you treat your enemies? Oh boy," a miffed Napolitano told Fox Business Network's Maria Bartiromo, who interviewed Trump over the weekend.
Napolitano relayed a story about a meeting he had with Trump during his transition into the White House following his November 2016 election. The longtime Fox News personality said he did not ask Trump if he could be on the Supreme Court, but instead was there to counsel the president on who should replace the late Justice Antonin Scalia, who died earlier that year.
Napolitano said he suggested the person who would ultimately fill that position, Judge Neil Gorsuch, but that Trump became suspicious and said, "sounds like you're describing yourself." In an odd power trip, Trump then demanded Napolitano offer him a "spiel" to sell himself for the position, which is what the president referenced in his Saturday tweet.
"Who would turn that down? I gave him the spiel, so-to-speak, and somebody else in the room said 'that's pretty interesting, but the judge is a little long in the tooth,'" Napolitano recalled. "To which the president said 'blank you' to the person and said, 'I'm four years older than the judge, and I'm about to become president.'"
In regard to Trump's claim that Napolitano asked for the pardon of "his friend," the Fox News figurehead said it was actually a "mutual" friend between he and Trump. Additionally, the president had asked Napolitano for advice on the charges and potential blowback he could receive over the potential pardon.
Last week, Napolitano penned a Washington Times piece entitled, "Did the president obstruct justice?" in which he detailed how Trump still has many concerns yet to arise from the Mueller report despite the president's claim he's already "won."