Judge, Attorney Spar Over Capitol Rioter's Refusal to Wear a Mask in Explosive Hearing
At an explosive hearing on Friday, an attorney for Daniel Goodwyn, an alleged member of the Proud Boys and accused Capitol rioter, and a judge sparred over whether the defendant's alleged autism diagnosis was a valid reason for him to refuse to wear a mask.
Since his arrest, Goodwyn's refused to wear a mask on multiple occasions, including for court hearings and at the Pretrial Services Agency office. Daniel Hull, the defendant's attorney, told the judge on Friday that Goodwyn's autism diagnosis is fueling his disdain for masks.
"He cannot wear a mask...inside a building without becoming very anxious. It is an extraordinarily stressful thing for him," Hull said. "He feels like he's being asked to do things that he can't physically and from a mental health standpoint can't do."
Hull likened Goodwyn being forced to wear a mask to torture, but Pretrial Services Officer Lorene Dudley told the court that she was never made aware that Goodwyn has a form of autism that makes it difficult for him to wear a mask. Hull challenged the truth of Dudley's statement and said Goodwyn was embarrassed about the diagnosis.
Marie Goodwyn, the defendant's mother, told the judge she noticed signs that her son was on the spectrum when he was two years old and would "line up pencils all in the same direction" and "arrange his clothes by colors." A few years ago, Goodwyn worked with an autism specialist to help him "cope and read people's expressions," but his mother confirmed Goodwyn was never formally diagnosed.
Judge Reggie B. Walton didn't see Hull's explanation as a valid one and told him that Goodwyn will "have to do something" because he cannot be allowed to subject those who supervise him to possibly becoming infected. While sympathetic to someone who is on the spectrum and struggles with wearing a mask, Walton noted that Goodwyn isn't vaccinated and he could put people's lives at risk if he doesn't wear a mask when he comes to court.
The judge added that Goodwyn's mother needed to get some sort of verification from a doctor affirming his autism diagnosis. Regardless of what the diagnosis is, Walton noted that something will have to be worked out to ensure that people who come in contact with Goodwyn in court are safe.
"We have a virus that is killing people and people don't have to put their lives at risk because they've come into contact with you as a result of you being a part of the court system," Walton said.
When asked to explain his issue with masks, Goodwyn said it "stresses me out" and "respectfully disagreed" that his refusal to get vaccinated or wear a mask put people's lives at risk.
"I don't care what you think. You may not believe in this virus even though 600,000 people have died. I'm not going to be a part of other people dying because of what you believe," Walton said.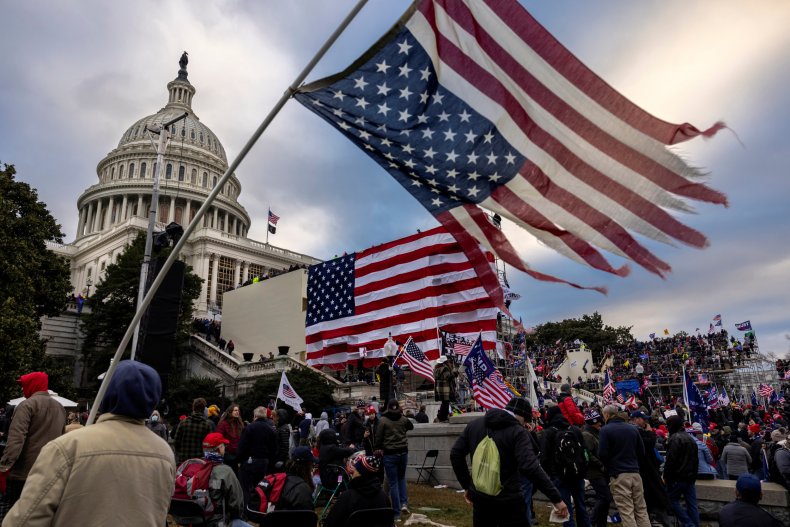 Friday's hearing was intended to address prosecutors' request that Walton order Goodwyn to be jailed pending his trial because of his disregard for the conditions of his release.
His obstinate behavior began when the FBI arrested him, according to prosecutors, and he refused to say whether he was COVID-19 positive, like another member of his household, or wear personal protective equipment. The FBI had to use about five face masks on the defendant during his arrest and at one point, Goodwyn attempted to "chew through the mask and spit the mask out," according to court records.
The judge told Goodwyn he intended to issue a warrant for his arrest going into the hearing but given the new information about his potential autism diagnosis, he decided not to. While he wouldn't order Goodwyn to be confined pending his trial, Walton urged him to provide information from his doctor regarding the diagnosis because the judge could change his mind.
Walton also said if Goodwyn doesn't wear a mask when pretrial services makes a home visit, he will issue a warrant for his arrest. Goodwyn told the judge he would not wear a mask, saying that the law in Texas does not require him to.
"I don't care what the law in Texas says. I'm tell you what my ruling is and you can do what you wanna do," Walton said. "If you don't [wear a mask] I'm going to issue a warrant for your arrest."
When Goodwyn confirmed that he understood the judge is saying he would be arrested if he did not wear a mask, Walton retorted that it's not just what he's saying, it's "what will happen."
During the Capitol riot, prosecutors allege Goodwyn entered the Capitol and called a police officer an "oathbreaker" as he was being escorted out. Goodwyn also confirmed on his Instagram account that he "didn't break or take anything" but he "went inside for a couple minutes," which prosecutors believe was a reference to the Capitol building.
Friday's hearing was tense and the judge took issue with Hull's continued talking over him, going as far as threatening to hold him in contempt of court, an issue Hull said was stemming from his inability to hear the judge because of his connection. Walton also lambasted Hull for sending an email to a pretrial services officer that called her "arrogant" and "prissy," language that the judge called "inappropriate." Hull said he would send the email again.
In court filings, prosecutors said Goodwyn had multiple violations of the conditions of his release and that he challenged instruction from the PSA by "using word games, and becoming easily frustrated, angry and negative."
"The defendant's multiple violations appear to be centered primarily around one issue: the defendant's petulant and insolent behavior," prosecutors told the judge. "In lieu of complying with the Court's conditions, the defendant has flouted the conditions, making clear that he does not appreciate the privilege of pretrial release provided to him by the Court."
In failing to attend meetings with PSA and disrespecting Dudley's authority, prosecutors said Goodwyn made the "conscious decision" to fail to meet his release obligations.
Goodwyn, who was arrested in January, was released on bond in March. As part of his release, Goodwyn was required to not violate laws, provide a DNA sample if it's authorized, not possess a firearm, and only travel within the Eastern and Northern Districts of Texas.
The defendant faces five charges, including obstructing an official proceeding, disorderly conduct, and entering a restricted building. He pleaded not guilty to all charges at his arraignment.