Judge Blocks Agents from Targeting Journalists, Legal Observers in Portland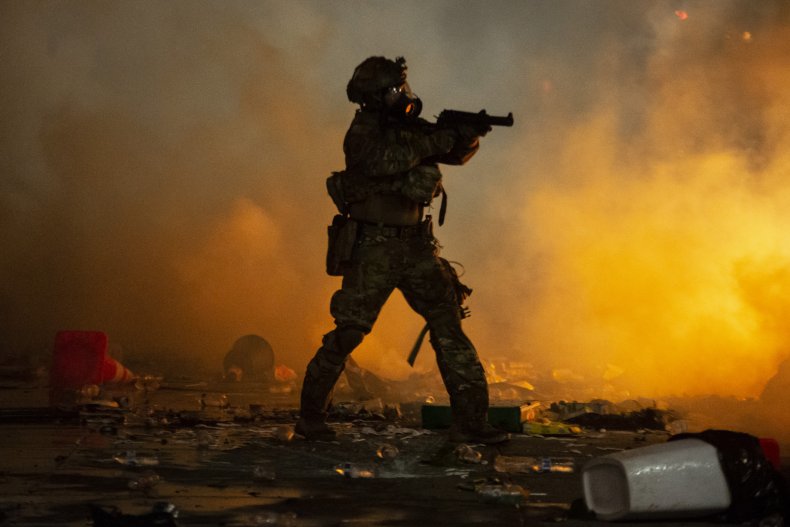 President Donald Trump's mission to send federal law enforcement agents to restore "law and order" in U.S. cities with ongoing Black Lives Matter protests hit a slight roadblock in Portland, Oregon on Thursday.
U.S. District Judge Michael Simon ordered agents to stop targeting legal observers and journalists at protests in Portland, Oregon on Thursday, in response to a lawsuit filed by the American Civil Liberties Union (ACLU) of Oregon. The order adds agents from the Department of Homeland Security (DHS) and the U.S. Marshals Service to a previously issued restraining order placing the restrictions on local police.
"This order is a victory for the rule of law," Jann Carson, interim executive director of the ACLU of Oregon, said in a statement. "Federal agents from Trump's Departments of Homeland Security and Justice are terrorizing the community, threatening lives, and relentlessly attacking journalists and legal observers documenting protests. These are the actions of a tyrant, and they have no place anywhere in America."
The lawsuit was filed on the behalf of local journalists and legal observers who say they were physically attacked by agents while covering demonstrations, despite identifying themselves and wearing clearly marked clothing that said "PRESS" or "ACLU of Oregon Legal Observer" in large lettering.
Simon shot down arguments from the federal agencies that their attempts to protect federal property outweigh First Amendment rights, along with claims that they should be allowed to forcibly disperse observers and journalists from demonstrations as part of their effort to counter "violent opportunists."
"There is no evidence that any journalist or legal observer-let alone any of the named Plaintiffs-has damaged federal property or acted violently towards federal officers," Simon wrote in the decision.
The order also prohibits agents from confiscating cameras, recording devices or press passes. A different ACLU lawsuit filed against DHS and the Marshals on behalf of volunteer street medics working at the protests is currently pending.
"The ACLU will hold federal and local law enforcement nationwide to account if they violate our constitutional rights," said Vera Eidelman, staff attorney with the ACLU's Speech, Privacy and Technology Project.
The state of Oregon has also launched two lawsuits against the administration over the presence of the agents and their alleged activities in the city.
One pending suit seeks an injunction forcing the agents to identify themselves and not detain anyone at the protests without probable cause, with many already having been arrested after allegedly being subjected to harsh treatment from officers who refused to identify themselves.
Local officials have overwhelmingly demanded that agents leave the city, including Portland Mayor Ted Wheeler, who was hit tear gas while attending the protests on Monday.
"I'm not gonna lie, it stings, it's hard to breathe," Wheeler said after the incident, in a video posted to Twitter by The New York Times correspondent Mike Baker. "I can tell you with 100 percent honesty, I saw nothing which provoked this response."
Oregon Governor Kate Brown has also demanded the agents leave the area, insisting they are worsening the situation and being used by Trump as a political stunt meant to impress his base before November's election.
Newsweek reached out to DHS and the U.S. Marshals Service for comment.