Judge Blocks Trump Administration From Deporting Reunited Families—for Now
A federal judge has temporarily blocked the Trump administration from deporting families who have been reunited after they were forcibly separated at the U.S.-Mexico border.
The American Civil Liberties Union (ACLU) had sought a temporary restraining order on Monday over concerns that the government would oversee "mass deportations" following the reunification of children ages 5 to 17 with their parents.
San Diego District Judge Dana Sabraw issued the stay on deportations, but only until July 23, giving the government a chance to respond to the ACLU motion.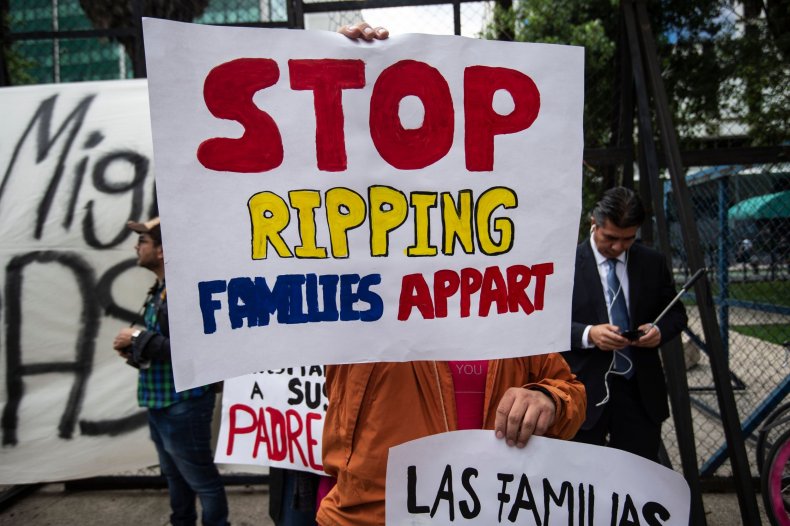 Lee Gelernt, deputy director of the ACLU's Immigrants' Rights Project, said in a statement shared by the organization that Sabraw's decision "once again made clear that the government unconstitutionally took these children away and now must do everything in its power to reunite them safely and by the deadline.
The Trump administration said it has completed the reunification of all eligible children under age 5 with their parents and is currently racing to meet a July 26 deadline for reuniting the rest of the nearly 3,000 children who were separated from their families under the "zero tolerance" practice.
The ACLU said the week-long stay on deportations would provide parents with the time they needed to consider whether to have their children deported with them or to leave them behind in the U.S.
"A one-week stay is a reasonable and appropriate remedy to ensure that the unimaginable trauma these families have suffered does not turn even worse because parents made an uninformed decision about the fate of their child," the ACLU wrote in its filing, according to Reuters.
A government attorney suggested during Monday's hearing that speeding up deportations would aid family reunifications by creating more room for families in detention, the news agency reported.
Sabraw shot down the suggestion, asserting that "the idea this would slow or stop reunifications" is "not an option. If space is an issue, the government will make space," Sabraw said, according to Reuters.
Sabraw has set July 24 as the date for the next hearing on the issue—just two days before the Trump administration faces its court-ordered deadline to complete reunification of separated families.
On Friday, the Trump administration said it had identified around 2,550 children between the ages of 5 and 17 in the custody of the Department of Health and Human Services (HHS) who have been separated from their parents.
However, HHS spokesman Jonathan White admitted in court on Monday that the department was still searching for the parents of 71 of those children.