Judge in Boston 'Straight Pride Parade' Counter-Protest Trial Under Investigation by Massachusetts State Board
Boston Municipal Court Judge Richard Sinnott is under investigation by Massachusetts' Commission on Judicial Conduct for his behavior during trials for protesters of the controversial "Straight Pride Parade," local officials said Tuesday.
The investigation was started "in response to multiple reports appearing in the media recently," according to a statement released by the Commission on Judicial Conduct.
Sinnott came under fire for his refusal to slow prosecution of protesters charged with misdemeanors during the August 31 Straight Pride Parade in the city. Over 30 people were detained during clashes between paradegoers, the Boston Police Department—who accused protesters of hurling "bottles filled with urine" and other objects at them—and anti-parade protesters.
Suffolk County District Attorney Rachel Rollins said that her office did not wish to pursue charges against most of the protesters, but Sinnott refused to halt prosecution efforts in spite of Rollins' request to dismiss the cases. Rollins summarily filed an emergency petition with the State Supreme Court when Sinnott refused to dismiss charges against Rod Webber, who was making a documentary film about the parade and had been arrested in the clash.
Rollins argued that the filing of a nolle prosequi by her office "constitutionally protected action that affords the prosecutor the right to exercise her judgment in the prosecution of cases and the allocation of limited prosecutorial resources to protect public safety."
"By compelling arraignment in every case, the judge punished the exercise of individuals' First Amendment right to protest. At my request, prosecutors used the discretion constitutionally allocated to the executive branch to triage cases and use our resources most effectively to protect public safety," said Rollins at the time.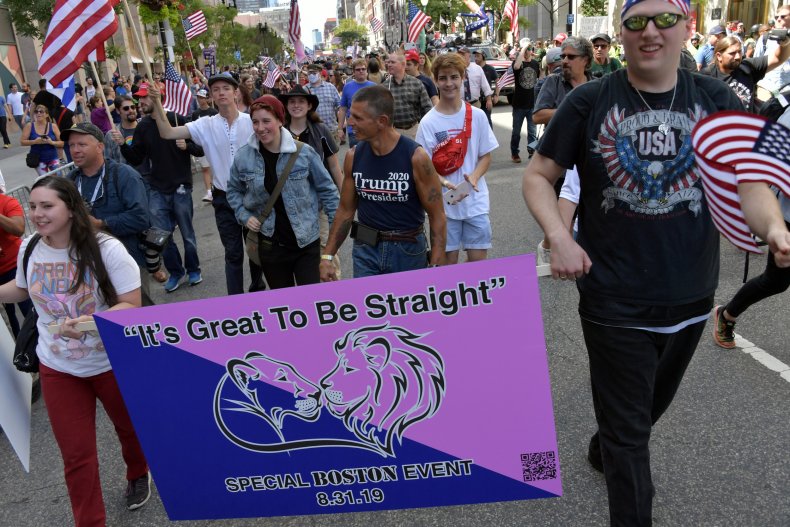 Supreme Judicial Judge Frank M. Gaziano ruled in favor of Rollins in the case of Webber, declaring that Sinnott had no authority to pursue arraignment charges.
"In the context of criminal prosecutions, the executive power affords prosecutors wide discretion in deciding whether to prosecute a particular defendant, and that discretion is exclusive to them. Fundamentally, the judge had no authority to 'deny' the Commonwealth's entry of a nolle prosequi. His effort to do so violated the Commonwealth's constitutional rights…" Justice Gaziano wrote in his judgement, which may be read here, adding that Webber's record would be expunged.
Deepening the controversy, an incident occurred at the September 4 hearing for protester Lilley Antoinette, when defense attorney Susan Church was arrested and taken into custody after reading case law and suggesting that Sinnott "had no authority" to overrule Rollins' request in the Webber case. Sinnott overruled Church and had her handcuffed and held for three hours, according to the Boston Globe.
Both incidents have combined to create the push to have Sinott investigated. "I look forward to a rapid resolution of this matter," Sinnott said in a statement released to WHDH.
"I don't know what's in his mind, but it's concerning to me that he took such an obviously illegal position ... to the point where when I was trying to cite the law to him, he arrested me," Church told WBUR. "No one can fully understand his reasons but there they need to be investigated."
The Massachusetts Commission on Judicial Conduct (CJC) is the state agency responsible for investigating complaints alleging that a state court judge has engaged in judicial misconduct or has a disability preventing him or her from properly performing judicial duties, according to its official website.
Correction (9/25, 5:15 p.m.): A previous version of this article misspelled Judge Gaziano's name, and misstated that Church had appealed, when it was, in fact, DA Rollins. Further information added about Rod Webber, documentarian whose case is tied to the ruling by Gaziano, and corrections made to discussion of ruling and order of events. Added statement from Church given to WBUR. Information added as to whose trial was taking place when Church was handcuffed. Link to ruling added. Added statement from website of CJC. Edited for clarity.