Judge Calls Capitol Rioter Facing 20 Years in Prison 'Foolish' for Acting as Own Lawyer
Alan Hostetter, a 56-year-old man from California, is the latest Capitol riot defendant to become his own attorney, a decision a judge warned hasn't been successful in his courtroom in the past.
Hostetter believed former President Donald Trump rightfully won the 2020 presidential election and is accused of planning to go to the Capitol on January 6 to send a message to Congress about the "stolen" election. One of the most high-profile defendants, Hotsetter was charged with conspiring to obstruct Congress' certification of President Joe Biden's election victory and faces 20 years in prison.
At a hearing on Thursday, Judge Royce Lamberth told Hostetter that it's "foolish" for Hostetter to serve as his own defense attorney. Lamberth said the defendant will have a "fool for a client" if he represents himself and warned Hostetter that he's never seen a defendant successfully act as his own attorney, according to NBC4 Washington's Scott MacFarlane.
"I would never represent myself if I was charged with a crime," Lamberth said. "But I'm not gonna deny you the right."
Hostetter, who founded a group that opposes government-mandated COVID-19 restrictions, is accused of using the company's YouTube channel to spread his belief that votes for Trump were switched to Biden, according to court documents. In November, he said in a video that people at the "highest level" needed to be made an "example of with an execution or two or three."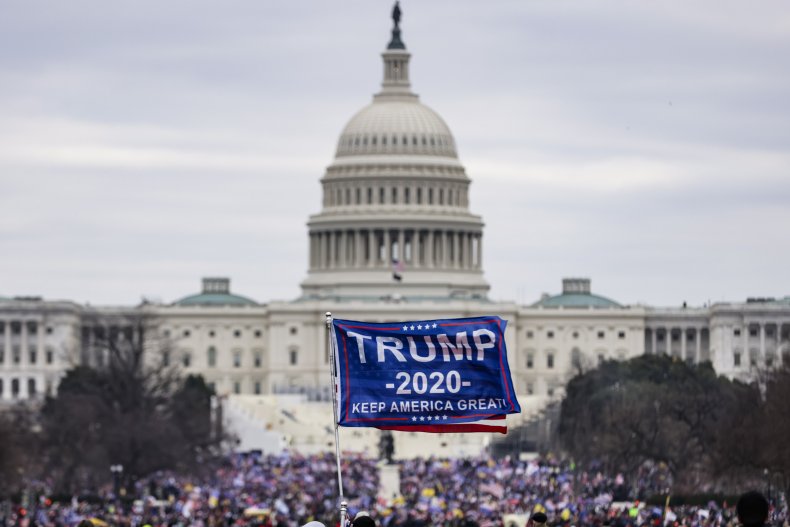 After hosting a "Stop the Steal" rally in California, Hostetter wrote in a Telegram chat that he was traveling to Washington, D.C., at the former president's request. He said he would be there "bullhorns on fire, to let the swamp dwellers know we will not let them steal our country from us," and encouraged people to join.
Warning on January 3 that things would "come to a head" in the next several days, court documents allege Hostetter had plans to "move back to the Capitol" after Trump's rally at the Ellipse finished.
"This was the 'shot heard round the world!'... the 202l version of 1776. That war lasted 8 years. We are just getting started," Hostetter captioned a photo he posted on Instagram of himself inside the Capitol.
Hundreds of people were charged in connection to the Capitol riot and some have been critical of the government's persistence in bringing them to justice. Critics have referred to the defendants as "political prisoners" and in September, hundreds of people protested the ongoing arrests and detention of those accused of participating in the January 6 insurrection.
During Thursday's hearing, MacFarlane tweeted that Hostetter told the court the January 6 investigation is "corrupt" and that the government is trying to "bankrupt" defendants as part of their strategy. Finances were motivating him to move to represent himself, according to MacFarlane, and he said he had a good relationship with his defense attorney so he'd want her as an "informal" advisor.
Newsweek reached out to Karren Kenney, Hostetter's former attorney, for comment but did not receive a response in time for publication.
A former police officer, Hostetter has no experience being part of a criminal case and Lamberth repeatedly urged him not to serve as his own attorney. However, Hostetter held firm in his decision, telling the judge it was a voluntary choice he still wished to make. In time, Hostetter said it would "become clear" to the public why he decided to give up his attorney and defend the case himself.
Hostetter isn't the first Capitol riot defendant to choose to represent himself and on Tuesday, Brandon Fellows, who is accused of smoking weed in a senator's office, confirmed to U.S. District Judge Trevor McFadden that he wanted to serve as his own attorney. McFadden also cautioned Fellows against making the decision not to use a trained attorney.