Judge Denies Suit by Creighton University Students Against Vaccine Mandate
A Nebraska trial court judge on Wednesday denied the petition for injunction filed by a group of Creighton University students suing their Catholic Jesuit university for refusing to grant them religious exemptions to the college's COVID-19 mandate.
In the ruling, District Judge Marlon A. Polk of Douglas County noted that the plaintiffs' request for injunctive relief was based on a breach of contract theory. However, the ruling stated, "to the extent that there was a contract between plaintiffs and defendant and without finding that such a contract existed, the Court finds that the plaintiffs' agreement to receive a COVID-19 vaccine once the FDA fully approved a COVID-19 vaccine became part of that contract."
"The Court didn't go so far as to say whether or not a contract existed but if it did, they looked at the EAU (Emergency Youth Authorization) waiver and said that it either was a contract or it modified the prior contract," Robert Sullivan, the plaintiffs' attorney told Newsweek Wednesday.
It was on September 8 that four Creighton University students filed a lawsuit against the school for violating their religious rights by refusing to provide a religious exemption to the COVID-19 vaccine. Soon after filing the original suit, Sullivan amended the complaint when four more students joined the suit. Ultimately, 10 Creighton students—eight undergraduates and two students in graduate programs—were named as plaintiffs.
The suit was filed after university administrators set a September 7 deadline for students to file proof of vaccination, a mandate that applied to all Creighton students, even those solely attending online classes.
According to Sullivan, the EAU's were distributed and signed by students during the time period of June to August. The school's administration made clear that any student who refused to comply would be "administratively withdrawn."
Yet, each of the students named in the suit has a religious objection to the vaccines based on the fact that they were developed and/or tested using abortion derived fetal cell lines. Some of the plaintiffs also have serious medical conditions, which make the vaccines "not recommended" for them.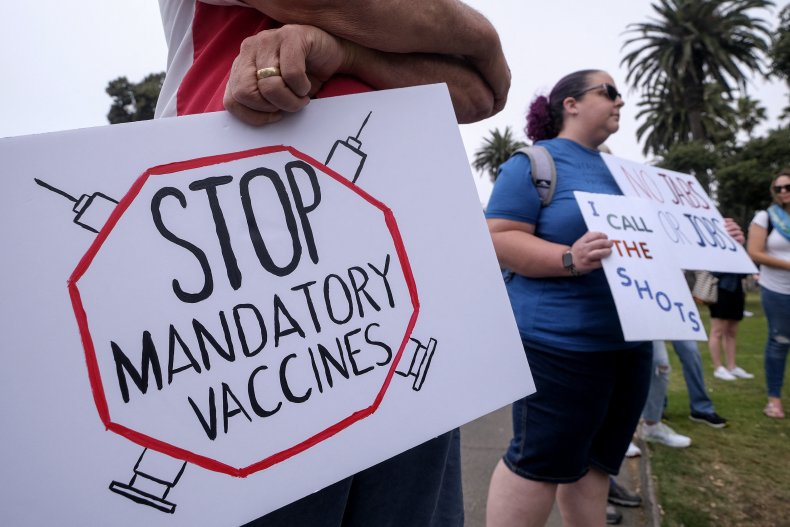 The initial complaint also charged the Catholic Jesuit university with "arbitrary and disparate treatment" because some of the students were granted medical waivers and/or exemptions from the vaccine prior to the college's decision to no longer grant them. The school initially issued exemptions for students when the vaccines were still under "Emergency Use Authorization" but the exemption option was removed once the Pfizer-BioNTech vaccine received full FDA approval on August 23. So those students who received an exemption before the college made the change in policy were allowed to continue their education while the students that did not are now forced to get the vaccine.
Also of note is the university's vaccine policy regarding staff and faculty, who are not required to have the vaccine but instead are "strongly encouraged to be vaccinated."
Creighton University's Director of Public Relations Cindy Workman provided the following statement: "Creighton University, like so many institutions of higher learning around the country, has consistently stated that vaccinations remain our single greatest defense against the COVID-19 virus. In addition to the requirement that all Creighton students receive the vaccination, staff and faculty were strongly encouraged to do so, and very nearly 100 percent of all Creighton employees have been vaccinated." Workman also noted that "Creighton University has historically not allowed for an immunization waiver on religious grounds for students for any vaccination requirement."
"This is an important case because it will have an impact on all future relationships between universities (and colleges) and their students," Sullivan told Newsweek. "Does a university have the right to unilaterally dictate medical treatment for their students without allowing any exceptions or accommodations? If so, why can educational institutions have this power over students, but not their faculty and staff? These are important questions, and I believe they are matters of first impression."
The university's stance also raises questions about whether schools can remove students from enrollment mid-semester and whether or not the school can keep the tuition fees already paid by those students.
As one of the plaintiffs in the suit, Lauren Ramaekers, was the president of Creighton's Students for Life group until she had to relinquish the role when she was officially un-enrolled on September 8. That's when students who hadn't filed proof of vaccination found their school accounts placed on hold and were notified they couldn't attend classes until they updated their vaccination records.
Like the fellow plaintiffs, Ramaekers objected to the vaccine because of the "use of abortion-derived fetal cells" in the vaccines' research and development.
"My pro-life values I've lived throughout my entire life—and if I'm not upholding those than I'm doing myself an injustice in what I believe to be true," Ramaekers told Newsweek. "I understand my role as a leader in that position, not only in that specific club but it's about living it out also."
Since she was un-enrolled, Ramaekers hasn't attended classes or stepped foot on the Creighton campus. The senior, who is a double major in psychology and Spanish, said that's been frustrating since she only has nine credits left until she was set to graduate this December.
"Obviously, it's stressful," said Ramaekers, noting that a lot of her fellow students are in the same boat, wondering how they'll get back on track with their education or if they'll receive their tuition back. She also noted that some students got the first injection of the vaccine so they wouldn't get un-enrolled.
Workman noted in the statement she provided to Newsweek that the university will adhere to all policies related to withdrawal and refunds as stated in the university's handbook.
"I spent three and a half years at Creighton. I was really hopeful but I've lost a lot of confidence in what the school is teaching me," she said.
For now, Sullivan said he'll discuss with his clients whether to appeal or drop the case or if he'll file a new breach of contract claim against the school for damages related to the loss of tuition or the delay to the students' future careers.
Located in Omaha, Creighton University has nearly 9,000 undergraduate, graduate and professional students. According to the school's website, "Creighton's students value faith, leadership, service and they find opportunities to grow in these areas at Creighton."
Besides Creighton, other Jesuit universities have also faced lawsuits related to the COVID-19 vaccine. Two students at Loyola Marymount University in Los Angeles sued over the university's vaccine requirement while some students at Boston College expressed animosity over the school's denial of exemption requests.
Newsweek reached out to William Hargens, the attorney representing Creighton University, but did not receive a response before publication.
Update, 9/23/21 at 1:45 p.m. ET: This story has been updated with a statement from Creighton University's Director of Public Relations, Cindy Workman.
Update, 9/23/21 at 4:32 p.m. ET: This story has been updated to reflect that Creighton University initially offered exemptions, not religious waivers.