Judge Drops Rittenhouse Gun Charge, Grants Dismissal the Defense Sought Twice
The judge in the Kyle Rittenhouse trial has granted the defense's wish to have the gun possession charge against the teenager dropped just before the jury is expected to deliberate on the verdict.
On Monday in Wisconsin, Kenosha County Circuit Judge Bruce Schroeder informed the jury that they would not have to decide whether Rittenhouse was guilty of a misdemeanor count against him, possession of a dangerous weapon by a person under 18. The charge, which is punishable by up to nine months behind bars, was expected to be the easiest charge for prosecutors to prove.
Rittenhouse, who fatally shot Joseph Rosenbaum and Kyle Huber and injured Gaige Grosskreutz on August 25, 2020, in Kenosha, has been charged with five felony counts, including intentional, reckless and attempted homicide and reckless endangerment.
"Count six is no longer part of your consideration. That was the firearm charge," Schroeder instructed the jury. "That will not be something you need to address."
Earlier in the trial, Rittenhouse's defense team had filed two motions to have the gun possession charge dismissed, but Schroeder denied both.
However, the judge apparently changed his mind. He said that the Wisconsin law was poorly written and that the shorter barrel size of the AR-15-style rifle Rittenhouse carried meant he didn't violate the state law.
He said that the law could be interpreted to mean that 17-year-olds—Rittenhouse's age on the night of the 2020 shootings—could legally openly carry firearms as long as they're not short-barrel rifles.
For the charge to stand, Schroeder maintained, the prosecution had to prove that Rittenhouse's rifle had an overall length shorter than 26 inches and that the barrel was less than 16 inches.
Rittenhouse's rifle was 35 inches long and had a 16-inch barrel.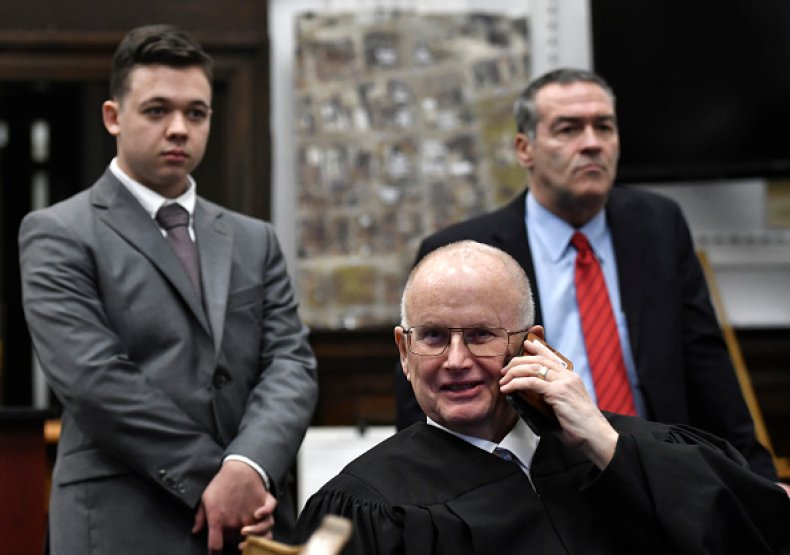 Schroeder's announcement, which came before jurors even heard the closing arguments, came as a shock to prosecutors, who had earlier argued that the interpretation did not make sense.
Under Wisconsin law, "any person under 18 years of age who possesses or goes armed with a dangerous weapon is guilty of a Class A misdemeanor." A dangerous weapon is defined as any "firearm, loaded or unloaded."
Schroeder's interpretation means that while it would be legal for a 17-year-old to carry a semiautomatic rifle in Wisconsin, it would be illegal for a minor to carry brass knuckles, which are included in the state law's definition of a dangerous weapon.
The dismissal of the gun charge is the latest controversial ruling to come out of the Rittenhouse trial.
Schroeder drew criticism ahead of the trial when he barred both prosecutors and defense lawyers from referring to the two men who were killed as "victims" but allowed them to be called "rioters" and "looters."
Over the past two weeks, the trial has at times become heated because of Schroeder, who yelled at lead prosecutor Thomas Binger multiple times. The judge also received a public backlash for jokes he made about the jury's lunch and his ringtone.
Update 11/15/21, 12:15 p.m. ET: This story has been updated with more background information.