Judge Jeanine Pirro Tells Tucker Carlson Without Fox News, U.S. Would Be in 'Total Fascism'
Between cancel culture and the media, Judge Jeanine Pirro said that without Fox News, the United States would be in "total fascism."
The conservative television host and former New York State judge made the comments during the network's 25th anniversary on Tucker Carlson Tonight. Both expressed that while they initially didn't think Fox News would be successful, it has thrived because of leadership that allows its hosts to speak.
As Pirro and Carlson were discussing the "courage" of Fox News for not giving in to cancel culture and remaining on the air, Carlson said the network's hosts are the only ones in the media saying what they really think.
"Can you imagine if there wasn't Fox? It would all be the same message and everything that we're afraid of in America today—which is one train of thought, one way to speak being the only way," Pirro responded. "I mean, it would be total fascism. Thank god for Fox."
Under fascism, far-right nationalism is often embraced and forceful suppression prevents opposition to the authoritarian government. The state takes priority over the individual in fascist ideology. Often, the state also controls aspects of the economy business and media.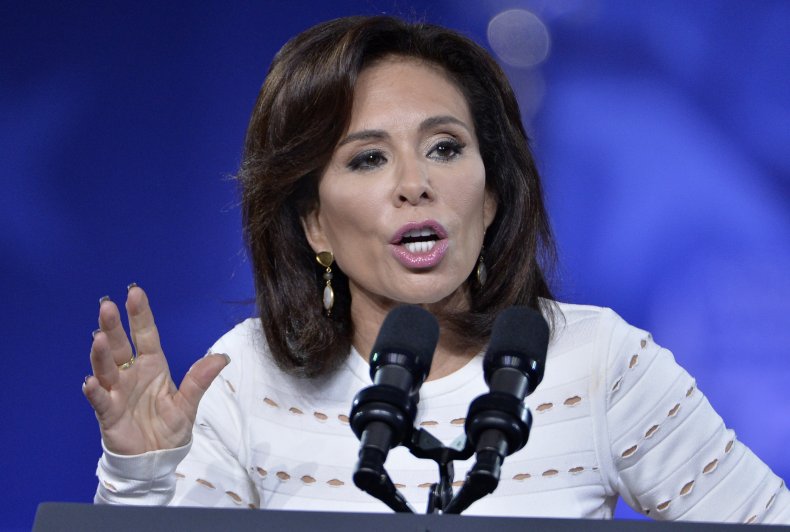 In the quarter-century that's passed, Carlson said the channel has been allowed to continue because the leaders believe they are doing something important "by letting people talk." He said that while they're all nice people, they're also committed to the freedom of speech.
"You can tell the truth on Fox News. Period. It's not easy to do that. It takes enormous toughness," he said.
Carlson went on to praise the network for never giving in to pressure from "institutions across our society" to tell hosts to stop talking about certain things or for never taking them off the air.
"I hate sucking up, I'm not sucking up to my bosses. I'm telling the truth," he said. "Yeah these people are really brave for real."
Pirro agreed.
"Yeah, for real, because cancel culture and what they would do... they would have you and me off the air in three seconds if they could," she said. "I mean they can't deal with us and yet we are talking about things that America is interested in hearing."
Critics of Fox News believe that many viewers opt to watch opinion shows rather than news broadcasts which are often "echo chambers" of the hosts' personal beliefs.
Newsweek reached out to Fox News for comment but did not hear back by the time of publication.