Judge Orders State to Pay $150,000 in Attorney's Fees After Denying Kentucky Man 'IM GOD' License Plate
The Kentucky Transportation Cabinet has been ordered to reimburse Ben Hart for attorney's fees incurred as a result of a suit he filed against the commonwealth for denying him his vanity plate.
WAVE reported that in 2016 Hart applied for plate that read "IM GOD." He had recently moved to Kenton County from Ohio, where he had had the same vanity plate for over a dozen years.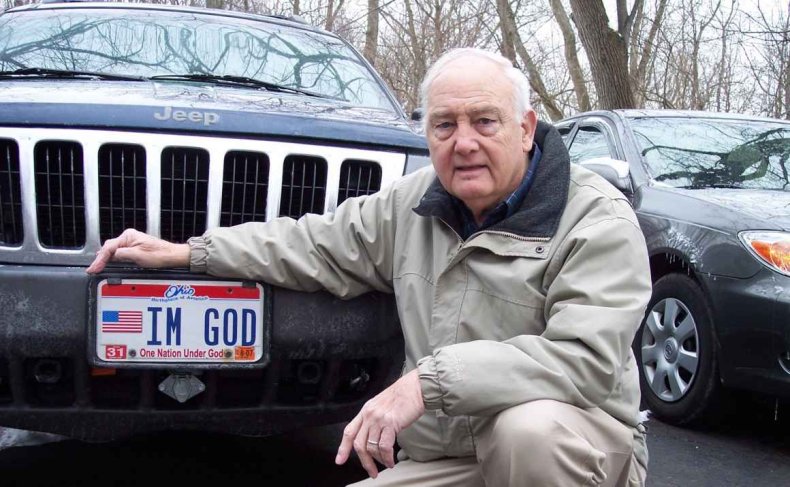 Kentucky authorities rejected the plate on grounds that it was "obscene, vulgar or in bad taste."
With the aid of the American Civil Liberties Union (ACLU) and the Freedom From Religion Foundation (FFRF), Hart filed suit, stating that his First Amendment rights were violated because the "IM GOD" plate did not violate any element of the statute that regulates what messages are appropriate on vanity plates.
The two members of the Transportation Cabinet operate under loose guidelines for approving or rejecting plates. The statute they use also incorporates the rules for custom plate designs, and it contains language forbidding "the promotion of any specific faith, religion, or anti-religion."
Previously, they had approved numerous other plates relating to God, including "GODLVS," "TRYGOD," "1GOD" and "NOGOD." In addition, Kentucky has issued vanity plates such as "UDDER," "BOOGR," "JUICY" "W8LOSS" and "FATA55."
In November, the court ruled that Hart's plate did not fall under any of the state's existing prohibitions.
In the ruling, U.S. District Court Judge Gregory F. Van Tatenhove stated that the commonwealth "went too far" in rejecting Hart's plate and violated his first amendment rights, noting "to allow such plates as 'IM4GOD' and 'LUVGOD' but reject 'IM GOD' belies viewpoint neutrality."
Then, on February 10, the court signed an order demanding the commonwealth pay $150,000 in attorney's fees and litigation costs incurred by Hart and his lawyers in pursuit of the case.
Hart is a retired Postal Service employee who was raised religious but now considers himself an atheist. He is a member of both the Kentucky ACLU and the FFRF.
Atheists have come into conflict with state authorities over vanity license plates before. In 2016, Shannon Morgan won a suit against the state of New Jersey after they rejected her vanity plate that read "8THEIST."
The New York Times reported that Morgan worked with the Americans United for Separation of Church and State to make a case, which included her applying for another vanity plate that said "BAPTIST" and being approved.
She was awarded $75,000 in legal fees. The settlement from the state also included them giving affirmative consent that plates like "ATHEISM," "GODLESS," "HEATHEN," "HERETIC" and "SKEPTIC" were also acceptable.