Judge Orders Louisiana Man's Mouth Taped Shut After He Interupts During Sentencing Hearing
A Louisiana judge is under fire for ordering a man to be silenced with duct tape placed over his mouth after he interrupted during a sentencing hearing.
The incident occurred on July 18 in Lafayette, Louisiana when 15th Judicial District Court Judge Marilyn Castle was sentencing Michael C. Duhon. Duhon was convicted of money laundering and theft of over $25,000 in February 2019.
According to The Acadiana Advocate, the problem began with Duhon objecting after Castle asked him to stop submitting motions on his own behalf rather than via his lawyer, Aaron Adams. Duhon later spoke up when evidence was submitted in the case and also tried to argue on another matter when he was again told to speak through Adams.
Court minutes viewed by the newspaper indicate that Castle requested that Duhon remain quiet on two occasions before she asked the bailiff to tape his mouth shut while witnesses were on the stand. However, the minutes didn't say how long the tape remained on Duhon's mouth, but did indicate that Adams objected to the use of the duct tape. Adams also asked that Duhon be removed from the courtroom rather than having his mouth taped shut.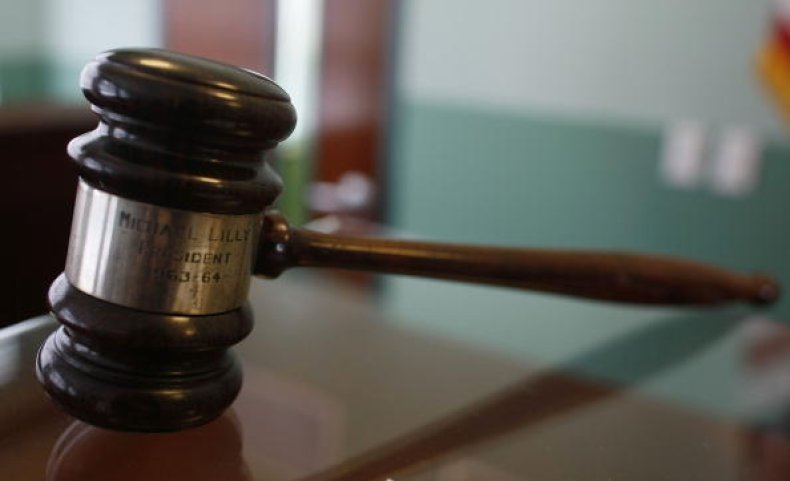 It was unclear from the court minutes if Duhon was removed from the court, but Castle sentenced him to 11 years in prison and gave him credit for time served. Castle also recommended that Duhon be taken to a mental health facility to receive treatment.
However, the issue doesn't end there. A public defender who was present in the court at the time of Duhon's hearing reportedly could face contempt charges for recording the encounter, including when Duhon's mouth was taped closed, the Advocate said.
Public defender Michael Gregory has no connection to Duhon's case and is not representing him, but was in the court for another matter.
Following the hearing, the Advocate said, Gregory met with Castle to discuss the incident. He was ordered to appear in court regarding possible contempt charges where Castle will preside over the hearing.
The court order obtained by the Advocate said Gregory violated the district's rules "by broadcasting, televising, recording or taking photographs in the courtroom" by recording "a portion of the court proceedings" and broadcasting "those proceedings to others." The court minutes also ordered that the recording Gregory made be deleted, the newspaper said.
Castle's secretary told the newspaper that the judge could not comment on her orders at the hearing "because the Code of Judicial Conduct prohibits her from commenting on ongoing proceedings."
Using duct tape to quiet a defendant is a controversial practice that has been panned by some United States Supreme Court Justices as well as in rulings made in various states, including Louisiana.
Last year, an Ohio judge John J. Russo apologized after ordering defendant Franklyn Williams' mouth be taped shut after he interjected several times during a hearing.
"In retrospect, while there is legal precedent for gagging a defendant to keep order in a court, I apologize for taking that action last week," Russo said in a statement to the court after the incident. "My decision to end your outburst came after I had exhausted every other attempt to restore order to a hearing you continuously impeded. Despite many warnings for you to stop your frequent and offensive outbursts — I believe it was over 60 interruptions in 54 minutes — you continued to interrupt and hinder the legal procedures of the court, procedures that are designed to protect your rights, the rights of your victims and the justice system. It escalated to the point that, that as a judge, it was my responsibility to take control of the hearing."
Williams was sentenced to 24 years in prison on charges of including robbery, aggravated robbery and kidnapping.