Judge Orders Trump Administration to Turn Plane Around After Trying to Deport Mother, Child Ahead of Hearing
A federal judge in Washington, D.C., has ordered the Trump administration to immediately return a mother and her child to the U.S. after it deported the family ahead of a hearing that would have seen them spared from deportation.
On Thursday, U.S. District Court Judge Emmet G. Sullivan ruled that the Trump administration must stop deporting asylum seekers in the U.S. who have made a case for fleeing domestic abuse or gang violence in their home countries.
The ruling came after the ACLU launched a lawsuit seeking an emergency stay of removal for plaintiffs affected by the Trump administration's recent bid to restrict approvals of asylum claims citing domestic violence or gang brutality.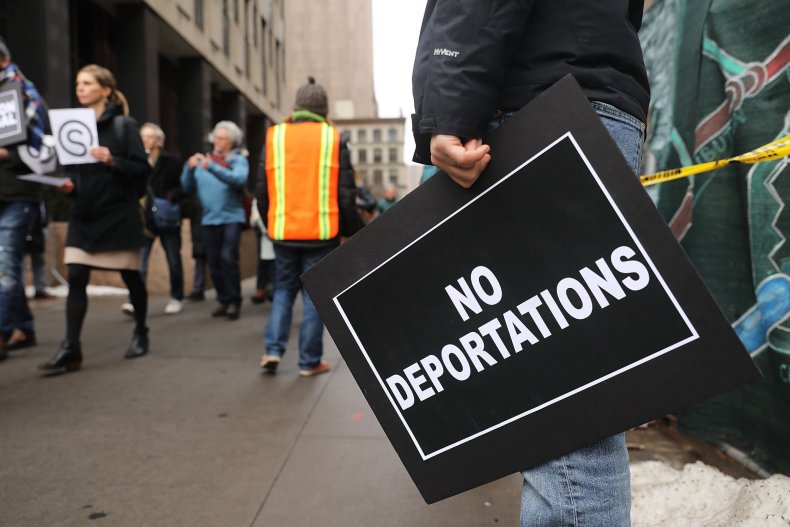 In June, Sessions issued a ruling that effectively saw domestic abuse and gang violence downgraded as valid reasons for "credible fear" of persecution in the home countries of asylum seekers.
Asylum seekers whose claims of "credible fear" are rejected by a United States Citizenship and Immigration Services (USCIS) asylum officer are typically referred for deportation.
Following Sessions's ruling, USCIS instructed asylum officers to reject claims of "credible fear" over domestic violence and gang brutality, except in special circumstances.
The ACLU said Sullivan "expressed outrage" when he learned that two plaintiffs in the case, a mother and daughter who had fled to the U.S. over fears of violence in El Salvador, had been "spirited away" back to their home country ahead of the hearing, "despite assurances in open court" on Wednesday that "no plaintiff would be deported before midnight" on Thursday.
The judge ordered that the "plane be turned around," the ACLU said, and suggested Attorney General Jeff Sessions be held in contempt of court if he failed to return the mother, who has been identified by the pseudonym "Carmen," and her daughter to the U.S.
In the ACLU's original filing, Carmen alleged that she was forced to flee her home in El Salvador with her young daughter, who was identified by the initials "J.A.C.F.," to "escape two decades of horrific sexual abuse by her husband and death threats from a violent gang," according to the ACLU's lawsuit.
"Carmen's husband routinely raped, stalked and threatened her with death, treating her as his property, even after they were living apart," the filing stated, adding that "Carmen did not report her husband's threats to police because she had seen that the police did not protect women from their husband's abuse."
The mother said she had also been held up at gunpoint by members of a violent gang in May 2018 while on her way home from her factory job. She said gang members demanded that she pay a monthly "tax," threatening harm to her and her daughter's safety should she refuse to comply.
Read more: Trump administration restricts asylum for 'most vulnerable' victims of violence
Carmen alleged that as many as five of her co-workers had been killed by the same gang in the past year.
"She knew their threats were serious and fled with J.A.C.F. to avoid death," the ACLU's filing stated.
Despite being found to have testified credibly, Carmen and her daughter received a negative credible fear determination on June 29, which was affirmed by an immigration judge on July 23, according to the ACLU.
The judge said it was "unacceptable" that someone in pursuit of justice who had made claims of credible fear in a U.S. court could be deported out of the country while her attorneys made her case in court, the ACLU said.
Jennifer Chang Newell, a managing attorney with the ACLU's Immigrants' Rights Project who argued the case, said she was "thrilled the stay of removal was issued but sickened that the government deported two of our clients–a mom and her little girl–in the early morning hours."
"In its rush to deport as many immigrants as possible, the Trump administration is putting these women and children in grave danger of being raped, beaten, or killed," Newell said in a statement shared by the ACLU.
"We will not rest until our clients are returned to safety."