Judge Rejects 'Stand Your Ground' Motion For Miami Man Who Threatened Protesters At Gunpoint
A Florida judge ruled against a "stand your ground" motion on Thursday for a Miami man who was accused of threatening protesters with a gun in 2019.
In numerous videos of the 2019 protests, Mark Bartlett can be seen waving a gun at numerous protesters near Miami's Brickell Avenue Bridge as well as yelling several racial slurs.
"The use of racial comments shows he was simmering," Judge Alberto Milian said late Thursday afternoon. "He was an angry man. He was inconvenienced. He wanted to go back to Broward County. There was no reasonable justification."
In 2019, Bartlett was arrested and charged with three counts of aggravated assault with prejudice, one count of carrying a concealed weapon and one count of improper exhibition of a firearm during Martin Luther King Jr. Day protests in Miami.
Prior to the judge's ruling on Thursday, several witnesses testified against Bartlett on Monday.
"I was holding a sign. I heard someone's noise saying, 'Hey! Hey! Come here!' The horn is blowing. I turn around and I see him hanging out the window," Deante Joseph, who was at the 2019 protests, said on Tuesday, WPLG news in Florida reported.
One witness video showed during the testimonies featured Bartlett shouting at a protester that was in front of his vehicle holding a sign that said, "Preserve Affordable Housing."
In the video, Bartlett can be heard saying, "Get in front of my car! You f****** piece of s***." Bartlett can also be heard using the n-word in the videos.
Another witness video captured Dana Scalione, Bartlett's fiancé that was in the passenger seat of his vehicle during the incident, getting out of the vehicle and accusing the group of protesters of running over her foot and obstructing traffic. In the video, Bartlett also got out of his car and waved a gun at the protesters.
"Get the f*** out of here! You f****** piece of s***. You f****** losers," Bartlett can be heard saying in the video.
Bartlett can then be heard yelling numerous racial slurs at the group of protesters with a gun in his hand.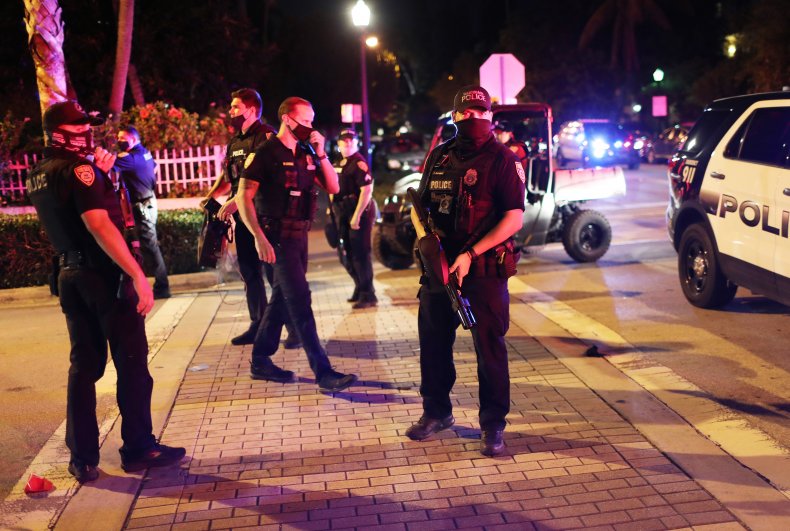 Bartlett's attorney, Bruce H. Lehr, previously filed a "stand your ground" motion, saying that Bartlett's use of force was justified during the incident.
"They were banging on the hoods of the car. They are scaring people. They have masks on. They are scaring people," Lehr said on Monday.
During his testimony Thursday, Bartlett claimed that he felt like he was being held hostage by the group of protesters and brandished his firearm to deescalate the situation and to protect his fiancé from danger.
In May, the Miami District Attorney's Office issued a response to Bartlett's motion, which said, "'Stand Your Ground' law is not a carte blanche pass to brandish firearms at people you dislike, are mad at, or who otherwise inconvenience you."
After he was arrested in 2019, Bartlett told police that he did pull out his gun during the incident but never pointed it at the group of protesters. WPLG reported in 2019 that police found Bartlett's firearm loaded on his front passenger seat when he was arrested.