Trump Can't Claim Free Speech Defense in Protesters' Lawsuit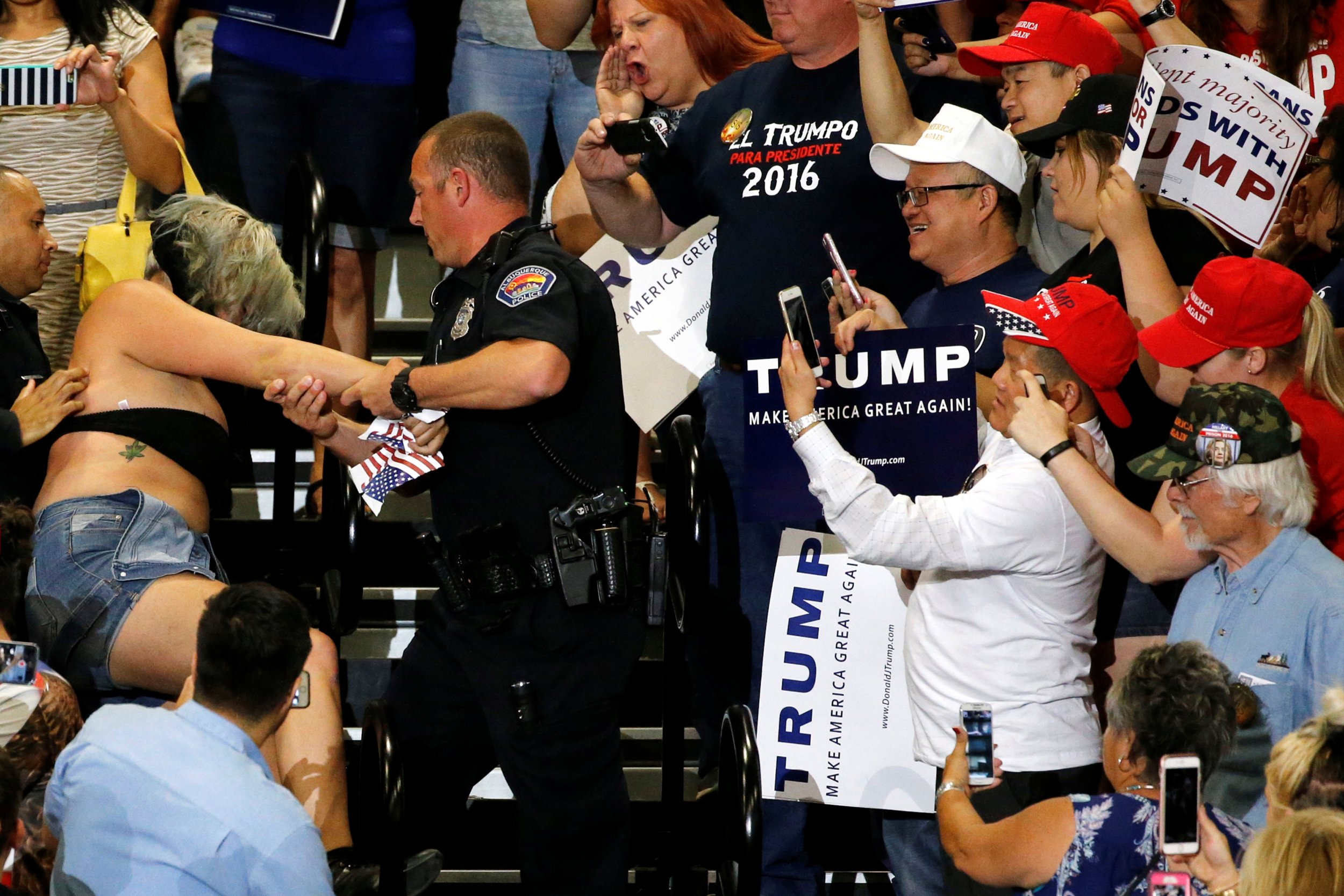 A lawsuit contending Donald Trump incited violence against campaign rally protesters cannot be dismissed based on a First Amendment claim, a federal judge writes.
Judge David J. Hale, of U.S. District Court, Louisville, ruled Friday that a lawsuit brought by three Trump protesters who claim they were physically manhandled at a March 1, 2016, Kentucky rally can proceed, as most motions to dismiss were found to be inadequate. Trump's lawyers claimed that he cannot be held liable for his supporters actions, despite yelling "Get 'em out of here," to the crowd at the Kentucky International Convention Center.
Despite Trump's lawyers' allegation that his words were constitutionally protected speech, "it is plausible that Trump's direction to 'get 'em out of here' advocated the use of force...it was an order, an instruction, a command," Hale writes. The judge cites case law in stating that an incitement to violence does not enjoy First Amendment protection. "Trump's statement at least 'implicitly encouraged the use of violence or lawless action,'" Hale wrote.
"The contention that Trump's 'statement could not have been the proximate cause of any violence' because the statement was 'likely not directed at the crowd' is without merit...plaintiffs plausibly allege that Trump intended for audience members to act on his words," the judge wrote.
Plaintiffs Kashiya Nwanguma, Molly Shah and Henry Brousseau said they were physically attacked at the rally by defendants Matthew Heimbach, Alvin Bamberger and others after Trump yelled "get 'em out of here," and were forced to leave the rally. Nwanguma, an African-American, said she was shoved by Heimbach and Bamberger, who also allegedly hit her. Shah claims she was shoved by Bamberger, while Brousseau, 17, said he was punched by an unidentified member of the Traditionalist Worker Party, a "white nationalist group Heimbach was representing at the rally."
Heimbach failed to get certain portions of the complaint dismissed as "being impertinent, immaterial or scandalous." Language discussing his association with the Traditionalist Worker Party and statements he had made about how Trump would be good for the group "provide context for the alleged attacks on Nwanguma and the other plaintiffs by illustrating Heimbach's antipathy toward non-whites and persons who oppose Trump," Hale writes.
He also declined to dismiss language from the complaint that described "racial, ethnic and sexist slurs Nwanguma allegedly heard at the rally," as "they are relevant to show the atmosphere in which the alleged events occurred."
Hale further ruled that the defendants' claims that they are not liable for negligence are without grounds. "The Trump defendants contend that they cannot be held liable for negligence because they had no duty to the plaintiffs; the security provided was adequate; there is no alleged causal connection between Trump's words and plaintiff's injuries; and plaintiffs assumed the risk of injury...none of these contentions has merit," Hale wrote.
Trump's lawyers did succeed in getting a count dismissed that sought to establish that the then-presidential candidate had "vicarious liability" for Heimbach and Bamberger's actions. Citing Kentucky law, Hale writes that the protesters failed to establish that Trump had the "right to control" the defendants' conduct. "Although allegations that audience members acted at Trump's direction suggest that he exercised some level of control over Bamberger and Heimbach, it is not enough that 'Trump told people to do something' and 'they did it,' as plaintiffs assert," Hale ruled.
Hale referred the matter to a magistrate judge after finding "that plaintiffs have adequately alleged that their harm was foreseeable and that the Trump defendants had a duty to prevent it."