Brad Pitt Can Be Sued for Shoddy Post-Katrina Home Construction, Judge Rules
Brad Pitt can be held personally liable in a lawsuit against his Make It Right Foundation that alleges 109 solar-powered homes built in New Orleans' Ninth Ward were designed and constructed deficiently before they were sold to residents, the Times-Picayune reported.
The $26.8 million-project was touted to bring new technological and architectural solutions to the houses to weather Gulf storms. Elevated on posts, painted cheerful pastels and festooned with solar panels, the houses stood out in the traditionally lower-income Ninth Ward. After construction, the houses were sold to former residents with sale prices adjusted to their income levels.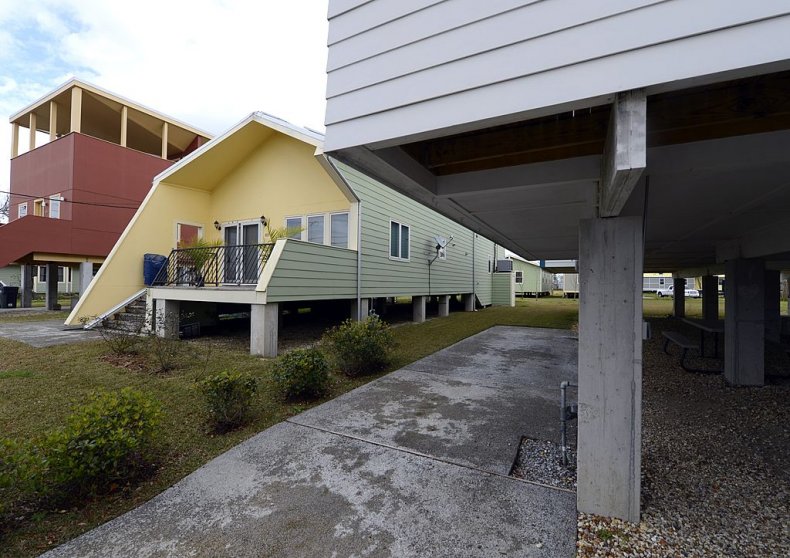 In January 2014, residents in more than 20 of the Make It Right homes began reporting signs of premature rotting. They said that the primary wood product used in their construction, TimberSIL, which coated wood fibers with sodium silicate to prevent them from decaying, was not up to the intense Louisiana humidity.
The foundation sued Timber Treatment Technologies, the producers of TimberSIL, for $500,000. The company had offered a 40-year warranty for the wood, which Make It Right claimed they refused to honor, reported the Times-Picayune. Both parties settled for an undisclosed amount in 2017, according to NBC News.
In June of 2018, the first Make It Right home was torn down, just seven years after it was built. The residence at 5012 N. Derbigny St. had its flat roof removed and tarped over, and the city found it in violation of building code, according to The Lens.
Later that year, homeowners Jennifer Decuir and Lloyd Francis filed suit against the foundation as well as Pitt and other officers, claiming that the materials and design used in their house caused a host of problems, including structural failures, mold outbreaks, electrical fires and plumbing problems.
Attorney Ron Austin, who is representing Francis and Decuir, told Architectural Digest that "Make It Right was very good at pacifying people and putting them off, and pacifying people and putting them off. They might come back and fix one thing, but not everything. I think they were able to get away with it because of who they were, because the residents were very grateful with Make It Right stepping in and showing interest in their community."
On November 20, Pitt's lawyers filed a motion requesting that the actor's name be removed from the suit, arguing that just because he lent his celebrity to the project did not mean that he was responsible for the actual construction.
According to the plaintiffs' attorney, Civil District Court Judge Rachael Johnson ruled to deny that request this week, leaving the actor potentially liable for damages if the suit is successful.
The Make It Right Foundation has also filed suit against project architect John C. Williams, who it claims was personally responsible for overseeing construction on the New Orleans homes. Although he did not provide designs for the homes—those were submitted by a number of celebrity architects including Frank Gehry and Shigeru Ban—the suit claims that Williams was to blame for inadequate waterproofing and repairs.