Judge Rules Donald Trump Admin Failed to Justify Robert Mueller Report Redactions, Orders DOJ to Publish
Portions of the Mueller report that had been redacted by the U.S. Department of Justice must be published, according to a Wednesday ruling by a federal judge.
The Mueller report includes the findings of an investigation that was spearheaded by Special Counsel Robert Mueller into Russian meddling into the 2016 presidential election. The investigation occurred in response to allegations that the campaign of Donald Trump had colluded with Russian government officials to increase its chances of winning the election.
After receiving the initial report in March 2019, U.S. Attorney General William Barr redacted parts of the report, claiming that the concealed information was privileged. District of Columbia District Judge Reggie Walton announced in March that he would conduct an independent review of the complete Mueller report.
"Based on the Court's review of the unredacted version of the Mueller Report, the Court concludes that the Department has failed to satisfy its burden to demonstrate that the withheld material is protected by the deliberative process privilege," Judge Walton wrote in his Wednesday ruling.
Walton ordered the DOJ to publish previously redacted information involving Mueller's "deliberations about decisions not to prosecute" certain individuals. According to the ruling, that sort of information is not classified as privileged.
Judge Walton's order did not require all information in the Mueller report to be released to the public. The redaction of information concerning the inner workings of the grand jury, including the names of witnesses and members of the grand jurors was "appropriate," according to Walton.
"Although the Court acknowledges that the public interest in the Special
Counsel's investigation is substantial, the Court finds that the plaintiffs have failed to identify a public interest that would outweigh the individuals' privacy interest from having their names disclosed," the ruling stated.
Newsweek reached out to the Department of Justice for comment.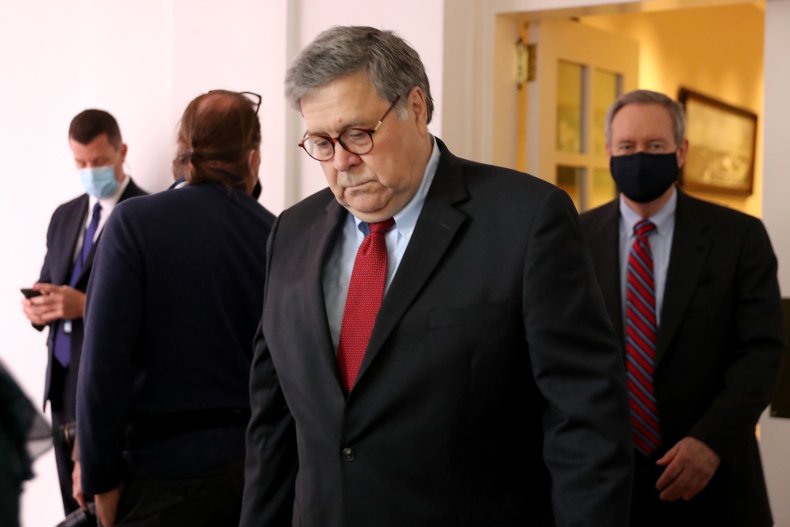 Walton's ruling was in response to lawsuits filed by BuzzFeed News reporter Jason Leopold and the Electronic Privacy Information Center, both of which asked that the DOJ release the Mueller report in a full, unredacted version.
Walton asked to review the complete Mueller report after Barr released the original version, which was highly redacted, to the public. In a March 2020 memorandum, Walton expressed doubts that all the redactions were covered by the Freedom of Information Act. Judge Walton also alleged that Barr's comments about the report before its actual release had made the public "concerned about whether or not there is full transparency."
In June, the DOJ released another version of the Mueller report which revealed previously withheld information about Trump adviser Roger Stone, who was sentenced to 40 months in prison in connection with Mueller's investigation. Stone's sentence was commuted by President Trump in July.
While stopping short of full exoneration, Mueller's investigation found no conclusive evidence that President Trump had colluded with foreign entities during the 2016 election.