Judge Rules Elephant Is Not a 'Person,' Will Not Be Freed From NYC Zoo
The New York State Court of Appeals ruled on Tuesday that, despite one nonprofit's best efforts, an elephant is not a human being and therefore will not be released from the Bronx Zoo.
Happy, a 48-year-old Asian elephant, has been in the spotlight for some animal rights activists for several years now and garnered attention from celebrities and politicians after animal rights groups alleged that the pachyderm is lonely.
The Nonhuman Rights Project challenged the Bronx Zoo's confinement of Happy, arguing that the elephant was in cruel confinement. They argued that because Happy is an intelligent being, the elephant should be able to sue under habeas corpus rights that protect against unlawful imprisonment.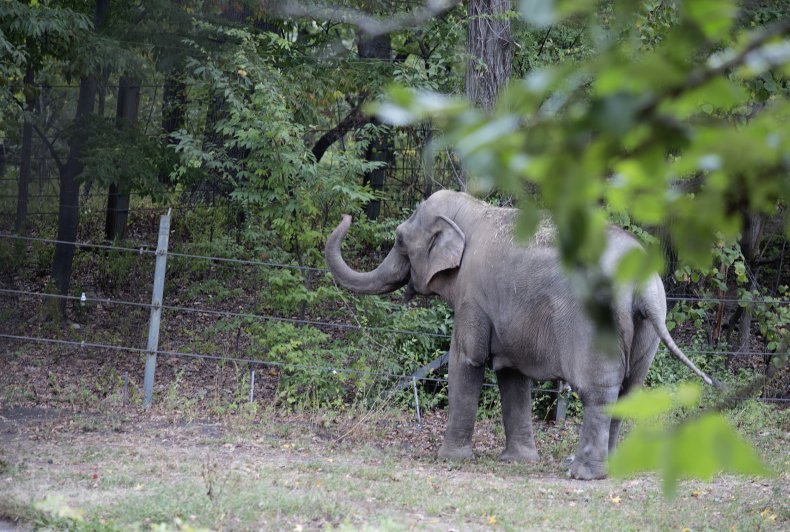 However, on Tuesday, in what was the first time the highest court in any English-speaking jurisdiction heard a case brought on behalf of a nonhuman animal, the judge ruled that Happy is not a human and habeas corpus cannot apply to her. The court ruled in a majority 5-2 decision.
Chief Judge Janet DiFiore wrote in the decision, "While no one disputes the
impressive capabilities of elephants, we reject petitioner's arguments that it is entitled to seek the remedy of habeas corpus on Happy's behalf. Habeas corpus is a procedural vehicle intended to secure the liberty rights of human beings who are unlawfully restrained, not nonhuman animals."
DiFiore also said that if the court had ruled in favor of Happy, it "would have an enormous destabilizing impact on modern society."
Two of the seven judges in the court dissented, and Judge Rowan Wilson wrote in the decision, "Whether an elephant (or other animal) is a 'person' is not relevant to determining whether the writ of habeas corpus can be used to challenge a confinement. All can agree that an elephant is not a member of the homo sapiens species. At the same time, an elephant is not a desk chair or an earthworm."
Disputes over Happy's well-being have circulated for years. Prior to the ruling, the Nonhuman Rights Project's founder, Steven Wise, told the New York Times, "She's a depressed, screwed-up elephant."
Courtney Fern of the Nonhuman Rights Project told Newsweek back in 2019, "There is no scientific expert who has come out in support of Bronx Zoo. They are kept alone in pens and that can cause a lot of suffering. There are elephant sanctuaries that have agreed to keep Happy and she should be released immediately."
The Wildlife Conservation Society, which operates the zoo, has argued that Happy is not illegally imprisoned, and is "well cared for by professionals with decades of experience and with whom she is strongly bonded."
Newsweek reached out to the Nonhuman Rights Project and the Wildlife Conservation Society for comment.