Judge Rules Homeless Women Must Leave Vacant House They've Been Occupying Since November
A California judge ruled against two homeless mothers occupying a vacant house in Oakland, California on Friday, ordering them to leave the property they have been living in for two months.
Judge Patrick McKinney ruled against the activist group Moms 4 Housing, in favor of the legal owner of the vacant house, real estate investment group Wedgewood Properties. The house had first been occupied by the moms in November, after it sat vacant for more than 18 months. The group responded to the ruling by calling for housing to be made a legal right in the state.
"We are not surprised by the ruling," said Moms 4 Housing's Dominique Walker in a statement to Newsweek. "We understand that the courts' hands are tied because in this country property rights are valued over human rights. That is why the California constitution needs to be amended to include the right to housing. We will not leave our home."
Moms 4 Housing was recently founded by the moms who live in the house, Walker and Sameerah Karim, and consists of "unhoused and insecurely housed mothers, organizing to reclaim vacant homes from property speculators." The group says there are four vacant homes in the Bay Area for every homeless person. The area is experiencing high rates of homelessness, which has been driven in part by housing costs that are among the highest in the country.
"It's a billion-dollar real estate operation," Karim told Newsweek in November. "Corporations basically bought up space on foreclosed properties and are holding these spaces for ransom. You can't even pay rent on these properties. $2,500 to $3,800 per month? I can't afford that."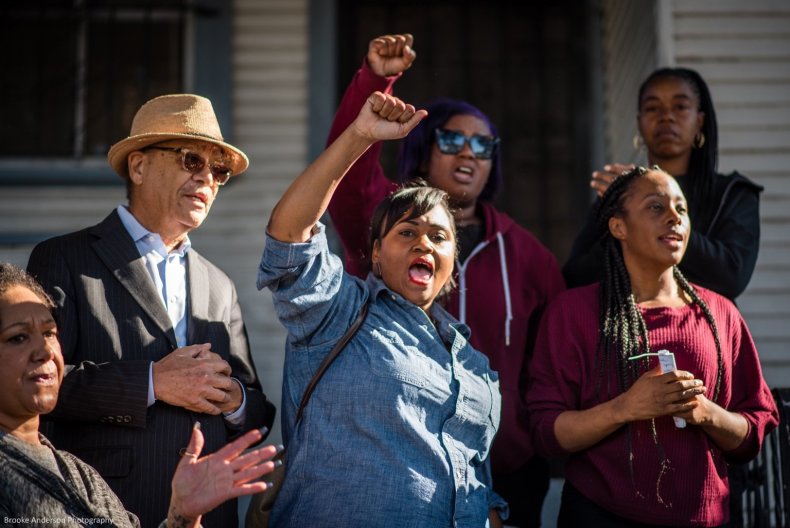 Although the group said they will defy Friday's court ruling and any attempt to remove the women from the house, Karim had earlier indicated to Newsweek that she would not directly resist if law enforcement became involved.
"We are riding it until the wheels fall off," said Karim in November. "Law enforcement would have to come remove me and I would not resist. I am not a criminal. The crime is that people cannot afford to live in the Bay Area. They are trying to take refuge in inhumane places and not be exposed to the violence that is homelessness."
The moms have received support from several local advocates and politicians. The Alliance of Californians for Community Empowerment, a group promising to work for racial and economic justice, described Friday's ruling as being "in favor of corporate vultures" on Twitter.
The group that legally own the house felt differently and suggested the women were criminal "squatters" who had committed theft.
"Wedgewood owns this home, and these squatters have broken into it, they're illegally occupying it, and that is not the right thing to do. It's simply theft," a spokesman for Wedgewood told Time Thursday. "This is really a case about a group of people taking the law into their own hands."
Moms 4 Housing do not recognize Wedgewood's ownership because they believe the house was "stolen" after foreclosure. They also believe the system is unfairly working against them.
"This home was stolen from the Black community in the subprime mortgage crisis, and it's been sitting vacant for nearly years," said Walker in a November press release. "We tried working through the system to find affordable housing. We both hold down multiple jobs and take care of our families. But this system doesn't work for people; it only works for banks and corporations."
Friday's court ruling stated that while the judge "recognizes the importance" of the issues raised by the group, the arguments "are outside the scope" of the law. Law enforcement were ordered to forcibly remove any occupants of the house if it is not vacant within five days.