Judge Rules New Jersey Woman Must Take Down Anti-Biden Flags with F-Word Or Pay $250 a Day
A New Jersey judge has ordered a woman to remove three flags that contain the f-word in reference to Democratic President Joe Biden. If she doesn't, she'll have to pay a $250-a-day fine. The woman's daughter has said she won't remove them.
The property in question belongs to Patricia Dilascio. But her daughter, Andrea Dick, displayed the flags. Six flags in total hang from a wooden fence facing the street.
One of the flags reads, "Don't Blame Me, I Voted for Trump." Another says, "Socialism sucks, Biden blows." Another declares "Joe Biden Sucks." Three of the flags read "F*ck Biden", with one of them adding, "Not my president."
Roselle Park Municipal Court Judge Gary Bundy said that Dilascio must remove the flags containing the f-word within a week. Otherwise, she'll have to pay the aforementioned fine.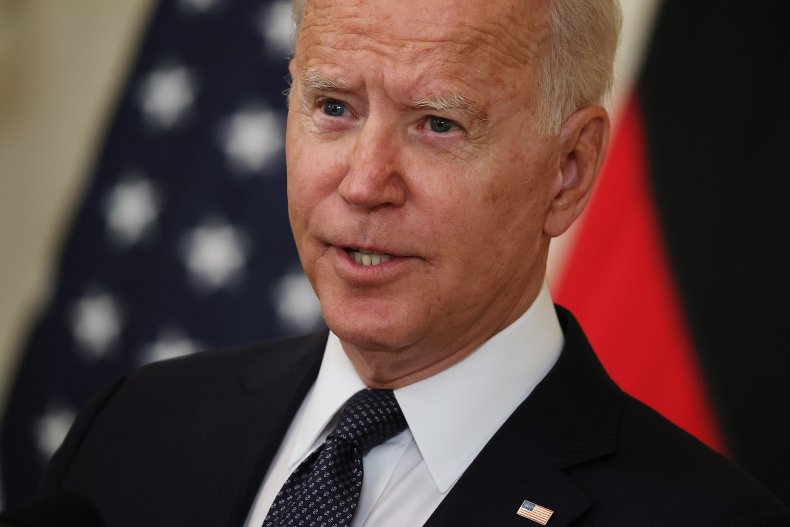 The town's mayor Joe Signorello said that the flags are displayed one block away from an elementary school, leaving them in plain view of young children. A local ordinance also forbids residence from displaying "any obscene material."
However, Dick has said that she won't remove the flags. She may appeal Judge Bundy's decision. The property owner's attorney, Michael Campagna, said that the daily fine and the order to remove the flags violate the women's right to free speech.
"In Nazi Germany, when Hitler didn't like something, they burned the books and then they burned the people," Campagna said. "I don't think we want that to happen in Roselle Park."
While the use of the f-word on the flags isn't sexual in nature, municipal attorney Jarrid Kantor said that even free speech is subject to "reasonable limitations." During the court hearing, he asked the judge whether an average person using "contemporary community standards" would find the flags obscene, just as the ordinance states, NJ.com reported.
"All we're asking is for her to comply and take those down," Signorello said. "She can put up all the pro-Trump signs she wants as long they're not ... vulgar in nature."
But this is just one of several recent disputes involving anti-Biden flags bearing profanity.
In early July, Dwayne Cole—the mayor of Munford, Tennessee—said that a city resident flying a profanity-laced flag against Biden would continue to display it. The flag read, "F*ck Biden and f*ck you for voting for him." Cole said the flag was protected by free speech laws, but a similar yard sign would violate municipal laws and have to be removed.
In March, a Jackson, Michigan resident began flying a similarly profane flag. While some courts dislike adults exposing kids to profanity, the non-sexual context of the f-word upon the flag may keep judges from interpreting the message as obscene, Northern Kentucky University law professor Ken Katkin told The Washington Examiner.
In Erie, Pennsylvania, a man named Jim Greenawalt flew the same flag from his own front porch and was allowed to keep it up due to freedom of speech, YourErie.com reported. Both Greenawalt and the Munford man have no plans of removing their flags.
A lawyer told the aforementioned website that Greenawalt's flag is legal as long as it doesn't impede municipal functions or incite violence through hate speech.
Hazlet, New Jersey resident Anthony Ragusa has two anti-Biden flags. One says "F*ck Joe Biden" and the other says "Biden Sucks." On June 17, the township's code enforcement agency told him to remove the flags because their "offensive language" had a "high visibility to school-age children and motorists."
The township threatened to take further action if Ragusa didn't remove the flags within 10 days. He removed the flag with profanity on it, for the sake of local children. However, he said he is prepared to go to court if the government tries to make him remove his second flag.
Newsweek contacted the American Civil Liberties Union for comment.