Judge Rules White Louisville Ex-Cop Wasn't Discriminated in Demotion for Using 'N-Word'
A federal judge has dismissed a lawsuit from a retired white Louisville police officer who alleged he faced reverse discrimination after using a racial epithet against Black people.
Aubrey Gregory, Jr., brought a federal lawsuit against the Louisville Metro Government in August after he was demoted from major to lieutenant for using the "n-word" in a training program when two other Black people in the room used the word without facing repercussions.
Federal District Court Judge Claria Horn Bloom dismissed the lawsuit late last month.
"Gregory has failed to cite to anything that suggests the (the police force) discriminate against the majority," she wrote.
Court filings describe how Gregory made the offending utterance in May while leading a training for police recruits on racism, sexism, implicit bias, cultural diversity and other related topics.
Upon entering the classroom, Gregory heard two Black men say the epithet while discussing its usage. One individual involved in the discussion was from Africa and described how he was not warned that the epithet is offensive in the U.S. but simply means "black" in his home country.
The other man, a retired firefighter, responded saying the epithet has multiple meanings in the U.S., sometimes used to denote family or kinship in addition to offensive uses. The firefighter then turned to the class of recruits, telling them "they were going to hear the racial epithet in certain communities," adding that Gregory could confirm because of his previous work.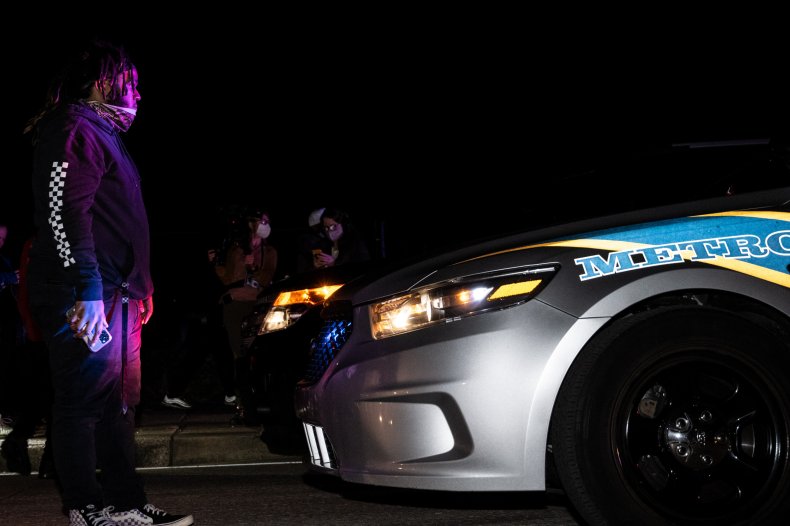 "[Y]es, you are going to hear [the racial epithet] out there," Gregory then said, according to court filings. "Sometimes it does mean family or like a kinship of shared struggle, and sometimes it is the most derogatory, disgusting word you will hear; but you are going to hear it."
Days later, the Louisville Metro Government's human resources began looking into the incident. In June, Gregory was given a letter of demotion.
Gregory, who worked for the police force since 1999, retired in August.
Gregory's lawsuit argued that he was illegally singled out for sanctions for using the word, while the other men weren't. It also said he was denied equal protection under the law guaranteed by the 14th Amendment, and his treatment also violated state and federal discrimination laws.
Bloom wrote in her ruling that Gregory hadn't cleared necessary legal hurdles proving there was ongoing discrimination against majority whites. Specifically, he didn't provide any evidence he was actively targeted by the police force.
"Gregory fails to allege any facts plausibly supporting the existence of a conspiracy between the defendants to deprive him of his rights," Bloom said in her decision. "The complaint does not even hint at, let alone mention, a conspiracy, or contain any allegations which could be construed in this manner."
Thomas Clay, the attorney representing Gregory, told Newsweek that the judge's opinion is very detailed, and he and his client are considering their options. That could include an appeal to the Sixth Circuit Court of Appeals or taking legal action in state court, he said.
Chief Erika Shields told a Metro Council committee on July 20 that it was Gregory's use of the "n-word" that caused his demotion, reported 89.3 WFPL.
"While this may not have been intentionally, harmfully directed at an individual, it was not acceptable for someone who was going to be on my command staff," Shields told Metro Council. "We simply have to exercise more prudent judgement on this if we are ever going to move this department forward."
Update 1/13/22, 4:10 PM ET: with comment from attorney Thomas Clay, who represents Gregory, to Newsweek.