Judge Says Alaska State Agency Failed to Prove Lawyer Wasn't Fired for Political Views
A judge ruled on Thursday that Alaska Governor Mike Dunleavy and his former chief of staff wrongly fired Elizabeth "Libby" Bakalar, a former state assistant attorney general, violating her right to free speech.
When Dunleavy became governor in 2018, Tuckerman Babcock, head of his transition team and eventually his chief of staff, sent a memo to a large chunk of state employees asking them to send in a resignation letter and a statement of interest in continuing with the new administration, the Associated Press reported.
U.S. District Court Judge John Sedwick, who ruled in Bakalar's case, said the state employees' "hope" was that the new administration would reject their resignation letters.
In a statement sent to Newsweek on Friday afternoon, the Alaska Department of Law said though it is still reviewing the ruling, it thinks the decision would "strictly limit" future governors' ability to "hold employees in sensitive positions accountable for actions that ultimately affect their work for the people of Alaska."
"Public trust in our elections is essential to our form of government, and this extends to trust in the lawyers charged with safeguarding our elections on behalf of all voters," it said. "Additionally, any client must trust legal counsel in order for the counsel to effectively represent them."
The statement added that the state would evaluate the decision's impact and "consider its next steps."
Bakalar submitted her own letter and Babcock decided to accept the resignation. According to AP, Babcock said Bakalar's tone in the letter was unprofessional, though Sedwick said a different assistant attorney general used similar wording and was not fired.
Bakalar thought her firing had more to do with a blog she had started in 2014 that focused on lifestyle topics like motherhood and on politics. AP reported that she started writing more about politics when former President Donald Trump was elected in 2016.
She also made comments criticizing Trump on her Twitter. According to the Anchorage Daily News, Bakalar was one of only two employees whose resignations were accepted. The other employee had also been critical of Trump online.
In Sedwick's decision, he said that given Bakalar's position as an attorney handling many elections-related cases "and the public nature of her political commentary, it would not have been unreasonable for state officials to consider her speech a disruption to the Division of Election's operations, warranting adverse employment action."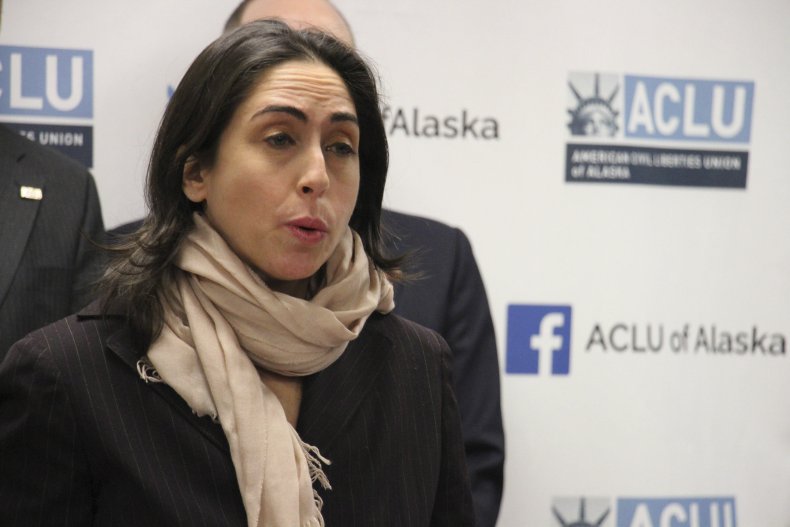 However, he added that that the defendants "failed to show that they had any awareness of this particular concern, or that they acted in response to it rather than a dislike of her personal views."
In an email to Newsweek, Bakalar, now city attorney for Bethel, Alaska, said she was pleased with the ruling.
"The crux of my claims—which is that I was unconstitutionally fired from a job I loved and undisputedly succeeded at—have been vindicated," she said. "More importantly, however, is the fact that now non-unionized state employees in Alaska can be confident that they too have free speech rights, and that they won't be bullied out of their jobs for exercising them."
The Anchorage Daily News reported that because Dunleavy and Babcock have qualified immunity in the case, they will not be held personally liable. Instead, the state will pay damages. Mark Choate, Bakalar's attorney, told the newspaper they would seek a trial for damages and ask the court to issue an injunction to make sure something like this cannot happen again.
"I think it's really important—especially now with democracy so fragile—that we push back against incursions into our civil liberties, even if it takes three years as it did for me," Bakalar said.
In October, Sedwick also ruled in favor of two psychiatrists with the Alaska Psychiatric Institute who were fired after being asked to submit resignation letters to Dunleavy and Babcock but declining to do so, according to AP.
In his decision Sedwick said the resignation demand "undisputedly went beyond what was customary," as the psychiatrists were not in lawmaking positions.
Update 01/21/22, 2:09 p.m. ET: This article was updated with a statement from the Alaska Department of Law.