Judge Says Florida's State Order to Reopen Schools is Unconstitutional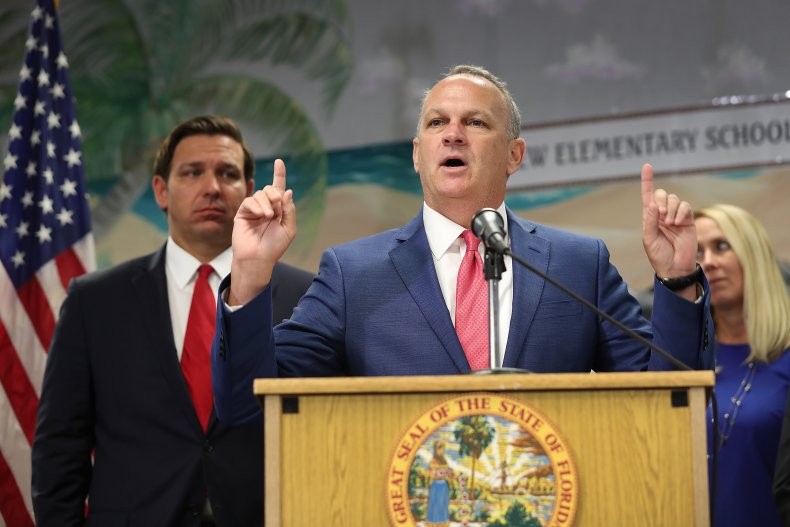 A judge has blocked Florida's government from enforcing an order for schools to reopen to in-person learning amid the COVID-19 pandemic.
Leon County Circuit Judge Charles Dodson on Monday issued a temporary injunction against Florida Department of Education Commissioner Richard Corcoran's July 6 mandate that classrooms reopen five days per week to in-person learning by August 31, finding that the order violated the state's Constitution.
"Our Florida Constitution requires the State to ensure our schools operate safely," Dodson wrote in the decision. "Defendants, however, through the Order and its application, have essentially ignored the requirement of school safety by requiring the statewide opening of brick-and-mortar schools to receive already allocated funding."
Dodson is presiding over a lawsuit brought by the Florida Education Association (FEA), which represents teachers and is the state's largest union. The suit was filed on behalf of teachers who were hospitalized with severe illness after contracting the virus, along with those who have conditions that would make them especially vulnerable to the virus.
The push to reopen physical classrooms despite the pandemic has been championed by Corcoran and Florida Governor Ron DeSantis, along with a host of other prominent Republican politicians, which includes President Donald Trump. About half of the state's schools reopened campuses last week.
DeSantis has threatened to cut funding to schools that refuse to comply with the order to reopen. During an appearance on Fox News on Friday, Corcoran said that any teachers who fail to physically return to classrooms over fears of contracting or spreading the virus would be "terminated."
Several school districts in South Florida have been excluded from Corcoran's order due to local health officials concluding that the virus is too prevalent for schools to safely reopen. The FEA believes the risk to public health is too great statewide.
"We appreciate that Judge Dodson acknowledged the crucial importance of protecting the health and wellbeing of kids and school employees," FEA President Fedrick Ingram said in a statement. "We have seen little sign that is a top priority for the DeSantis administration. Commissioner Corcoran appears more focused on threatening teachers and districts."
"This is only a temporary injunction, but we plan to press ahead in court," he added. "Local communities should have the freedom to make the best decisions for reopening or keeping open local schools. Our districts should not be ruled by reckless edicts from on high. Safety must come before politics."
Corcoran's order was issued while the state was experiencing a dramatic surge in cases of the virus, adding well over 10,000 cases per day at times. Although new cases have slowed since them, thousands are still being added each day and Florida now has the third most cases among U.S. states. There were over 600,000 cases including more than 10,000 deaths reported as of Monday.
The Florida Department of Education immediately appealed Dodson's ruling, with Corcoran claiming the lawsuit is "frivolous" and appealing to the public to directly lobby the FEA to drop it. A poll commissioned last month by the FEA found that 77 percent of Florida believed it was "dangerous" to physically reopen schools, including 55 percent who described it as "very dangerous."
"We've said it all along, and we will say it one million times – we are 100% confident we will win this lawsuit," Corcoran said in a statement obtained by Newsweek. "This fight has been, and will continue to be, about giving every parent, every teacher and every student a choice, regardless of what educational option they choose."
"If you are one of the 1.6 million students who have chosen to return to the classroom, a parent, or a classroom teacher that wanted to educate their student in person, we strongly encourage you to call the Florida Education Association and tell them to drop this frivolous lawsuit," he added.
Update 8/25, 4:38 p.m.: This article has been updated to reflect that Newsweek obtained a statement from Florida Department of Education Commissioner Richard Corcoran.
Judge Says Florida's State Order to Reopen Schools is Unconstitutional | News