Judge Says Special Prosecutor Should Investigate Jussie Smollett Case
A judge ruled on Friday that a special prosecutor should investigate the handling of Jussie Smollett's case.
The actor could face criminal charges again if a special prosecutor decides there are "reasonable grounds to believe that any other criminal offense was committed," Judge Michael Toomin said, according to several news outlets.
That means Smollett's entire prosecution was invalid because State Attorney Kim Foxx said she'd recused herself before Smollett was ever arrested and failed to ask for a special prosecutor. Toomin's ruling raises the possibility that Smollett could be recharged.
Foxx reportedly appointed her top deputy, Joe Magats, without the legal authority to do so. That's how she effectively invalidated Smollett's prosecution, the judge decided.
"There was no duly elected state's attorney when Jussie Smollett was arrested. Ms. Foxx had already effected her recusal," Toomin said, according to The Chicago Sun-Times.
Newsweek subscription offers >
Foxx and her staff later backpedaled to say that she recused herself in a "colloquial" sense by delegating decision-making to Magats, The Chicago Sun-Times reported.
Northwestern University Law School professor Locke Bowman, who successfully petitioned for the appointment of a special prosecutor to investigate allegations of torture by former CPD commander Jon Burge, apparently told The Chicago Sun-Times that he was surprised to see Smollett's case become one of the historic cases where an independent prosecutor was appointed.
Bowman said Smollett could certainly be charged again. However, based on information that's been made public, he doubts Foxx or her staff committed the kind of wrongdoing that would equate to a crime or a sanction, the Sun-Times reported.
"She didn't need to recuse herself, but Toomin was concerned about the irregularities that followed, so what (Toomin) is saying is, 'Have a look at this, and have a do-over,'" Bowman said, according to the Sun-Times.
Prosecutors dropped all charges against the Empire actor—who was accused of faking a hate crime against himself—in March. The decision was widely criticized.
The State Attorney's Office said in a statement that the decision was made after reviewing the actor's "volunteer service in the community" and with consideration to his "agreement to forfeit his bond to the City of Chicago."
Magats told The New York Times that Smollett's charges were dropped in exchange for his agreement to do community service and forfeit his $10,000 bond to the city of Chicago.
"We didn't exonerate him," Magats told the newspaper.
In April, CBS Chicago reported that Foxx called Smollett as a "washed up celeb who lied to cops" who was being charged too harshly, in a text to her staff.
Smollett pleaded not guilty to 16 counts of disorderly conduct for allegedly filing a false police report that said he was the victim of a racist and homophobic attack on Jan. 29 in Chicago. Police claimed the actor had paid two men to orchestrate the hate-crime attack to "promote his career."
Records were sealed—until May, that is.
Media outlets petitioned the court to publicly release the documents from the Cook County State Attorney's Office, to shed light on why prosecutors dropped the charges.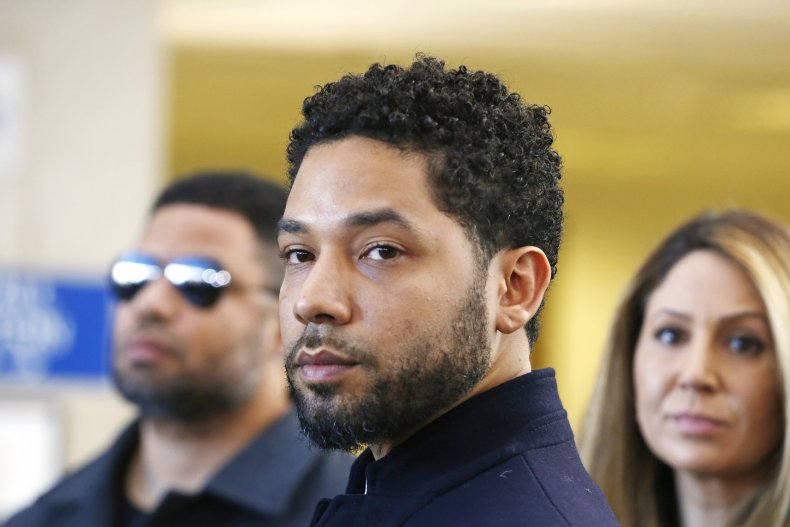 Judge Says Special Prosecutor Should Investigate Jussie Smollett Case | U.S.