A challenge to controversial GOP Representative Marjorie Taylor Greene's fitness for office might go ahead, a federal judge suggested Friday.
Federal Judge Amy Totenberg of the Northern District of Georgia hinted that she might allow the challenge to proceed, stating in a hearing that she had "significant questions and concerns" about the recent decision in North Carolina to block the same legal challenge against GOP Representative Madison Cawthorn. Totenberg also added that she will make her ruling sometime next week, likely on Monday, CNN reported.
The state-level challenge to Greene's fitness for office comes from a group of voters in Georgia who claim that she is not fit to hold political office due to her alleged aiding of the Capitol rioters. The challenge from this group has received the backing of various left-wing activists and constitutional experts.
In response, Greene filed a counter-lawsuit in a higher federal court, calling for the legal challenge to be dismissed, according to CNN. The Georgia representative will seek reelection in the state's 14th District in the midterm elections this November.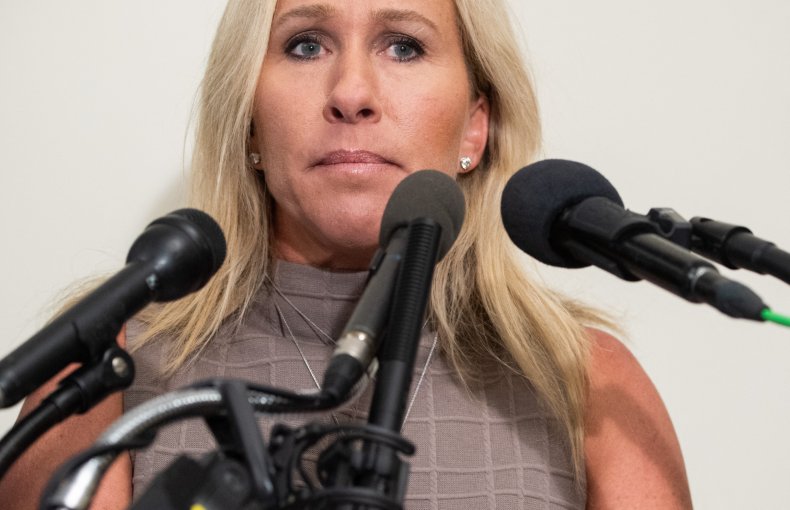 Two days after Totenberg's expected ruling, a state-level judge is scheduled to address the issues at the heart of the challenge against Greene: whether or not she aided Capitol insurrectionists, and if so, whether or not that fact should disqualify her from holding political office, CNN reported. Aiding or participating in an insurrection against the U.S. government disqualifies citizens from holding office under the 14th Amendment of the Constitution.
Greene's attorney, James Bopp Jr., previously dismissed the suit against his client as "50 pages of newspaper articles, hearsay, and political hyperbole," according to CNN. Bopp, a conservative himself, also warned the court that a ruling against her in this case could lead to challenges against former President Donald Trump's fitness for office as well.
The suit against Greene, filed with help from the group Free Speech For People, cited the contentious politician's comments in the lead-up to President Joe Biden's inauguration, accusing him and House Speaker Nancy Pelosi of committing treason and repeating Trump's assertions that Biden did not legitimately win the 2020 presidential election. As such, she said that she would not support the peaceful transition of power.
"It's rare for any conspirator, let alone a member of Congress, to publicly admit that the goals of their actions are preventing a peaceful transfer of power and the death of the president-elect and speaker of the House, but that's exactly what Marjorie Taylor Greene did," Ron Fein, legal director for Free Speech For People, said in a statement. "The Constitution disqualifies from public office any elected officials who aided the insurrection, and we look forward to asking Representative Greene about her involvement under oath."
The GOP lawmaker and her legal team have hit back against those allegations, claiming that disqualifying her from political office would violate the First Amendment. She also told CNN that she had "never encouraged political violence and never will."
On Monday, Greene tweeted at length about the effort to keep her off the ballot, writing that "hard left political activists are trying to literally take away my district's ability to re-elect me again to Congress by perverting our courts using their J6 conspiracy theory and lies."
Newsweek reached out to Greene's office for comment.
Update 4/11/22, 2:25 p.m. ET: This story has been updated with additional information and background.