Judge Slams DOJ for Not Seeking Enough Money From 1/6 Rioters: Cost Taxpayers 'Half Billion'
A federal judge criticized prosecutors from the United States Justice Department Monday for seeking only low-level restitution from those charged with crimes in the January 6 Capitol riots.
Chief Judge Beryl Howell questioned the DOJ prosecutors during a hearing for Wes Croy, a Colorado man who pleaded guilty to charges related to his participation in the riots after Croy reportedly used the Facebook platform to share a photo and video evidence of himself inside the Capitol, as well as tell a friend he was there.
"Why is it limited to $1.5 million in damage to (the) Capitol itself, when the cost of the riot to the taxpayers is half a billion?" Howell questioned prosecutors Monday. Reportedly, she also questioned why the diminutive restitution requests didn't encompass the cost to the taxpayers of the use of the National Guard.
Scott MacFarlane, an NBC4 Washington investigative reporter currently specializing in the January 6 prosecutions and FBI investigations tweeted, "BOOM: Judge just criticizes small-level restitution expenses for Jan 6 defendants. "Why is it limited to $1.5 million in damage to Capitol itself, when the cost of the riot to the taxpayers is HALF A BILLION? Including Natl Guard costs. Judge likely speaks for many taxpayers."
Similarly, Ryan Reilly, a reporter for Huffington Post who was present at the hearing, tweeted "Chief Judge Beryl Howell is pretty aghast at the government's approach to some Jan. 6 cases. She's wondering why the government is only seeking restitution for damages to the Capitol in the range of $1.5M, saying the total cost of Jan. 6 is more like half a billion."
When prosecutors at Croy's hearing were not able to answer Howell's queries, she reportedly ordered them to write their explanation in Croy's sentencing memo.
Newsweek reached out to the DOJ for comment but did not immediately hear back.
Defense attorneys have said the DOJ has so far been seeking $2,000 from each felony defendant and $500 from each misdemeanor defendant, totaling less than $1 million if each case reaches a guilty verdict and collects without issue, according to reporting from The Washington Post.
In June the paper published figures counting more than $730 million set aside to reimburse the National Guard and other agencies for expenses directly related to the January 6 attacks.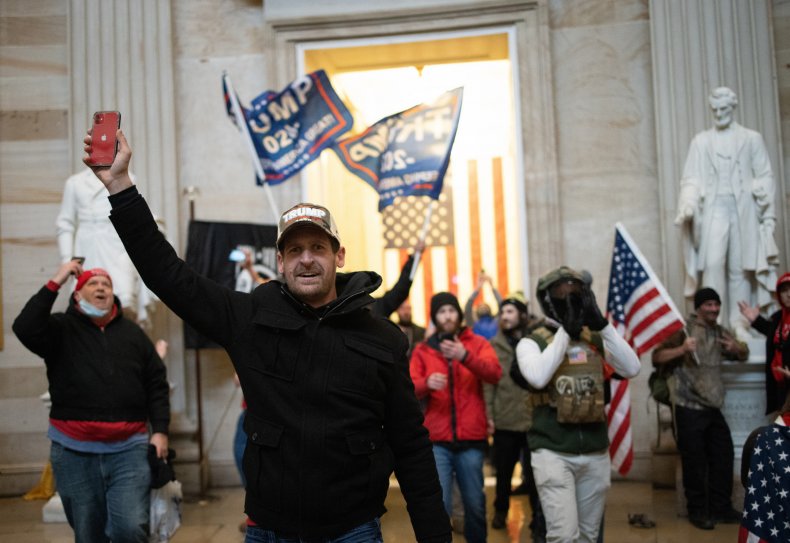 Croy has pleaded guilty to charges of parading, demonstrating or picketing in a Capitol building. He has also been charged with entering and remaining in a restricted building, disorderly and disruptive conduct in a restricted building and violent entry and disorderly conduct in a capitol building.