A judge on Friday struck down a voter-approved California law mandating that gig workers are considered independent contractors.
Alameda County Superior Court Judge Frank Roesch ruled that Proposition 22, which California voters passed with almost 59 percent of the vote last year, is unconstitutional and unenforceable because it strips power from "a future Legislature to define app-based drivers as workers subject to workers' compensation law."
The proposition went into effect last December and ensures that drivers for app-based rideshare and food delivery services are not considered employees under California law. Instead of full benefits, gig workers are given specific limited benefits like a reimbursement of $.30 per mile driven on a job and a stipend to buy health insurance for those who drive more than 15 hours per week.
The ballot initiative came in response to California's legislature passing AB-5 in 2019, a bill that would have mandated full benefits for gig workers. Rideshare and delivery companies including Uber, Lyft and Instacart spent hundreds of millions of dollars on the campaign to exempt app-based jobs from AB-5 by helping to pass Proposition 22 in 2020.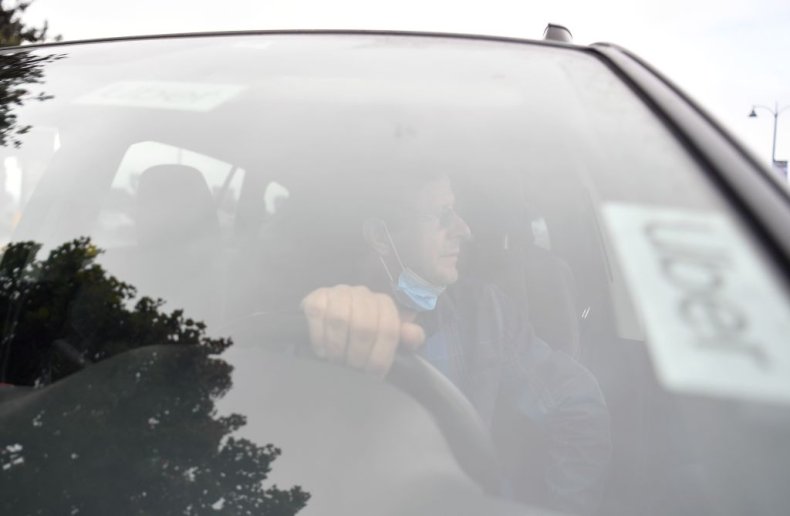 Although a clear majority of voters approved Proposition 22, others including groups representing gig workers demanding full benefits were less than pleased and immediately vowed to file legal challenges. Roesch's ruling was the result of a lawsuit filed by the Service Employees International Union (SEIU) in January.
"Companies like Uber and Lyft spent $225 million in an effort to take away rights from workers in a way that violates California's Constitution," Bob Schoonover, President of the SEIU California State Council, said in a statement. "They tried to boost their profits by undermining democracy and the state constitution."
"For two years, drivers have been saying that democracy cannot be bought," he added. "And today's decision shows they were right."
While Friday's decision is a setback for backers of Proposition 22, the law is unlikely to change soon. An Uber spokesperson said in a statement obtained by Newsweek that the ruling "ignores the will of the overwhelming majority of California voters and defies both logic and the law," adding that they "expect to win" an appeal.
Protect App-Based Drivers & Services (PADS) Coalition, a group that represents gig economy companies and backed the 2020 initiative, also promised to quickly file an appeal that would ensure that the law at least temporarily stands.
"We believe the judge made a serious error by ignoring a century's worth of case law requiring the courts to guard the voters' right of initiative," PADS spokesperson Geoff Vetter said in a statement obtained by Newsweek. "This outrageous decision is an affront to the overwhelming majority of California voters who passed Prop 22."
"We will file an immediate appeal and are confident the Appellate Court will uphold Prop 22," added Vetter. "Importantly, this Superior Court ruling is not binding and will be immediately stayed upon our appeal. All of the provisions of Prop 22 will remain in effect until the appeal process is complete.