Donald Trump's Plan to Withhold Funding From Sanctuary Cities Struck Down by Federal Judge
A federal judge blocked the Trump administration's plans to withhold money from law enforcement departments in sanctuary cities on Friday, according to The Hill.
U.S. District Court for the Southern District of New York judge Edgardo Ramos said the federal government's attempts to do so were illegal and unconstitutional. Ramos also said "the separation of powers acts as a check on tyranny and the concentration of power," ABC News reported.
New York, which brought the suit along with Connecticut, Massachusetts, New Jersey, Rhode Island, Virginia and Washington, D.C., applauded the decision.
"As we argued, local law enforcement has the right to decide how to meet their local public safety needs—and the Trump administration simply does not have the right to require state and local police to act as federal immigration agents," New York attorney general Barbara D. Underwood said in a statement. "The Trump administration's attempt to withhold these vital funds was nothing more than a political attack at the expense of our public safety."
The press release from Underwood's office said that the decision required the Justice Department to "reissue the grant award letters without the conditions" and "[enjoined] DOJ from imposing those conditions moving forward."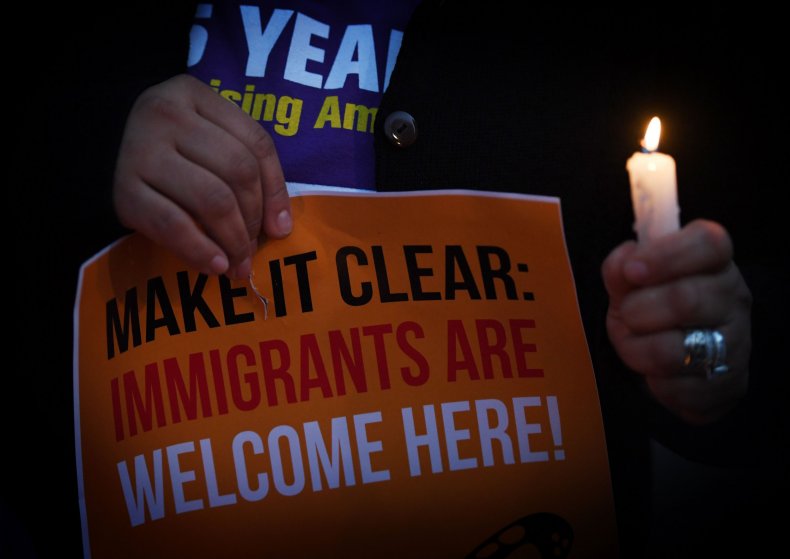 The Trump administration has forcefully sought to prevent undocumented immigrants from entering the country and used inflammatory rhetoric when describing migrants. Its recent statements referred to asylum seekers as a "caravan" and an "invasion."
The president has bristled at the decisions of cities across the country, including New York and San Francisco, to maintain policies limiting cooperation with federal immigration enforcement authorities. He attacked California Governor Jerry Brown for his immigration stances and attempted to portray undocumented immigrants as criminals.
"Governor Brown does a very poor job running California," the president said, according to The New York Times. "They have the highest taxes in the United States. The place is totally out of control. You have 'sanctuary cities' where you have criminals living in the sanctuary cities."
Former Attorney General Jeff Sessions helped lead the charge against sanctuary cities. He called for officials to "stop treating immigration agents differently from everybody else for the purpose of eviscerating border and immigration laws and advancing an open borders philosophy shared by only a few, the most radical extremists," CNN reported.
Friday's ruling noted that previous decisions had blocked efforts to limit funding for sanctuary cities. "Consistent with every other court that has considered these issues, the court concludes that defendants did not have lawful authority to impose these conditions," it said.