Judge Tells 1/6 Rioter Capitol Police Officers Are Patriots, Sentences Him to 3-Plus Years
Nicholas Languerand, a 26-year-old who has identified himself as a believer in the QAnon conspiracy theory, was sentenced to three years and eight months in prison Wednesday for assaulting police officers during the January 6 Capitol riot in a hearing that saw the judge sentencing him say the January 6 rioters do not deserve to be described as "patriots," as that description applies to the officers he assaulted.
"The patriots were the police officers who were defending the Capitol building and our democratic values," U.S. District Judge John Bates said, according to The Associated Press.
The conspiracy theory played a significant role in Languerand being at the Capitol. His lawyer said he lost his job in late 2020 and in the weeks following he spent a significant portion of his time consuming online content about QAnon and the far-right extremist group the Proud Boys, the AP reported.
Languerand, who pleaded guilty to a felony assault charge in November, and his attorney maintain that he did not intend to commit violent acts when he arrived at the Capitol, a claim the prosecution disputed, providing multiple photos in the statement of facts of the 26-year-old throwing several objects at police officers.
He was accused of attacking officers by throwing wood and at least one speaker at them, and was pictured in the court documents holding a police riot shield outside the Capitol.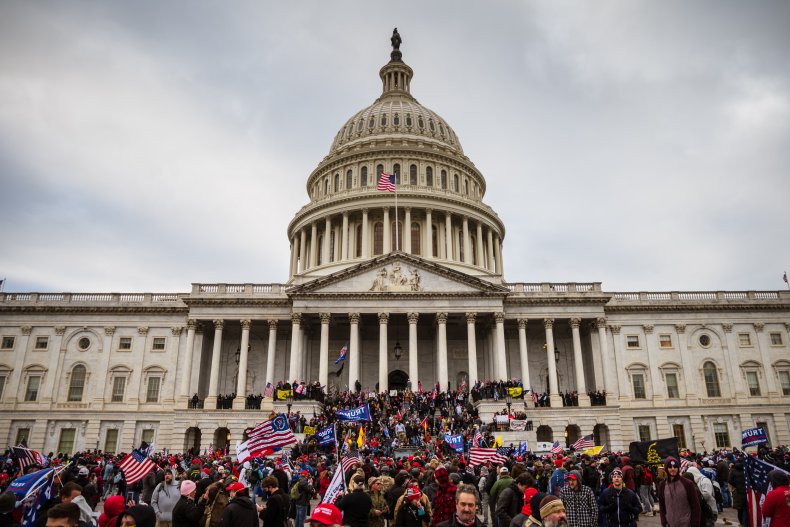 The document also included evidence that Languerand posted about his actions on social media after the riot had ended, which the prosecution said was proof that he did not feel remorse for his actions.
"The defendant was not caught up in the violence. He sought it out," Assistant U.S. Attorney Robert Juman said, according to the AP.
Languerand made statements during his court appearances expressing doubts about the conspiracy theory, but Bates said he had also made complimentary statements about the movement in a recent letter to the court, which led the judge to be unsure of how sorry Languerand truly was.
"Things did not go how I expected them to go," Languerand said, according to the AP. "There were people that had told me that things were going to happen in a certain way, and then they didn't happen. At that point, I began to realize that some of these people may have not been telling me the truth."
Over 700 people have been arrested for taking part in the riot, and just over 70 have been sentenced to a variety of prison sentences, home confinement or probation and fines as a result of dozens of plea deals, according to TIME.
Languerand's sentence of 44 months is the third-longest sentence handed down so far, according to TIME's summary of the sentenced rioters posted earlier this month.