Judge Throws Out Tulsi Gabbard's Lawsuit Alleging Google Violated Her Free Speech Rights by Suspending Ads
A federal judge dismissed a lawsuit Wednesday filed by presidential candidate Rep. Tulsi Gabbard (D-Hawaii) against Google.
Gabbard filed the lawsuit in July 2019, alleging that the tech giant had illegally suspended ads for her fledgling presidential campaign. U.S. District Judge Stephen Wilson threw out the suit Wednesday, ruling in part that Gabbard's First Amendment rights were not violated because Google is not the government.
"Google is not now, nor (to the Court's knowledge) has it ever been, an arm of the United States government," Wilson wrote in his decision, noting that the amendment's free speech clause applies only in cases involving the government.
Google temporarily suspended the ads shortly after a Democratic presidential debate, causing some to suggest that the move could have been related to Gabbard publicly advocating for the breakup of large tech companies.
"Since at least June 2019, Google has used its control over online political speech to silence Tulsi Gabbard, a candidate millions of Americans want to hear from," the Gabbard campaign wrote in the lawsuit. "With this lawsuit, Tulsi seeks to stop Google from further intermeddling in the 2020 United States Presidential Election."
Wilson was not impressed with the campaign's argument, disregarding an allegation that Google had become a "state actor" by virtue of hosting advertising and "regulating" the 2020 presidential election.
"What Plaintiff fails to establish is how Google's regulation of its own platform is in any way equivalent to a governmental regulation of an election," wrote Wilson. "Google does not hold primaries, it does not select candidates, and it does not prevent anyone from running for office or voting in elections."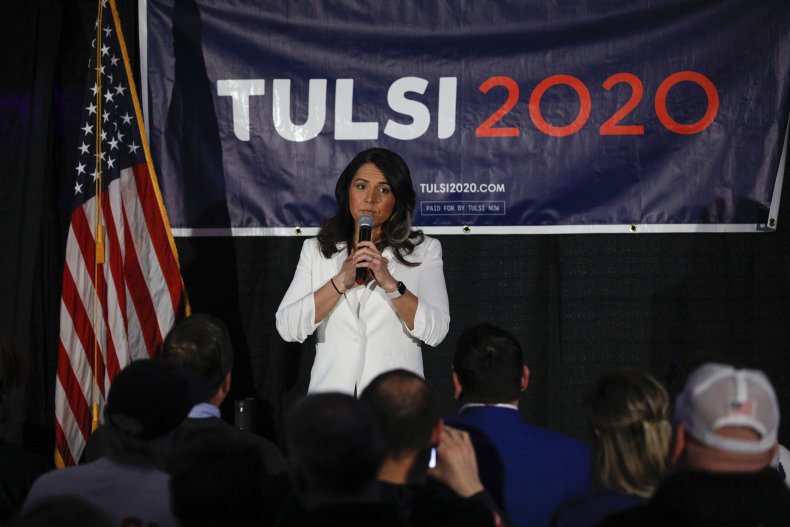 The Hawaiian Democrat is known for often going against her own party and has indicated that she does plan to run for reelection to the House. She has denied suggestions by some that her extended longshot presidential campaign is aimed at winning a job as a political commentator on Fox News.
Gabbard's has had meager results in Democratic primary contests held so far, earning her first and only delegate by coming in second place to former New York City Mayor Mike Bloomberg in American Samoa on Super Tuesday. Bloomberg dropped out of the race Wednesday, before endorsing former Vice President Joe Biden.
Under Democratic party rules, the single delegate Gabbard won would qualify her for a place in the next presidential debate in Phoenix, Arizona on March 15. However, party officials have indicated the requirements to participate could change as the race continues. Consistently low polling numbers have kept her from taking part in any debates since November.
Newsweek reached out to Gabbard for comment but did not receive a response in time for publication.