A federal judge in Maryland dismissed a challenge to President Donald Trump's decision to end the Deferred Action for Childhood Arrivals (DACA) program on Monday, despite openly lamenting the outcome of the case.
"This court does not like the outcome of this case, but it is constrained by its constitutionally limited role to the result that it has reached," Judge Roger Titus said in his opinion, according to The Hill. "Hopefully, the Congress and the President will finally get their job done."
Titus said that while "an overwhelming percentage of Americans support protections for Dreamers ... it is not the province of the judiciary to provide legislative or executive actions when those entrusted with those responsibilities fail to act."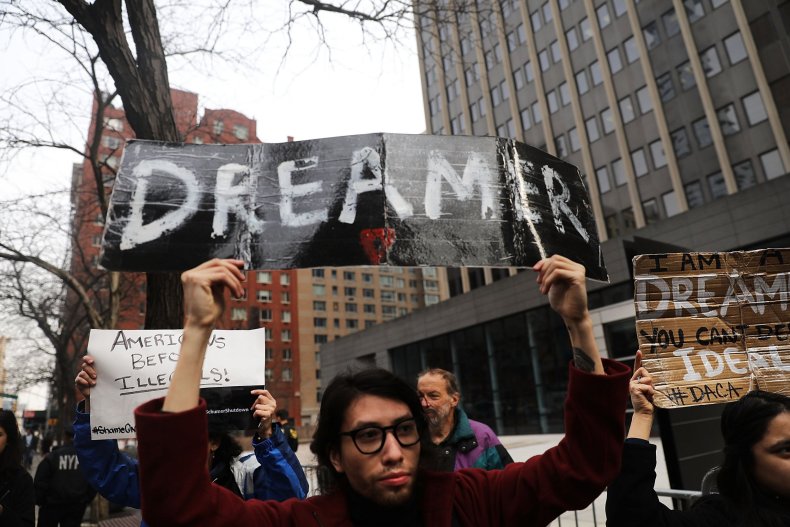 Dreamers, or people who were brought to the U.S. illegally as children, have joined immigrant rights groups across the country in legally challenging the move to end DACA. The Obama-era program allowed them to stay in the country without fear of deportation.
The decision in Maryland came as a victory for the president after the March 5 deadline he had given lawmakers to fix DACA was rendered meaningless by a January federal court ruling that determined his administration had not justified its decision to end the program.
Lawmakers also failed to make a deal on DACA after the U.S. Senate rejected four immigration proposals last month, leaving the fate of hundreds of thousands of Dreamers in limbo. Two of those deals, including one backed by Trump, would have offered some of the 1.8 million Dreamers a pathway to citizenship in exchange for $25 billion spent on border security.
The Department of Justice praised the ruling, with spokesperson Devin O'Malley telling Politico it "highlights a serious problem with the disturbing growth in the use of nationwide injunctions, which causes the Maryland court's correct judgment in favor of the government to be undermined by the overboard injunctions that have been entered by courts in other states."
As Trump's March 5 deadline came and went on Monday, the president took to Twitter to blame Democrats for a lack of action on the program.
"It's March 5 and the Democrats are nowhere to be found on DACA. Gave them six months, they just don't care. Where are they? We are ready to make a deal!" Trump said in a tweet.
Read more: New ad calling on Trump to protect Dreamers to air during 'Fox and Friends'
The American Civil Liberties Union (ACLU) said Trump has "derailed three bipartisan plans to fix the DACA crisis that he created."
Democratic Representative Joe Kennedy III also appeared to hit out at Trump, tweeting: "Pretending [Monday's] DACA deadline does not arrive with urgency and fear for Dreamers ignores the very real, human impact this manufactured crisis has on them and their families. Congress must match a fraction of their courage and pass #DreamActNow."
Democrats have been pushing for Congress to pass the DREAM Act, legislation that would grant certain immigrants, including Dreamers, a path to citizenship.
Democratic National Committee (DNC) Chairman Tom Perez said in a statement Monday that Trump's decision to rescind DACA caused "an unnecessary crisis," adding: "Without a permanent solution, Trump's cruel and reckless decision will tear more families apart, shatter communities, drive immigrants into the shadows, and make us all less safe as a result."