Judge 'Will Rule Against' Meghan Markle on Friends Who Defended Her: Expert
Meghan Markle may lose the next round of her court battle with a U.K. tabloid to keep secret the names of five friends who tried to defend her, a media lawyer tells Newsweek.
The Duchess of Sussex says the identities of five members of her inner circle, all young mothers, must be protected from "vicious" attempts to create "clickbait" stories.
The group will play a key role in her copyright and privacy case against the Mail on Sunday and are likely to be called as witnesses.
The newspaper says it does not believe their names should be kept private but Meghan's lawyers fear publicity could scare them away from giving evidence.
However, Mark Stephens, of law firm Howard Kennedy, told Newsweek the identities of Meghan's close friends are openly discussed in the media already and are not therefore private.
The U.K. based attorney, who previously represented Julian Assange, said: "It seems to be difficult because, in terms of naming her friends, Hello! named her best friends last week.
"Her inner circle are regularly identified in the media. Even if it ever was confidential, who her friends are is not something that is confidential now.
"Her inner circle has been identified over a series of years. Any privacy or confidence in that detail has gone.
"I think the judge will rule against her."
Rumors about the identities of the five women have been circulating on news websites and Meghan's court filings have also given some clues.
The Hello! article described some of her celebrity friends but other publications have also attempted to name the specific circle who spoke to People.
The key member of the group is known as Friend A and the duchess described her as a young mother who has known her father for 20 years, roughly the time Meghan started university.
Friend A went to the royal wedding and was with Meghan for key moments during the build-up.
People described the five as "a close confidante," a "former costar," a "friend from Los Angeles," a "former colleague" and a "longtime friend."
Media law expert Tim Luckhurst, principal of South College at Durham University, England, said: "There is a very clear legal defense against vilifying the witness in the U.K. and Associated Newspapers [publisher of the Mail on Sunday] are extremely well advised.
"They know well that if, after a trial, there was any conclusion they had abused a witness in such a way that they rendered it less likely that other people would come forward as witnesses in the future then they would be punished for contempt in common law.
"They can't vilify witnesses and they won't vilify witnesses so that is a ridiculous concern and one which I would have expected Meghan's lawyers to advise against even hinting at."
Luckhurst added that the women would likely appear as witnesses and said they must be named at that point anyway.
He said: "There's a public interest in justice being seen to be done. That's why we conduct trials in public.
"I can see no grounds whatsoever for giving anonymity to people who have agreed to appear as witnesses."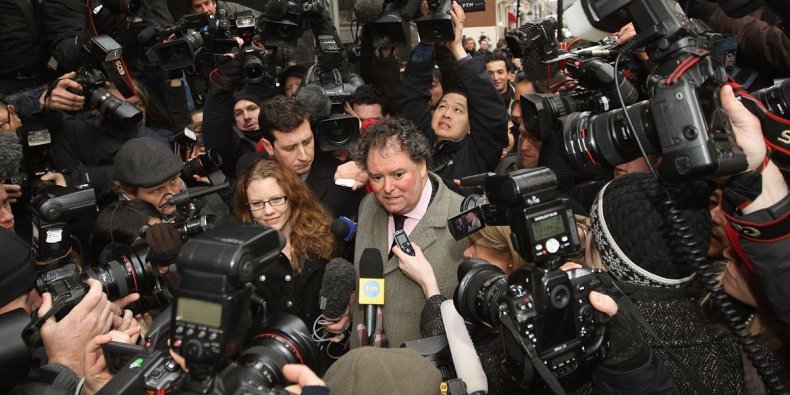 Meghan's legal team said in their latest court filing that the women have not yet formally agreed to testify and they fear they could refuse if named too early.
The document, seen by Newsweek, says: "I am concerned that the publicity will intimidate one or more of the Five Friends and dissuade them from agreeing to give evidence in support of the Claimant's case at trial.
"This would not be in the interests of justice and would give the Defendant an unfair advantage in this litigation."