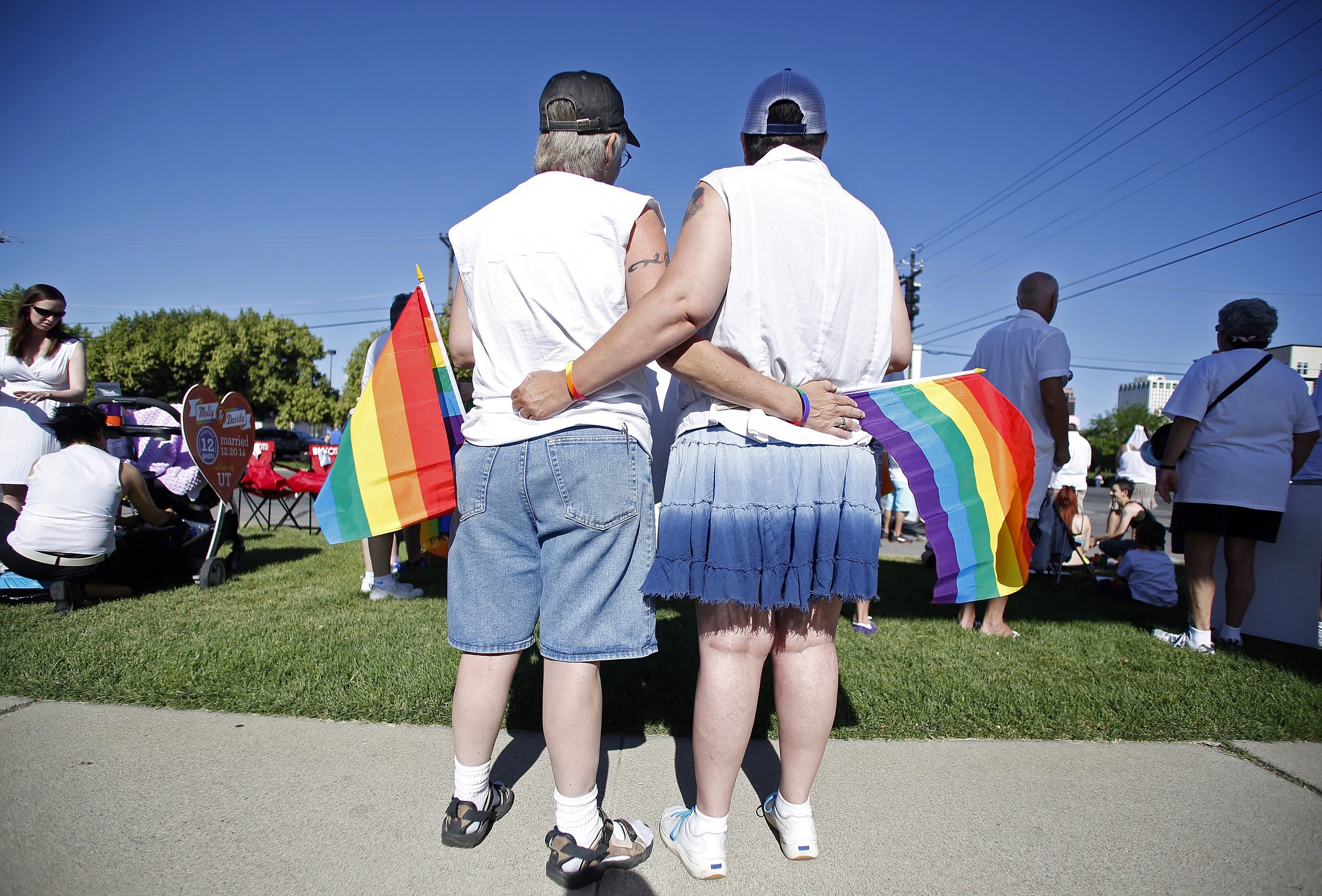 One day before the anniversary of the historic U.S. Supreme Court decision striking down the Defense of Marriage Act, gay marriage has become legal in Indiana and a federal appeals court upheld a decision striking down a ban in Utah.
A federal judge ruled Wednesday that Indiana's ban on marriage for same-sex couples and on the recognition of same-sex couples' out-of-state marriages is unconstitutional. The ruling takes effect immediately.
"It is clear that the fundamental right to marry shall not be deprived to some individuals based solely on the person they choose to love," U.S. District Judge Richard L. Young wrote in his opinion. "In time, Americans will look at the marriage of couples such as [the] Plaintiffs and refer to it simply as a marriage—not a same-sex marriage. These couples, when gender and sexual orientation are taken away, are in all respects like the family down the street. The Constitution demands that we treat them as such."
Young also noted that every federal district court that has been presented with same-sex marriage cases have come to the same conclusion.
Within the same day, a federal appeals court upheld a prior ruling that found Utah's ban on marriage for same-sex couples was unconstitutional. The court chose to stay the mandate pending an appeal to the U.S. Supreme Court, which means same-sex couples' marriages cannot resume at this time in Utah.
After the first decision overturning the state's ban, in December 2013, more than 1,200 same-sex couples wed in Utah. After 17 days, the state attorney general's office sought an emergency stay to halt the marriages, arguing that "mothers and fathers are important," according to local Fox News affiliate Fox13.
Last month alone, judges in four states—Arkansas, Idaho, Oregon and Pennsylvania—struck down gay-marriage bans. Two weeks ago, a judge in Wisconsin struck down that state's ban and couples flocked to clerks' offices, but after one week, the judge halted the marriages with a stay, putting the state in the same marital limbo as Utah, Michigan and Arkansas.
Including Wednesday's rulings in Indiana and Utah, 22 consecutive state decisions have favored gay marriage since a key part of the Defense of Marriage Act was overturned in United States v. Windsor one year ago.
Correction: A previous version of this story incorrectly stated the location of the federal appeals court where the Utah decision was issued. It court is in Colorado, not Utah.