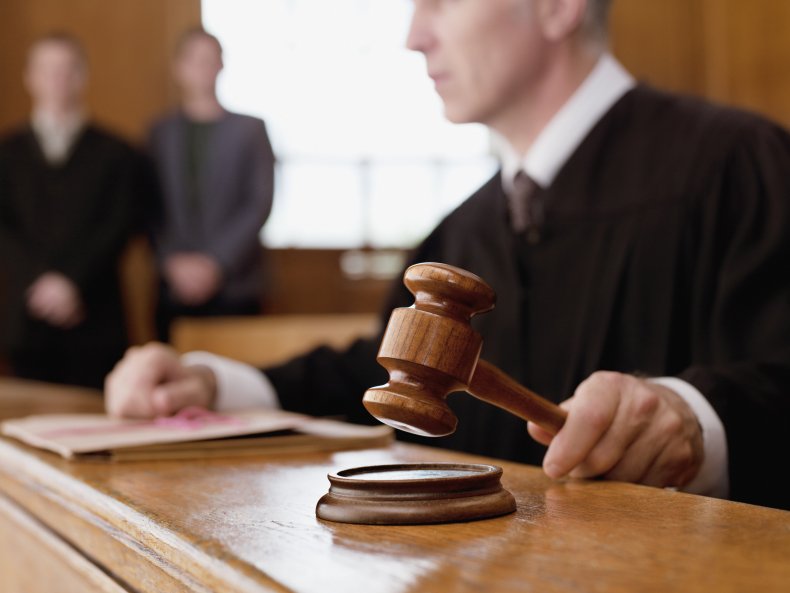 A "pay to play" scheme in Houston, Texas, is enriching private attorneys who donate to trial court judges responsible for doling out case assignments in Harris County's indigent defense system, often at the expense of defendants who can't afford representation, according to a new analysis.
In a forthcoming article in the Duke Law Journal, Neel Sukhatme, a professor at Georgetown University Law Center, and Jay Jenkins, a criminal justice advocate in Texas, argue that the process for assigning private attorneys to represent poor defendants exploits an incentive gap that can lead to profiteering at the expense of better outcomes.
In 1963, the U.S. Supreme Court ruled unanimously in the landmark case Gideon v. Wainwright that felony defendants tried in state courts had a right to counsel under the Sixth Amendment of the Constitution.
States have constructed varied systems to meet the demands of indigent defendants, including through funding public defender systems where salaried attorneys work exclusively for poor clients, or, as in Harris County, an appointed counsel system in which private attorneys are contracted by trial judges to represent individual defendants.
Texas' system has been subject to criticism for decades. In 2000, the non-profit group Texas Appleseed published a report finding that lack of accountability "is a major problem in most of Texas' indigent defense systems."
The group's report noted that trial judges had "largely unfettered discretion" in appointing counsel and that discretion was "subject to very little review, control or accountability."
But in their research, Sukhatme and Jenkins identified an additional factor aggravating the state's process for appointing defense counsel: The campaign finance system.
Since the end of Reconstruction, all Texas judges attain their seats through partisan elections, rather than by appointment, according to the National Center for State Courts.
This has translated into a swift influx of cash into judicial races. The center said that Texas became the first state—in 1980—to have the cost of a judicial race exceed $1 million. Over the next several years, contributions to the campaigns for important appellate seats rose by 250 percent.
Though trial court judges in Harris County are supposed to appoint private attorneys to poor defendants algorithmically, apparent abuse of the system has led to an asymmetrical awarding of cases.
Harris County's assignment process is governed by a rotating system—known as the "wheel"—but appointments are made in a way that is "flatly inconsistent with the prescribed rotation," according to the law review article.
This leaves open the possibility that the discretion of individual judges could be, or appears to be, vulnerable to unsavory influences, such as money.
"Anecdotal evidence we have collected suggests indigent defense counsel often 'buy' case assignments by providing campaign donations to assigning judges," the authors wrote.
Drew Willey, a Houston criminal defense attorney interviewed by the article's authors, is quoted as saying that a former employer once took money out of his paycheck to donate to a judge's campaign coffers, adding that the employer claimed the payments were "necessary to keep his lights on and keep allowing him to pay us."
While attorneys who donated to judicial campaigns were not found to have received a preferential per-case rate, they were assigned a startlingly higher number of cases. On average, the study found that an attorney who donated to a particular judge's campaign for election between 2004 and 2018 received more than twice as many appointments from that judge.
Though the per-case fees were the same, the article hypothesizes that the sheer volume of additional case assignments was a sufficient incentive: More than $17,000 worth of appointments from a single judge for donor attorneys, on average.
Mike Lynch, a former Texas district court judge who handled felony cases for nearly two decades, told Newsweek that even if donations were not part of an explicit quid-pro-quo bargain, the appearance of impropriety was enough to undermine confidence in the system.
In Travis County, where Lynch worked at the 167th District Court in Austin until his retirement in 2012, judges were previously bound by the same "wheel" system as is operating in Harris County, though many were able to circumvent it.
"A judge would sometimes make an appointment right in court, instead. So it ended up that 30 percent to 40 percent of appointments were made in court, working around the wheel," he recalled. "Some judges would appoint lawyers they thought were competent. But the cynical view is that they would appoint lawyers they liked or who made contributions to their campaign efforts."
Despite the increase in lucrative case assignments for donor attorneys in Harris County, the indigent defendants themselves did not appear to receive much if any of the benefit. Non-donor attorneys were able to get charges dismissed or reduced, or obtain an acquittal, slightly more often than donor attorneys.
The clients of donor attorneys also spent more time in jail—an additional 105 days, on average—despite the fact that donors and non-donors represented largely identical clients and came from comparable backgrounds.
The authors hypothesized that a zeal to obtain as many assignments as possible, while beneficial for an appointed attorney's bottom line, could overtax their resources, to the detriment of the client.
They also figure that potential for patronage assignments could perversely incentivize donor attorneys to move along cases as quickly as possible, to the further detriment of their clients, in order to appease the judge making assignments.
"Pay to play lays bare the core dysfunction in the right to counsel: that many of those who are assigned to represent indigent defendants really do not share their clients' interests," the article said.
Reforming the system will be difficult to do and face resistance from many fronts. Public defender systems are not popular funding priorities for politicians, and non-profit-administered systems have their own overhead costs.
Moreover, activists will likely run into an even greater, institutional hurdle: The judges themselves.
"Taking power away from judges is like taking a piece of meat out of a lion's mouth," Lynch said.