Judges Say Sean Spicer Has Best Performance Yet on 'Dancing With The Stars,' Twitter Slams 'Trump Support'
Some Twitter users aren't thrilled about Sean Spicer's rave reviews on Dancing With The Stars Monday night. The former White House Press Secretary was applauded by all three judges with a 19 of 30 overall score.
Spicer danced to "You've Got A Friend In Me" from Toy Story and dressed as the film's character Woody.
The political figure has long been controversial on the series because of his ties to President Donald Trump. Some social media commenters claimed the judge's support of Spicer was in praise of the president.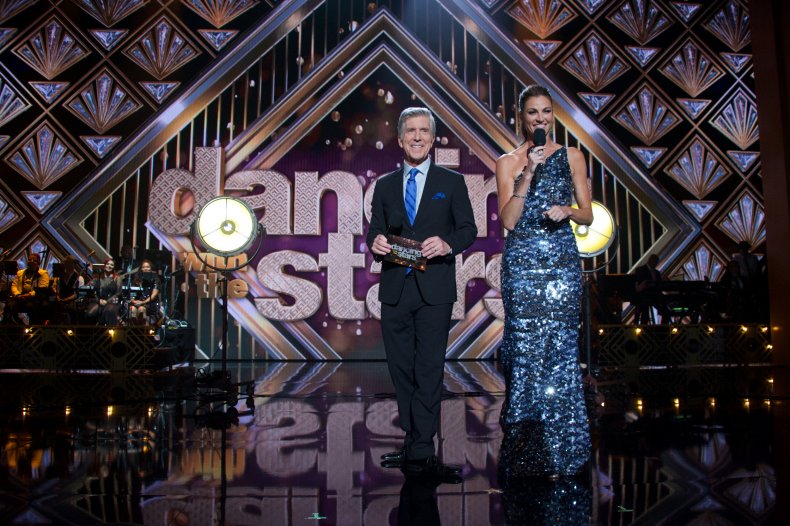 Along with jabs at the judges, Twitter users questioned how Spicer was placed on the show in the first place. Some expressed shock that Spicer is still on the show, despite his low scores and public ridicule.
Newsweek subscription offers >
"Judges really sucking up to Trump on Dancing with the Stars," user @StevijoPayne wrote.
"I could scrape up roadkill, throw some Mickey Mouse ears on it, drag it around the dance floor to music and probably still be more graceful than Sean Spicer," @SusanBrinker2 tweeted.
"Sean needs to be kicked off of dancing with the stars. He was slow and off beat tonight and honestly this show looks like it's rigged now. #DancingWiththeStars," @Rabecca2432 said.
Spicer has many voices in his corner, though. The former Trump employee was even backed by Trump himself on Monday morning. The president took to Twitter to encourage his followers to vote for Spicer on Monday's Disney Night episode.
"Vote for good guy @seanspicer tonight on Dancing With The Stars. He has always been there for us!" Trump wrote.
Others tweeted support for Spicer, too. Many were vocal about their support for Trump and Spicer because of political beliefs, while others applauded Spicer's honesty on the show. After his dance, Spicer shed tears for his father who died of pancreatic cancer in 2016.
Many viewers seemed to ignore politics to comment lovingly on Spicer's loss. It appeared some Twitter users had experienced similar pains in family members and friends, including cancer diagnosis.
"I'm legit ugly crying watching @DancingABC @seanspicer . So sweet-hate he lost his dad to cancer. Going through something similar now with a family member. Whew! #cancersucks," @mgroebling3890 said.
Another Twitter conversation surrounding Monday night's episode joked about judge Carrie Ann Inaba, who fell out of her chair during the live show. Fans of the show claimed the judge falls each season. She was not injured.
The highlight of the show was the dance of former Fifth Harmony member Ally Brooke, who received the first judges' score of 9 during the Disney-themed episode. Other fun moments showed the celebrities dancing at Disneyland, and all dances featured songs from famous Disney films.
Judges Say Sean Spicer Has Best Performance Yet on 'Dancing With The Stars,' Twitter Slams 'Trump Support' | Culture