Judging Trump: So Who's Going to Win the 2018 Midterms?
This article first appeared on the American Enterprise Institute site.
The 2018 elections are a year away, and we thought we would let you know that AEI's Political Corner is watching.
The Basics
In the 34 Senate contests next November, 23 seats held by Democrats are up, as are nine held by Republicans, with two more held by independents who caucus with the Democrats.
10 of the Democratic seats are in states Donald Trump carried, and he carried five of these by double digits.
There will be 35 governor's contests in 2018. 11 of these seats are currently held by Democrats and 24 by Republicans.
Looking to 2018 in the House, Republicans hold 239 seats while Democrats hold 194. Two seats are currently vacant — a special election for Utah's 3rd was held on November 7 [and won easily by a Republican], and a special election for Pennsylvania's 18th will be held in March 2018.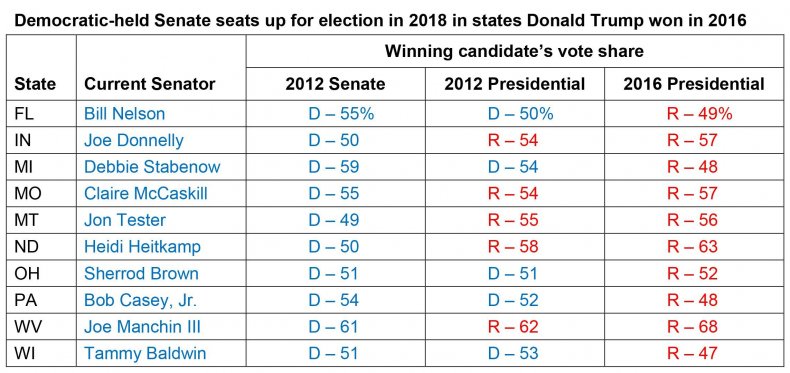 The Polls
Four recent polls of registered voters produced different estimates of what will happen next November. All of them, like almost all polls we have seen in the past six months, give the Democrats an edge.
In the Fox News poll, 50 percent of registered voters said they would vote for the Democratic candidate in their district and only 35 percent the GOP one. In the new Politico/Morning Consult internet survey, 43 percent said they were most likely to vote for the Democratic candidate and 38 percent said the Republican candidate.
A new Economist/YouGov poll showed that 39 percent of registered voters would vote for the Democratic Party candidate in their district while 36 percent said they would vote for the Republican (17 percent were not sure). In the latest ABC News/Washington Post poll, 51 percent of registered voters said they would vote for the Democratic candidate and 40 percent the Republican.
When the pollsters looked at registered voters who said they were certain to vote, the Democrats had a slightly stronger edge: 53 to 40 percent . But when they looked more closely at registered voters who were certain to vote and said they had voted in the 2014 election, the Democratic edge virtually disappeared, and the results were 48 percent for the Democratic candidate to 46 percent for the Republican.
How much attention should we pay to early generic ballot questions? Harry Enten of 538 thinks they have predictive value at this early stage, but other pollsters and practitioners say they won't tell us much until next summer.
Another important factor in off-year elections is levels of enthusiasm, but here again, the polls give us different pictures at this early stage.
In a late September CNN poll, 44 percent of Democratic-leaning registered voters said they were extremely or very enthusiastic about voting for Congress next year, compared to 34 percent of Republican-leaning registered voters. In the October ABC News/Washington Post poll, an identical 63 percent of Democratic-leaning and Republican-leaning registered voters said they are absolutely certain to vote next year.
In another question in the ABC News/Washington Post poll, 49 percent said Donald Trump would not be a factor in their congressional vote next November. 22 percent said their vote would be to show support for Trump, while 26 percent said it would be to show opposition to him.
The percentage of Republicans who said their vote would be to show support for Trump (57 percent) was higher than the percentage of Democrats who said their vote would be to show opposition to him (46 percent).

Recruitment and Retirements
Both the Republican and Democratic Congressional Committees' leaders are spending a lot of time trying to cajole people to run in seats they think they can pick up.
Democrats have some impressive recruits, but in some competitive contests, Democrats are running against each other for the opportunity to challenge a vulnerable Republican.
Take a seat in Northern Virginia held by Republican Barbara Comstock, considered to be one of the Democrats' top targets in 2018. Comstock won her race in 2016 by six points, but Hillary Clinton carried the district.
Today, Comstock has one GOP opponent. But eight Democrats have thus far thrown their hats into the ring, and more could do so.
There are a handful of other congressional districts where multiple challengers are vying to win the Democratic Party's nomination. Our former AEI colleague Michael Malbin points out, however, there are 98 Republican-held districts where challengers have raised at least $50,000 compared to 20 Democratic-held districts where the challenger has raised that much.
Money isn't everything, but it is really important when you are trying to defeat an incumbent.
The Cook Political Report's ace analyst David Wasserman wrote in early October that the current Democratic edge on the generic ballot questions puts them about where they need to be to take control of the House. But he notes that they need a few more retirements.
Open seats tend to be the most competitive. As he says, Republicans sitting in districts the Cook Political Report describes as marginal tend to be personally popular; three-quarters of the 52 seats they identified won their 2016 races by double digits. Strong incumbents win in impressive numbers, Wasserman says.
Karlyn Bowman is a senior fellow at AEI.