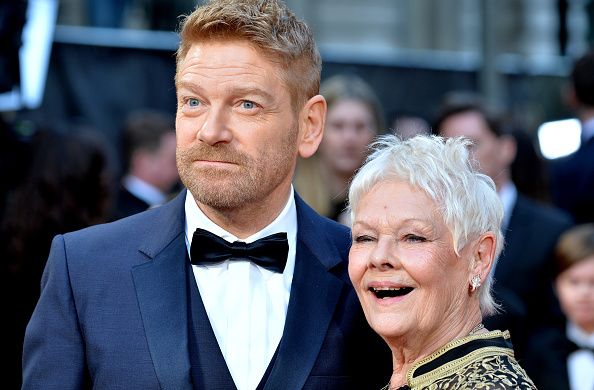 Dame Judi Dench and Sir Kenneth Branagh have been friends for a long time. That doesn't mean anyone expected Branagh to reveal he'd seen his friend without her pants on.
Dench was the first big name on board to star in Branagh's film adaptation of Agatha Christie's Murder on the Orient Express, due out in the U.S. on November 10. In an appearance on The Graham Norton Show, a British comedy talk show that airs on BBC One, the two talked about the movie along with their co-stars Michelle Pfeiffer, Johnny Depp and Josh Gad. Oh, and Branagh recalled the time during the project's development that he accidentally saw Dench naked from the waist down.
"I went into her dressing room one night, and she was sitting in her dressing gown. We are excitedly talking about the film," he said. "We get the call to go on stage. We are still chatting in the wings, and with 30 seconds to go, she throws off her dressing gown, and there is nothing on below the waist!"
And? "I had the briefest of looks, but I can confirm, like the song, 'there is nothing like a dame!'" Whatever that means, when you've accidentally seen the nether regions of an esteemed fellow actor, in this case one who has been nominated for seven Oscars and 11 Golden Globes, and has taken home one of the former (for Shakespeare in Love) and two of the latter (for Mrs. Brown and The Last of the Blonde Bombshells).
At the time of the mishap, they were in London working together on a stage production of William Shakespeare's The Winter's Tale and would often talk about the film (which also stars Penelope Cruz, Olivia Colman and Leslie Odom Jr.). They were apparently so engrossed in their conversation about their upcoming project that Dench wasn't aware or didn't remember that she was in partial birthday suit mode under her robe. When the realization came to pass, "her dresser ran to get her skirt, and Judi went on clutching it around her."
Dench didn't seem too horrified by the situation, recalling on the talk show that "I was quite surprised too!"
We can tell you what Branagh didn't see: A tattoo of Harvey Weinstein's name on her backside. This isn't the first time in the last month that Dench's normally clothed parts have made the news. When the allegations of sexual harassment, assault and rape against Weinstein came out, the fake tattoo Dench had once gotten as a practical joke came back into the headlines.
A few days after The New York Times's first investigation of Weinstein was published, Dench said in a statement that "whilst there is no doubt that Harvey Weinstein has helped and championed my film career for the past 20 years, I was completely unaware of these offences which are, of course, horrifying, and I offer my sympathy to those who have suffered and wholehearted support to those who have spoken out."
On Thursday, at the London premiere of Murder on the Orient Express, she told Sky News that "it's very hard when a lot of people concerned are great friends of yours." She added: "I feel loyal to them, and at the same time, I feel appalled by what has happened to a lot of young actresses who had no way of getting out."