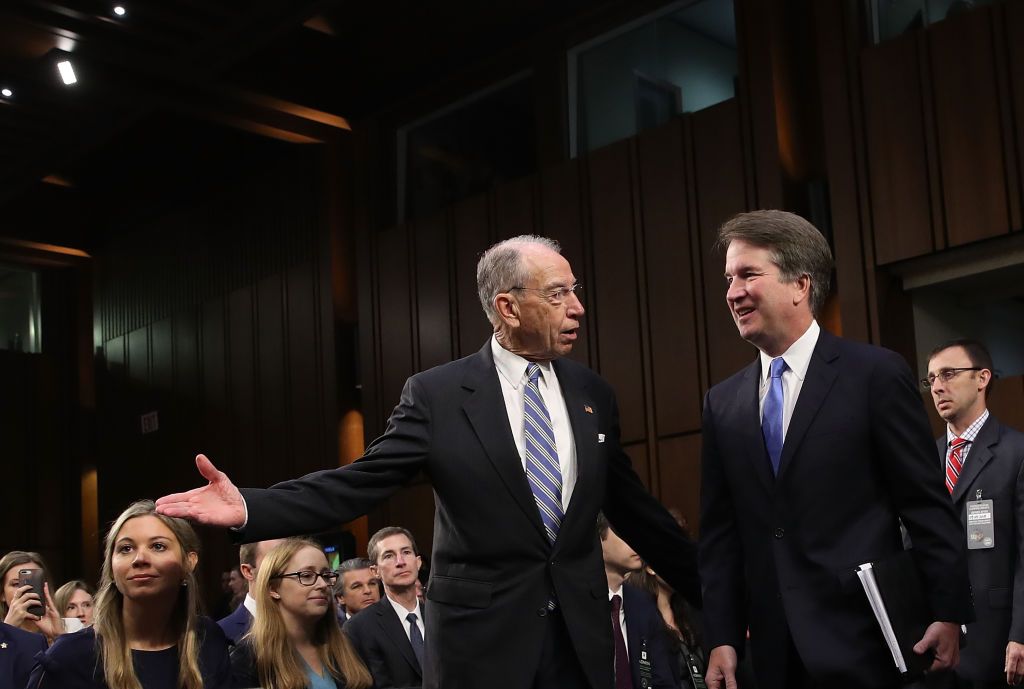 The Senate judiciary Committee has referred a woman to the FBI who investigators say made false sexual assault claims against Supreme Court justice Brett Kavanaugh.
In a letter Friday from commeittee chairmamn Senator Chuck Grassley to FBI Director Christopher Wray, the senator describes that California Democratic Senator Kamala Harris received a letter from a "Jane Doe" alleging that Kavanaugh and another person raped her repeatedly in the back seat of a car.
She did not provide the date or location of the attack, and the letter did not have a return address.
In early October, a woman named Judy Munro-Leighton identified herself as the author of the letter in an email to the committee, claiming "I know that Jane Doe will get no media attention, but I am deathly afraid of revealing any information about myself or my family."
When investigators tracked her down to where she resided in Kentucky November, she told them she had not been sexually assaulted by Kavanaugh and claimed she was not the "Jane Doe" who wrote the letter.
"No, no, no. I did that as a way to grab attention," Munro-Leighton said to investigators. "I am not Jane Doe ... but I did read Jane Doe's letter. I read the transcript of the call to your Committee ... I saw it online. It was news."
She further claimed that she had contacted Congress multiple times to oppose Kavanaugh's nomination, and she "just wanted to get attention" and described the letter as a "tactic" and a "ploy."
Grassley said that investigators established that Munro-Leighton is a "left-wing activist" who is "decades older than Judge Kavanaugh."
Grassley wrote that in light of "the threat these types of actions pose to the Committee's ability to perform its constitutional duties" Wray give the referral "the utmost consideration."
Kavanaugh's nomination to the Supreme Court was approved by Congress in September following a hearing process which saw Professor Christine Blasey-Ford detail allegations that Kavanaugh sexually assaulted her at a high school party in the 1980s, along with several other women coming forward with allegations of misconduct.