Cyclist Who Lost Her Job for Flipping the Bird at Donald Trump's Motorcade Wins Election in Virginia
A woman who was forced out of her company because she flipped the bird at President Donald Trump's motorcade while she was riding a bicycle has won a bid for local office, according to preliminary results.
In October 2017, a photographer captured the moment when Juli Briskman made the gesture to the motorcade as it headed back to the White House from Trump's golf course in Sterling, Virginia. She posted the image on Twitter and her Facebook page and it went viral.
However she was forced to quit her job as a marketing executive at Akima LLC, a construction company that got government contracts, after it said she had violated its social media policy on obscenity.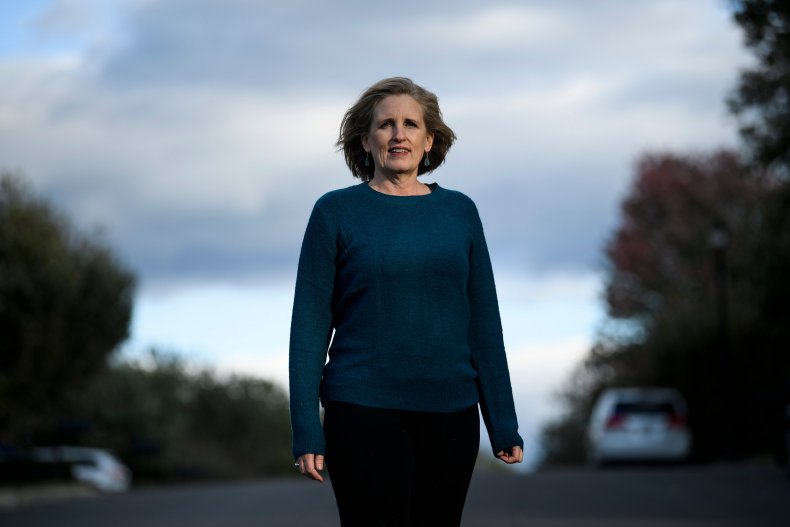 Briskman, 52, won severance pay after she sued her former employer and the incident spurred her to run for office. She used the image as a selling point for her bid for the Algonkian District in Loudoun County, Virginia.
In her campaign announcement, she said: "You might know me as the woman who was fired for flipping off the Presidential motorcade. And while it may be the most public display of my political opinion and activism, I have been deeply involved in the Loudoun County community for nearly 20 years."
She told CNN in 2017 that she was angry at Trump for his policies on health care, gun control and his refusal to criticise white supremacists in Charlottesville.
"My finger said what I was feeling," Briskman said at the time. "I'm angry and I'm frustrated."
After Tuesday's ballot, she is projected to win her race to become supervisor of the district, according to CNN.
She ran as a Democrat and defeated the eight-year Republican incumbent, Suzanne Volpe.
Linking to a Washington Post article about the 2017 incident, Briskman wrote on Twitter how she was "looking forward to representing my friends & neighbors in #Algonkian District who backed me up today! So proud that we were able to #FlipLoudpun #FlipVA #LOCO219 Thank you Loudoun!"
Her victory coincided with Democrat success in Virginia's statehouse in which they won control of the House and Senate after overturning narrow majorities that had been held by Republicans.
The Democrats now hold all three branches in Virginia's government for the first time in a generation, the Associated Press reported.
Vice President Mike Pence and former Vice President Joe Biden visited the state ahead of the ballot because it was considered to be a testing ground for campaign messaging ahead of the 2020 election, CBS reported.