Julia Fox's 'Trash Take' on Amber Heard and Johnny Depp Slammed Online
Julia Fox has seemingly weighed in on the Johnny Depp and Amber Heard trial, and her take has been met with widespread criticism online.
An Instagram comment reportedly left by the actress and model voicing her support for Heard suggests that while she thinks Heard did hit Depp, she can't be classed as the abuser because she wasn't "physically" or "financially" powerful enough. Some people applauded Fox's opinion on the situation but many called her out, including singer Aubrey O'Day who called it a "trash take."
Depp is suing Heard for $50 million in loss of earnings because of Heard's 2018 op-ed where she said she was a survivor of domestic abuse. Heard is countersuing for $100 million for nuisance. The defamation trial will continue on Monday, May 16.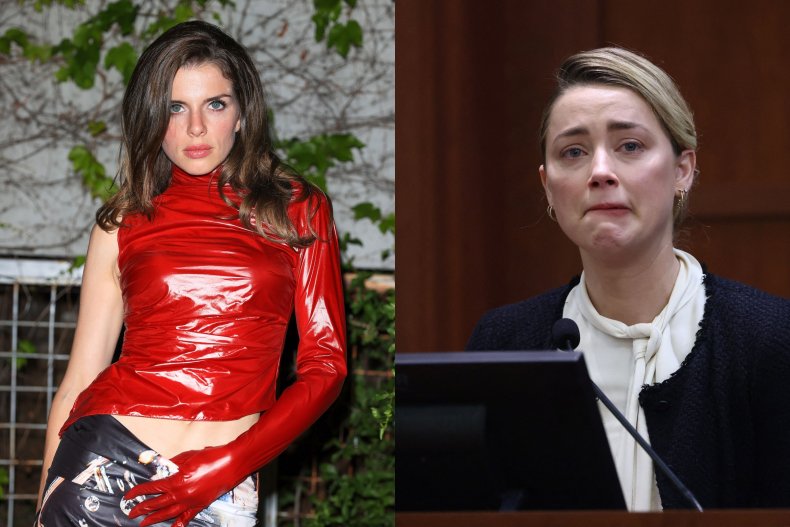 "Wrong. She never had the power in the relationship to be abusive to him," Fox appears to have written on social media on Saturday. "Did she hit him? Yes. Was is abuse? No."
Josh Safdie's muse for Uncut Gems continued: "You need to have power to be able to abuse it. She was 25. He clearly was always way more powerful including physically and financially."
The comment has been widely shared across social media and caused a huge reaction.
Singer songwriter O'Day strongly disagreed with Fox's assessment of the Heard-Depp situation. "Plenty of broke, short, skinny, non-famous people have abused their partner. Abuse is simply cruel and violent treatment of a person.. power not being a necessary factor," O'Day wrote. "Less powerful ppl abuse their more powerful partner out of jealousy all the time."
Across Twitter, others who weighed in included @Angela_Callisto who suggested Heard's own power came from the fact that Depp "loved her" and "she isolated him." They wrote: "Power doesn't come from just age, money and physical stature. Ps. They were about the same size. Power comes from a multitude of things. Love. Being a great force."
Not everyone criticized Fox for her alleged take. Journalist Taylor Lorenz expressed her view that "abuse is about power and [Heard] didn't have the power" and stated that she thought "Julia Fox put it well [to be honest]."
Another Twitter user, @shesaheathen, who openly supports Heard, stated: "We love Julia Fox" after sharing the original screenshot of Fox's comment.
Clarifying their support across a 15-tweet thread, they wrote: "To anyone saying that they were abused by someone younger and didn't have the much power. I'll say this, you're one of the rare ones that shows abuse is a tool that abusers can use to control regardless of the status."
However, the comments criticizing Fox outweighed those supporting her.
"[Julia Fox] really said with her whole chest that even though amber heard hit [Johnny Depp], it wasn't abuse because she was 25???" Asked the Depp fan account @j0hnnycdpp. Another user, @sunflxwervolsix, questioned Fox's character, bringing up the fact that she dated Kanye West "while he was sending death threats to Pete Davidson. She doesn't have the best morals."
Fox's latest comments seemingly aren't the first she's voiced in support of Heard. Earlier in May another comment she's alleged to have made on her Instagram account caught the attention of fans. "So in love with her and this is clearly a sick way of still controlling her life by suing her all over the world," Fox commented.