Julia Fox Apartment Tour Stuns Fans: 'No Way Kanye Went Here'
Julia Fox is exercising total transparency with her fans by giving them a full "underwhelming" tour of her New York City home.
The actress and model shared a three-minute video on TikTok that gave her followers a detailed look at her two-bedroom, one-bathroom apartment in New York City.
Fans responded in the thousands in the comments section of Fox's TikTok video. Some praised her for being a "relatable icon" while others doubted that Kanye West ever visited her there, referencing her short-lived relationship with the musician in 2022.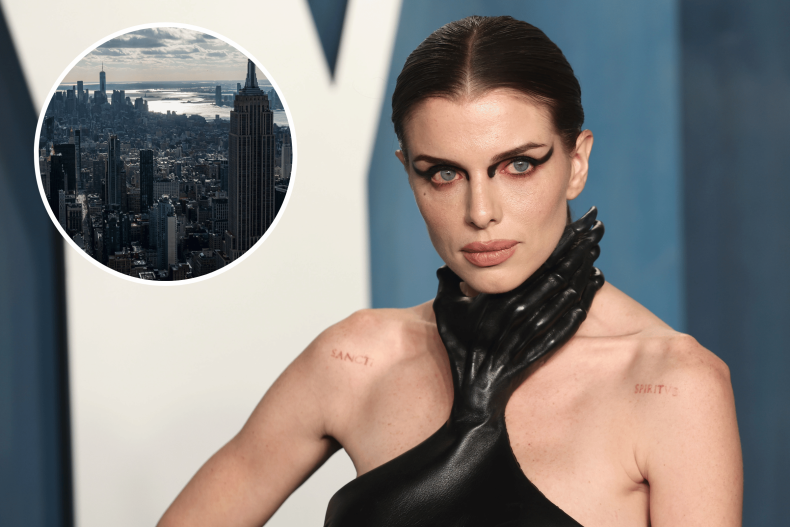 "Come with me on a very underwhelming apartment tour," Fox captioned the video, which she uploaded on Wednesday. She also included a warning about the state of the home: "Also, to clarify I have only ONE mouse and he's cute."
In the video, Fox said she was sharing the insight into her home because she believes in "maximum transparency." She prefaced the tour by acknowledging that she'd probably get "roasted" for doing so, but she hoped it might help someone think "maybe I'm not doing so bad."
She started the tour by showing her bedroom, which is situated within the apartment's living room. Fox then showed how she'd converted the actual second bedroom into a playroom for Valentino, her son.
Veteran real estate agent of Manhattan, Scott Harris of New York-based realtors Brown Harris Stevens says this decision by Fox to rearrange isn't unusual.
"Julia, like many people, is using her one-bedroom apartment, shall we say, creatively," Harris told Newsweek. "Many parents will sleep in the living room and give their children the bedroom. The more soundly your kids sleep directly relates to your own sanity."
After a long hallway separating the rooms, Fox, continuing her tour, then brought the camera into the "tiny" bathroom. Fox pointed out personal items of hers while a number of toys were seen throughout the tour across the apartment.
Past the hallway, she showed off Valentino's play kitchen area inside her own kitchen, which she admitted was "really messy" right now. Next to the kitchen is Valentino's bedroom which Fox said she's "put the most effort" into despite the fact that her son doesn't sleep in there. He shares a bed with her. "Yeah we're co-sleepers. Sue me. I don't care," she said.
Fox ended the tour by explaining why she doesn't live in a bigger home. "I don't like excessive displays of wealth. They make me feel icky. Especially people that have really big houses. It's just really wasteful when there's so many homeless in this country," Fox said. She also explained that she does have a "small mouse problem" but it's not something that she minds because they clean up the crumbs her son drops on the floor.
"No way Kanye went here," user @ihateyourhairwithpassion wrote in the comments section.
"She's just like us [for real]," @recovering.horsegirl said, receiving over 127,000 likes on their comment. Comedian Hannah Berner commented to call Fox "a relatable icon."
Fox eventually replied to one of the comments highlighting the size that someone considered "awesome and spacious for New York City". "I know it's crazy that this is a big apartment for NY standards lol I grew up in a show box so I don't mind it," Fox said.
Harris, of Brown Harris Scott, used his expertise to deduce where you might find Fox's apartment in the city. "Ms. Fox appears to be living in a very typical one-bedroom unit in a walkup building in Yorkville, a quiet neighborhood on the Upper East Side. However, this kind of home with a long hallway, tiny kitchen and bath arrangement can be found in 5- and 6-story walkup buildings from the East 80's down to the East Village—and all over Manhattan. That is, it's very common of what was constructed in the early 1900s. At that time, many more than two might have stuffed themselves into an apartment this size," he said.
It's not known whether she owns or rents the property, nor where it is located, but a New York City realtor, Andrew Ragusa, has shared his estimation of the property's worth with Newsweek.
"Based on what I see online and in her video, I can tell you that her rent is probably about $2,500 a month because it's not really a two-bedroom, it is a one-bedroom and she converted the living room into a bedroom," Ragusa, of REMI Realty, told Newsweek.
"Also based on the condition of the property it's not newly renovated, those are usually renting for $3,000 or more." He continued, "If her property was for sale I would guess that it would sell for just a little less than $450,000 but it depends on whether or not it's a condo or co-op, which will affect the price."
Harris echoed this estimate, telling Newsweek the rent could be "in the range of $2,250-2,500 per month." He added: "However, were this unit for sale, it would likely sell in the $425,000-450,000 range in her neighborhood, depending on condition. Downtown it could easily be 10-20 percent more."
Update 01/27/23, 10:19 a.m. ET: This article was updated to include expert comments from Scott Harris.