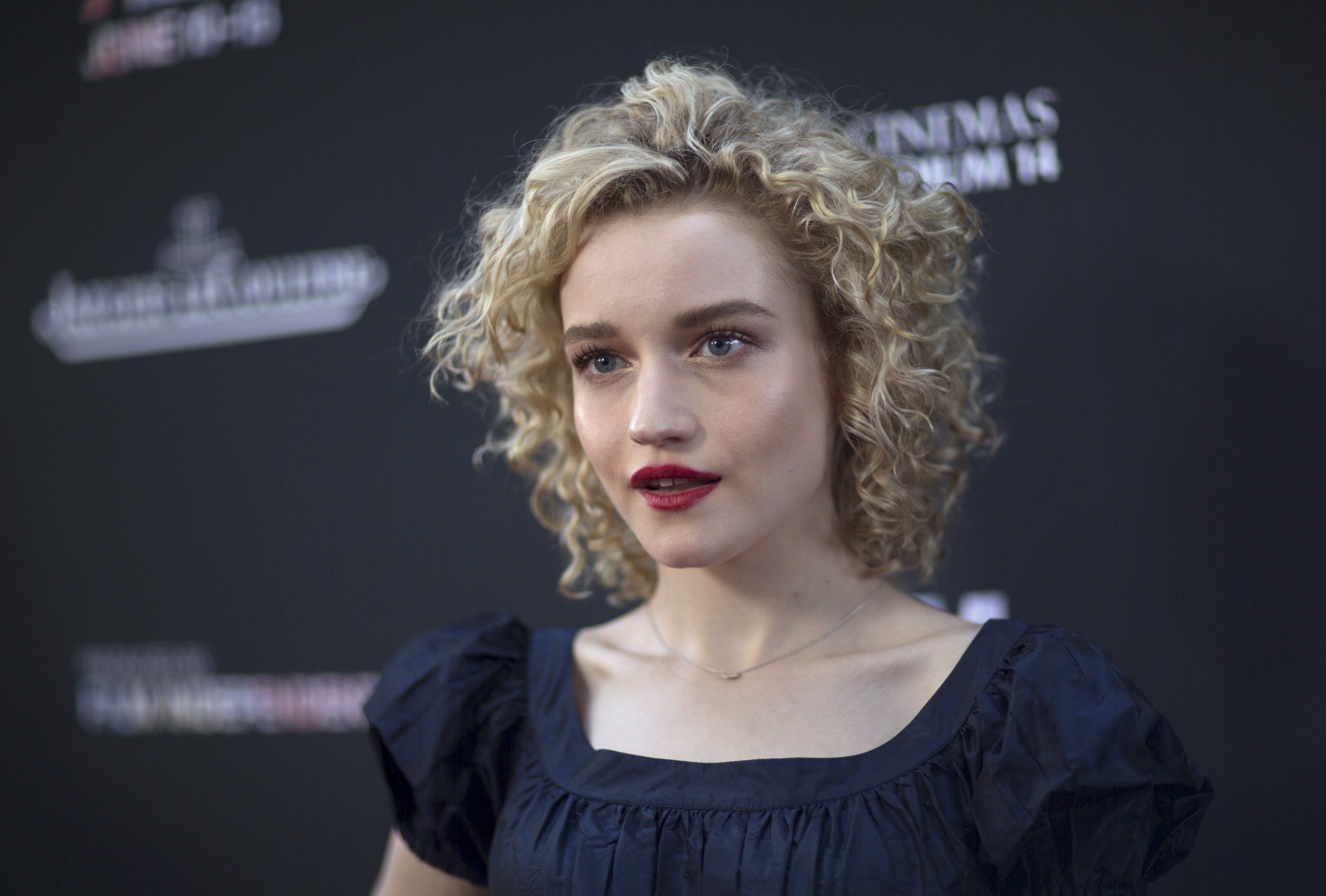 In a cinematic universe of manic pixies and mean girls, Julia Garner is an indie stealth weapon. The 21-year-old has spent the past six years creating her own gallery of indelibly etched, idiosyncratic young women. Pale and blonde with features that register every barometric shift of emotion, Garner has a very good sense of where she fits in the movie landscape. "A lot of roles for actresses my age are girl-next-door or cheerleader," she tells Newsweek. "[But] a lot of girls aren't the girl next door or the cheerleader. I'm not like that—and I'm never going to get cast as that."
You can say that again. On FX's The Americans, her arc as a CIA agent's 15-year-old daughter targeted for seduction by Russian mole, Philip Jennings, rattled the cyber-water cooler. At film festivals from Sundance to Tribeca to Los Angeles, her movie, Grandma (opening wide Friday, August 21), showed Garner as a pregnant teenager forced to square up to comedy icon, Lily Tomlin. And when the Los Angeles–based Black List website for screenwriters invaded New York for four days of events in April, Garner brought her trademark spiky intelligence to the role of a high school girl putting up with her boyfriend's emotional skittishness in a live reading of the Jason Orley screenplay, Big Time Adolescence.
Garner says that she began acting to overcome her shyness. "When I was 14, I started taking acting classes and was cast in several Columbia student films. And when I was 15, my older sister talked me into going to an open call for the American version of Skins. I had never gone to an audition in my life. I didn't even know what that was. There were 1,500 kids, just in New York, and it ended up between me and one other girl for the part of Cassie. I didn't get it, but the casting director also cast Martha Marcy May Marlene a couple of months later, and that was my first movie."
That casting director, Susan Shopmaker, saw something unique in Garner. "She's a mystery, and mystery is always a lot of fun to watch on screen. In this day and age, when many actors look and sound the same, Julia stands quite apart. There's a fragile quality, too, but a fragility that can survive."
And thanks to a discerning eye, Garner's been working steadily ever since that first audition. Still, it was her role as Kimberly Breland on The Americans that really elevated her profile. Kimberly is like a John Green heroine unaware that she's trapped in a John le Carré spy novel. One of her standout moments is a stoned monologue in which she tells Philip about working in her father's vegetable garden. Stephen Schiff, a writer-producer for the show (and who wrote the scene in question), says of Garner's character, "You see this inner-pinball machine as every moment of the story bangs against these emotional bumpers and registers in her face and in her tone and her halting storytelling. You just see that in what Julia delivers in that scene. And I think it's pretty extraordinary and poignant."
As for Garner the actress, Schiff says, "The camera does love her, and I'm not just talking about beauty. In the presence of the camera, she becomes something much more, as a lot of fantastic screen presences do. It's a special kind of luminosity and transparency." He adds, "She embodies the subtext and for what I do, the visual storytelling business, that is so important. And you can't train someone to do that."
Grandma reveals an entirely different side of Garner. In this charming, late-summer indie sleeper, she plays Sage, a pregnant teen who asks her unregenerate radical poet grandmother (played by Lily Tomlin) to give her money for an abortion. The two of them spend the day driving around L.A. in a vintage 1955 Dodge Royal, trying to hit up the grandmother's old friends, colleagues and lovers for the money and, in the process, excavating her conflicted past relationships. "[Julia] is so ethereal and so contemporary," Tomlin tells Newsweek. "I knew she was Sage, and no one else would do. As an actress, she is totally believable in whatever role she plays."
And Grandma writer-director-producer Paul Weitz has his own take. "Julia has an old-time movie star's face and, at the same time, she's completely contemporary. She's incapable of giving a false beat." And it's not just on-screen, he adds: "She's lovely on a personal level, too. She's warm and funny and not interested in being hip. She cultivates a bit of a lost-in-time quality."
Raised in New York City, Garner now spends much of her time working in Los Angeles. She crashes with friends, but, as if in defiance of her new West Coast identity, she doesn't know how to drive. Unlike most of her fellow millennials, Garner spends very little time on social media. She's not on Facebook or Twitter, but does have an Instagram account because, "the thing I like about Instagram is you can put up pictures and you don't have to say anything. It's a way of connecting with fans and remaining mysterious. I hate when I see a movie and I think about what that actor wrote about on social media yesterday, or what they had for lunch."
Garner gets a little philosophical when considering her career goals. "Four years ago, I didn't even know that I was going to be an actress [full-time]. So you never know where life is going to take you. I'm just happy right now where I am, and appreciating the acting because I love it."
Currently, she's attached to Juanita Wilson's upcoming film adaptation of the Daniel Woodrell novel, Tomato Red. Woodrell's previous slice of redneck noir, Winter's Bone, helped launch Jennifer Lawrence's career and scored her an Academy Award nod. If there's any justice in Hollywood (and her success so far suggests maybe there is) then perhaps Garner will have the same luck.