Julia Louis-Dreyfus Says Donald Trump is a 'Fake President': 'He's a Complete Moron, From Start to Finish'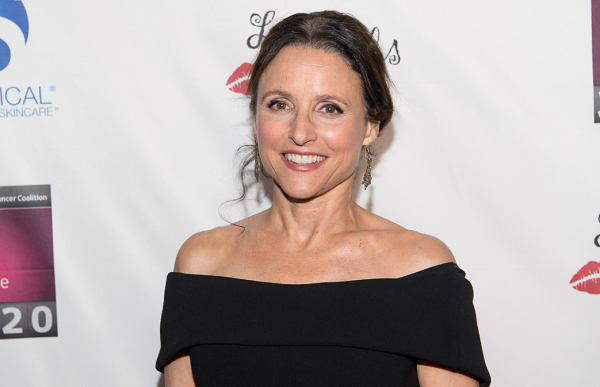 Veep star Julia Louis-Dreyfus called President Donald Trump a "moron" in a Thursday profile for Time magazine.
On the HBO series, the actor stars as the unconventional and vulgar fictional President Selina Meyer. The character, while difficult and particularly narcissistic, has an uncanny likeability fostered by her potty-mouthed humor and the deranged yet hilarious situations Meyer and her staff usually find themselves in.
When the satirical political series debuted during Barack Obama's presidency in 2012, much of Veep was so outlandish and bizarre that conceiving any bit of the show as ever being possible simply added to its humor.
In today's political climate, though, the outrageous scenarios President Meyer often encounters or the awful things she says don't actually seem that far off from reality, especially when considering the comments Trump has made on social media. For example, he mocked climate change after presidential hopeful Senator Amy Klobuchar, a candidate committed to fighting global warming, announced her bid and he once called his former White House aide Omarosa Manigault-Newman a "dog."
Louis-Dreyfus quipped the president could be somewhat hilarious. "He'd be funny if he didn't have the power he has," Louis-Dreyfus said. "He's sort of a pretend, fake president. He's a complete moron, start to finish."
Trump hasn't inspired many plot lines on Veep, but Louis-Dreyfus, a 58-year-old multiple Emmy winner, noted she's learned a lot about politicians and how they operate over the seven-season course of the show. "They're just people. That's all. Which is in one way comforting, and in another quite terrifying, given all the responsibility that they carry," the actor said.
The final season of Veep, set to premiere on HBO on March 31, will include many of the laughs the show has been famous for—though today its humor is not as unfathomable as in the seasons before Trump took office. For instance, the Time profile teased an upcoming episode in which Meyer launches a manhunt to find out who on her staff has called her the c-word, only to later discover that everyone in her White House has referred to her with the slur.