Julia Louis-Dreyfus Jokes She's Marianne Williamson's Potential Running Mate: 'I Guess She's Gonna Pick Me'
Julia Louis-Dreyfus has an idea of who Democratic presidential hopeful Marianne Williamson would choose as a running mate in the 2020 election after Williamson borrowed a catchphrase the actor made popular back in the 1990s.
"I guess she's gonna pick me as her running mate?" Louis-Dreyfus joked during an appearance on Jimmy Kimmel Live on Wednesday.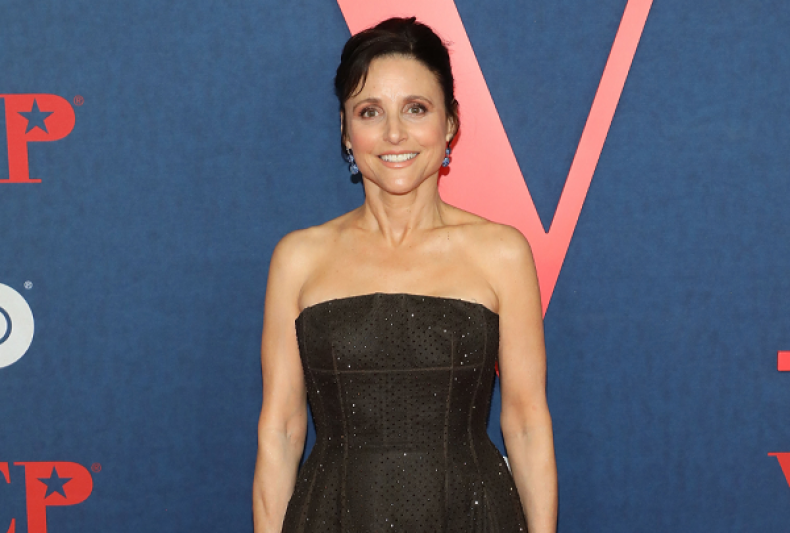 Williamson used the phrase during the Democratic debate while glossing over America's perspective of the Democratic Party on Tuesday night. Louis-Dreyfus' Seinfeld character Elaine Bene often used the phrase when she wanted to refrain from sharing important details of a story or situation while speaking with friends George Costanza (Jason Alexander), Kramer (Michael Richards) and Jerry Seinfeld, who played himself.
Debate viewers were quick to pick up on Williamson's use of the phrase as she was attempting to explain the general population's perception of Democrats. Louis-Dreyfus noted her surprise hearing the phrase on the debate stage.
"It's bizarre," she told late-night host Jimmy Kimmel. 'It's kind of like worlds colliding and then some, right?"
Playing up the political skills she acquired during the seven years she starred as Selina Meyers, the first woman president on HBO's award-winning series Veep, Louis-Dreyfus teased she likely had a thorough understanding of what Williamson and the field of Democratic hopefuls were experiencing as they vied for the Party's nomination.
"I've learned a lot about politics and I got a sense of the true anxiety that probably a lot of these people feel going in and trying to sell themselves as a candidate, as a brand, and make a stamp as themselves but quickly," Louis-Dreyfus said. "As I was watching the debate tonight it gave me a lot of anxiety. I kinda had to turn away."
As one of 24 Democratic presidential prospects, Williamson, a New York Times best-selling self-help author and spiritual guru, has made quite the splash in the race thus far thanks, in part, to her uncanny comments. When she hit the stage during the first round of debates, she caught the attention of many when she addressed President Donald Trump directly during her closing remarks and said he "harnessed fear for political purposes, and only love can cast that out."
During Tuesday's debate, Williamson piqued the interest of viewers with her off-kilter commentary again—like her inclusion of "yada yada yada" and when she warned the city of Detroit about the "dark psychic force" within Trump's administration.