Julia Louis-Dreyfus Shares One Hilarious Moment Jerry Stiller Made Her Laugh Like Crazy
As the world mourns Jerry Stiller, who passed away on May 11 at age 92, many comedians reflect on memories with the icon who memorably played Frank Costanza on Seinfeld.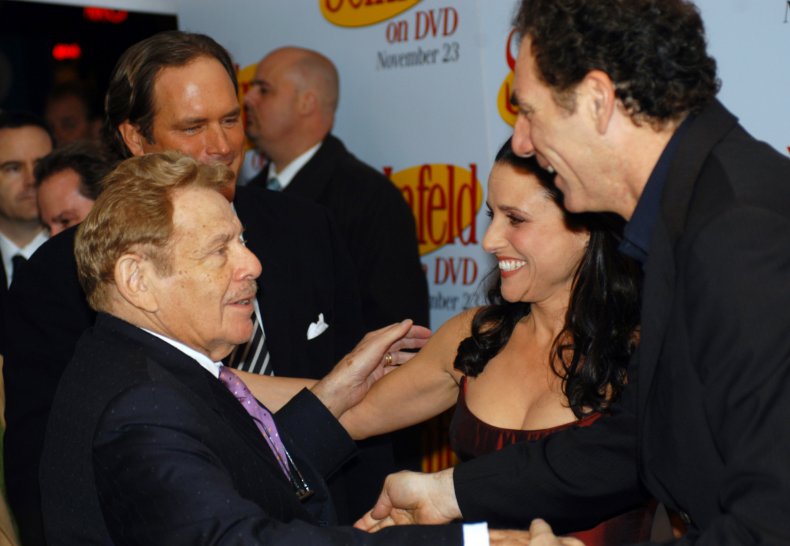 Seinfeld costar Julia Louis-Dreyfus Tweeted a blooper from the season 8 episode "The Little Kicks." "The truth is that this happened all the time with Jerry Stiller," she wrote. "He was so funny and such a dear human being. We loved him. RIP Jerry Stiller."
During the episode, Frank tries to pick a fight with Elaine (Louis-Dreyfus). However, she and George (Jason Alexander) are unable to control their laughter as cameras rolled. "Are you saying, you want a piece of me?" Frank asked, deadpan. However, his costars kept busting out laughing and struggled to get through the scene in the blooper clip she shared, below.
At one point, Alexander even rolled on the floor in hysterics. It's hard not to laugh along as the memorable scene is stalled by Louis-Dreyfus' contagious laugh and Stiller's stone-cold delivery.
RIP Jerry Stiller. Rewatch this iconic scenes and more; Seinfeld is available to stream on Hulu.