Julia Roberts Congratulates Niece Emma Roberts on Baby News
Emma Roberts has announced she is expecting a baby boy with her boyfriend Garreth Hedlund, and her aunt Julia Roberts has wished the couple congratulations.
The American Horror Story actress has proudly shown her bump to the world. Taking to Instagram Sunday, the 29-year-old posted three photos cradling her growing bump, joined by her partner and father-to-be with the caption: "Me...and my two favorite guys."
She also included two blue hearts in the post, indicating she is expecting a boy. They are yet to announce a due date. Us Weekly first reported Roberts' pregnancy in June.
The couple has been inundated with messages of congratulations from friends, family, and fans alike—with Hollywood legend Julia Roberts one of the first to publicly toast her nice.
Roberts, 52, simply commented: "Love you," along with the kissy face emoji, with legions of fans delighting in the sweet interaction between the Roberts women.
Among some other famous faces wishing them well is Rumer Willis who commented: "Congratulations angel so excited for you." While Glee star Lea Michele, who recently welcomed her first child, added: "You will be the greatest mama, love you Em! Boy mums together."
Comedian Chelsea Handler added: "Somebody made a baby!" While Jamie Lynn Spears added: "This makes me so happy BIG congrats."
Julia is herself mother to twins Hazel and Phinneas, 15, and Henry, 13, with husband Daniel Moder.
Julia spoke about her relationship with her niece during an interview with the Los Angeles Times in 2013.
The Pretty Woman actress said: "When Emma comes to stay with us, I always think, 'Please let her be the same,' and she is still the same magical girl she used to be.
"I think so much of it has to do with your intentions in taking on a business like this. If you have a pure view of what you want to accomplish, I think you can maintain your sense of self."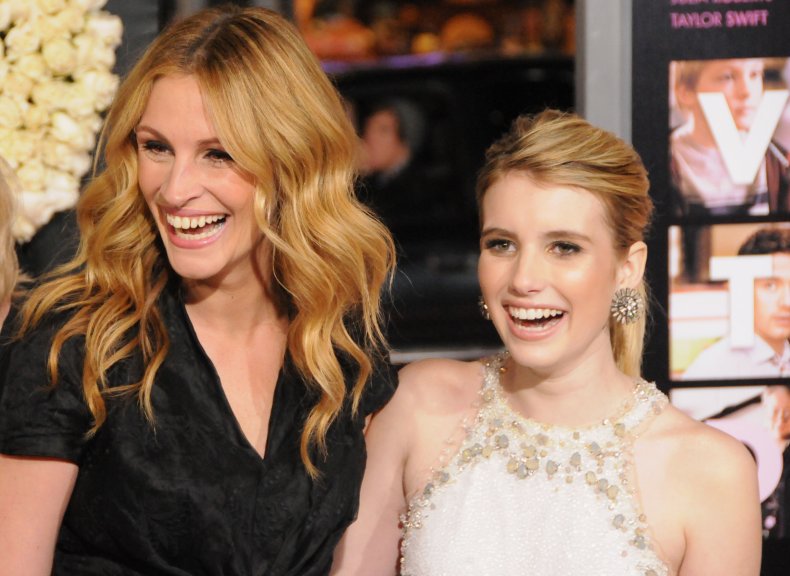 More recently, Julia paid tribute to Emma on her birthday in February, writing on Instagram: "Happy birthday to a gal I love and adore with my whole heart! Yes she is my niece."
Emma previously dated her AHS co-star Evan Peters for seven years. They parted ways in March 2019. Inside Llewyn Davis and Tron star Hedlund, meanwhile, dated Kirsten Dunst for four years, but they split in 2016.
Emma and Hedlund were first romantically linked in March 2019 when they were photographed together.