Hollywood Exec's Suggestion that Julia Roberts Play Harriet Tubman Gets Destroyed by the Internet
Twenty-five years before Cynthia Erivo landed the role of Harriet Tubman in Gregory Allen Howard's film Harriet, a Hollywood studio executive had a different actor in mind to play the part of the iconic slave turned abolitionist: Julia Roberts.
In an early November interview with Focus Features—the studio behind the film—and an opinion piece published in the Los Angeles Times on Tuesday, Howard revealed when he first began pitching the script for Harriet, which released nationwide on November 1, he was advised to give the leading role to Roberts, despite the fact that the award-winning actress is a white woman and Tubman, a former black slave.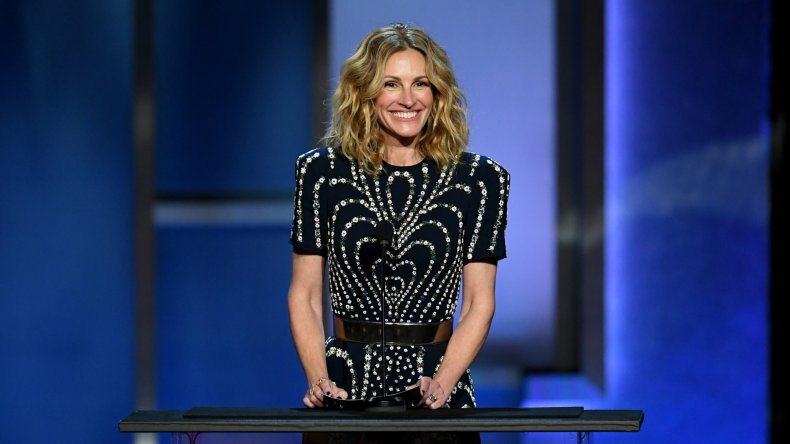 "I was told how one studio head said in a meeting, 'This script is fantastic. Let's get Julia Roberts to play Harriet Tubman,'" Howard recalled, noting that the "climate in Hollywood...was very different" back then.
Newsweek subscription offers >
"When someone pointed out that Roberts couldn't be Harriet, the executive responded, 'It was so long ago. No one is going to know the difference,'" Howard continued.
As history would have it, Harriet wouldn't go into production until two-and-a-half decades after Howard began working on it, and Roberts obviously was never cast in the film. However, the mere suggestion of it was still enough to rile up hundreds of people on social media.
Shortly after Howard's revelation became public on Tuesday, the internet exploded with outrage over the idea and a number of commenters shared their thoughts on Twitter. People were particularly curious as to how the studio executive best thought Roberts would transform into a black woman or if the intention was to simply white-wash Tubman.
"So... wait... was the exec expecting Julia Roberts to go full-on Blackface like Birth of a Nation OR just completely ignore the source material like Emma Stone in Aloha? I HAVE QUESTIONS!!!" comic W. Kamau Bell wrote on Twitter on Wednesday.
Newsweek subscription offers >
Meanwhile, others weren't shocked at all by the suggestion considering Hollywood's history of casting white actors as people of color and the industry's widespread appropriation of non-white cultures on screen.
"Yes a producer pitching Julia Roberts as Harriet in the '90s is bad but wait til you hear about the white modern day media employee who pitched 'white people pick cotton' as a BHM video," another Twitter user wrote.
A number of actors of Caucasian descent have played roles belonging to figures of different races. It was only seven years ago when Ben Affleck was cast as the Mexican-American CIA operative Antonio J. Mendez in the 2012 Oscar-winning film Argo, and Angelina Jolie portrayed the Afro-Cuban journalist Mariane Pearl in 2007's A Mighty Heart. The main cast of the 2010 film The Last Airbender—based on the Nickelodeon cartoon full of characters from Asian and Native American tribes—was predominately white, while the villains in the movie were people of color.
Howard credited two particular films for helping shake up the industry's standards for representation and proving there was an audience for black films based on black figures and cast with black people.
"Two films really changed the climate in Hollywood to allow Harriet to be made. When 12 Years a Slave became a hit and did a couple hundred million dollars worldwide, I told my agent, 'You can't say this kind of story won't make money now.' Then Black Panther really blew the doors open."
See below for more reactions below.
Hollywood Exec's Suggestion that Julia Roberts Play Harriet Tubman Gets Destroyed by the Internet | Culture