WikiLeaks founder Julian Assange fears he could face the death penalty if he were to be extradited to the U.S., where he is wanted on a charge relating to his organization's release of vast amounts of classified material.
British police arrested Assange on Thursday following a U.S. extradition request after Ecuador revoked his asylum.
Buty in December, Ecuador's President Lenín Moreno said in a radio interview that the British government had given Assange written assurances that it would not extradite Assange to any country where he could face the death penalty, which includes the U.S., The Guardian reported.
And Alan Duncan, a U.K. foreign office minister, said on Thursday that the U.K. would not extradite Assange to the U.S. if he were to face the death penalty.
"It is our broad policy in all circumstances, so it equally applies to Julian Assange, that he will not be extradited if he is going to face the death penalty. So that will apply to him," Duncan told Sky News, Reuters reported.
In a statement, London's Metropolitan Police said Assange was arrested on behalf of U.S. authorities after he was taken from the embassy: "He will appear in custody at Westminster Magistrates' Court as soon as possible."
Sajid Javid, the U.K. home secretary, made a statement to the British Parliament in which he thanked the Ecuadorean government and said Assange's rights and "legitimate interests" would be protected.
Javid also said the police's activities were carried out in accordance with written instructions from the ambassador and in accordance with international law. He also addressed concerns about Assange's health, saying there was a medical assessment before the arrest and that he will have access to medical facilities.
Assange and his legal team now face a battle against extradition in the English courts once the relevant paperwork is filed by the U.S. government and U.K. Home Office. Javid tweeted after the arrest that Assange was "rightly facing justice in the U.K," adding: "No one is above the law."
Jennifer Robinson, Assange's lawyer, tweeted that the U.S. issued a warrant for conspiracy with Chelsea Manning, a former U.S. Army soldier who fed WikiLeaks a huge tranche of classified information, including the Iraq War Logs and U.S. diplomatic cables.
After Assange's arrest in London, the Justice Department announced it is charging him with conspiracy to commit computer intrusion for helping Manning to crack a password that gave access to a U.S. government network used for classified documents and communications.
The Justice Department alleges that Manning then downloaded classified records to pass on to WikiLeaks, which released them to the public.
"Cracking the password would have allowed Manning to log on to the computers under a username that did not belong to her," the Justice Department said in a release.
"Such a deceptive measure would have made it more difficult for investigators to determine the source of the illegal disclosures. During the conspiracy, Manning and Assange engaged in real-time discussions regarding Manning's transmission of classified records to Assange.
"The discussions also reflect Assange actively encouraging Manning to provide more information. During an exchange, Manning told Assange that 'after this upload, that's all I really have got left.' To which Assange replied, 'curious eyes never run dry in my experience.'"
Assange sought asylum in Ecuador's Embassy in London, in 2012, to avoid extradition to Sweden to face allegations of sexual assault. He claimed the case was a ploy to get him to the U.S., which Swedish authorities denied.
After abortive attempts by Swedish prosecutor Marianne Ny to question Assange, and with the statute of limitations expiring on some of the allegations against, she dropped the case in 2017.
The statute of limitations on one of the sexual assault allegations, however, does not expire until 2020, and Ny suggested that, if Assange were to re-enter Sweden, the case could reignite.
Almost seven years later, Ecuador, whose president said the country was frustrated by Assange's behavior in the embassy, rescinded his asylum status and allowed British police to arrest him on Thursday.
Elisabeth Massi Fritz, a lawyer for one of Assange's accusers in Sweden, said she and her client were shocked by the news of his arrest.
"We will do everything we can to ensure that the prosecutors resume the Swedish preliminary investigation so that Assange can be extradited to Sweden and prosecuted for rape," Fritz told Expressen.
WikiLeaks called Ecuador's decision to strip its founder of asylum status a violation of international law. "This man is a son, a father, a brother. He has won dozens of journalism awards," WikiLeaks tweeted.
"He's been nominated for the Nobel Peace Prize every year since 2010. Powerful actors, including CIA, are engaged in a sophisticated effort to dehumanise, delegitimize and imprison him."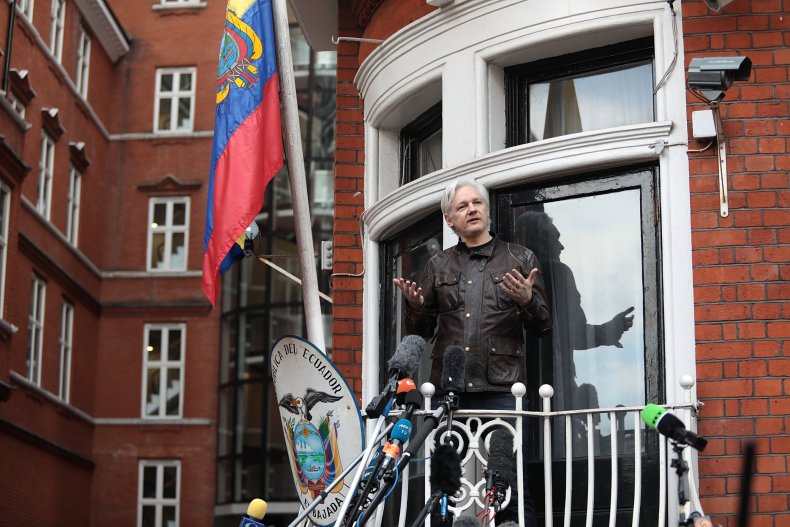 This article was updated with information from the Justice Department and Sajid Javid.